Today, we'll be focusing particularly on pellet grills, mainly by comparing some models from two of the most reputed brands – Camp Chef vs Traeger Grills.

In this review, we'll list out the top pellet grill models for both brands and breakdown their comparison based on different factors.
By the end of this post, we hope that you will have sufficient information to make a wise decision on which brand of pellet grills will be the best buy.
Camp Chef Pellet Grill Vs. Traeger Pellet Grills
Established in 1990, Camp Chef has built a solid reputation as one of the leading manufacturers of grills. They have many excellent pellet grill models that you can choose from. We'll cover three of their top models and explain their features.
SmokePro SE 24 is Camp Chef's lowest-priced model. It is a part of their SmokePro series which also happens to be their most popular series of pellet grills.
Its cooking range is 160o F to 500o F. The grill has an electric ignition and a simple temperature control mechanism. The burning chamber can be pulled out to easily unload the burnt ash.

There is a separate outlet to collect the grease, which makes the grill very easy to clean.
The hopper regulates the number of pellets released into the combustion chamber. So you don't need to worry about managing the number of wood pellet in the grill manually. The SmokePro SE 24 Wood Pellet Grill is priced in the range of $400.
The DLX 24 is one of the most popular models in the SmokePro series. It is like an upgraded version of the SE 24, as it has bigger dimensions and added features. The temperature of the range of this grill is also between 160o F to 500o F.
It has an auto-start spark mechanism, and a temperature regulator with a digital LED display. The pellet hopper is quite large so less refilling is required.

It has a unique ash removal system where you just have to pull a lever to directly empty the combustion chamber.
The grill also comes with an extra meat probe and a warming rack. The SmokePro DLX 24 is priced at $550.
The SmokePro SG 24 is a higher priced model that offers more innovative features. It has a higher maximum temperature limit of 650o F and a smart temperature control system.

The digital temperature display shows both the cooking temperature as well as the food temperature.
It's a unique Slide and Grill mechanism that makes it easy to cook meat over direct flame. So it greatly reduces the overall cooking time. The ash cleaning system is similar to the SE 24, with just one lever pull needed to clean the chamber.
This grill also has a separate grease removal system, and its hopper is very spacious to fit a large number of pellets at once. 2 meat probes are included when purchasing this grill. The SmokePro SG 24 is priced at $700.
These are the three top models of pellet grills offered by Camp Chef. We'll hold our verdict on these grills for now, and move on our next brand – Traeger Grills.
Traeger Grills is a huge name when it comes to pellet grills, which is justified, considering that they are pioneers who invented the first wood pellet grill ever in 1985.

And till date, they have upheld their reputation by manufacturing some of the best pellet grills in the market. Let's check out their top models and their key features.
The Scout Pellet Smoker is Traeger's lowest-priced model. It offers all basic features of a wood pellet grill and has a very neat and compact body. At first glance, it looks like a small box or trunk.

So the grill is quite portable and can be carried along to outdoor locations easily.
Talking about its features, it has a Digital Pro Controller for temperature regulation. You can increase or decrease the temperature in intervals of 25 degrees.

The lid, when closed, is securely latched to the grill. The Traeger grill tray is very smooth and non-sticky as they are coated with porcelain.
The body and build of this grill are small, but still, it has enough space to accommodate 6 to 10 medium-sized pieces of meat at once. And with a price tag of around $300, it definitely offers great value for money.

There are no fancy features, but the Scout Pellet Grill is cheaper and good at what it does – grilling meat.
As the name suggests, this is one of the models in Traeger Grill's Pro Series. The outer body of this wood pellet grill is made of steel with a fine coat finish, giving it a shiny metallic look.
The temperature is regulated by their Digital Pro Controller technology. You can change the temperature at 15-degree intervals.

The meat probes in the Traeger grill take a one reading every second, giving you an accurate value of the food temperature without you having to lift the lid.
The cleaning mechanism of this best pellet smoker is really simple – just open the back door and empty the burnt pellets.

The dimensions are medium-sized, and there's enough space to fit more than 20 medium-sized meat pieces or up to 4 whole chicken. With all these features, the Pro Series 22 comes with a price tag of $599.99
The Timberline series of pellet grills consists of the most high-end grills, but they are also expensive. The main highlight of the Timberline 850 pellet grill is its WiFire Technology.

Basically, it's a 'smart' grill that you can connect to your phone or device with the Traeger app. It will allow you to monitor the temperature and heat remotely with your phone.

So you don't need to constantly check the meat, and there's no risk of overcooking or charring the meat.
The grill also has pellet sensors that display the number of pellets in the hopper and notifies when you need to refill.

On the Traeger app, you will find some custom recipes, and this Traeger grill has preset cooking cycles for those recipes in-built in the system.
The size and dimension of the Timberline 850 Traeger grill are very large – it can fit up to 12 whole chickens at once.

Like all 'smart' devices, this grill is designed with advanced features where only little human effort is required. As such, it also comes with a hefty price tag of $1799.99.
Overview Of Features Comparison
Variety
Camp Chef: Currently, Camp Chef has about 20 different wood pellet grill models available. Most of them have similar basic features and a few upgraded specifications as they climb up the price tier.
Traeger Grills: Trager grills offer a lot more variety in the market. They have a number of pellet grill models under three different series – the Pro Series, Ironwood Series, and Timberline Series.

Apart from these, there are extra-low price models such as the Scout Pellet Grill we discussed earlier.
Our Verdict: Traeger Grills clearly has the upper hand here, as they have more variety of models and more unique features.
Price Range
Camp Chef: The cheapest Camp Chef pellet grill is priced at $440, and their most expensive model costs $1200.
Traeger Grills: The lowest-priced pellet grill by Traeger costs $299.99. On the higher end, the price for their Timberline series starts from $1799.99.
Our Verdict: Price is an important factor that influences our decision when purchasing any product. Traeger Grills have a wider range of prices on their models.

You can choose from cheaper low-cost grills to more expensive and advanced ones. Again, Traeger owns this category without any room for argument.
Temperature Control and Measurement System
Camp Chef: Camp Chef's pellet grills use a simple temperature control mechanism. Most of their models have heat dials with intervals of 10 degrees. There aren't any advanced heat-regulating options.
However, they do have a Smart Smoke Technology where you can choose between high-smoke and low-smoke cooking.

Based on your selection, the grill automatically regulates the pellets and heat to produce more or less smoke.
Traeger Grills: Traeger Grills have highly advanced temperature control systems. Most of their models use the Digital Pro Controller and Digital Elite Controller.

Different models have different temperature intervals, from 10 to 20 degrees increments.
Their WiFire technology allows you to control temperature settings from your phone as well.
Our Verdict: Traeger's pellet grills focus on more advanced technology as compared to Camp Chef. As such, they offer better temperature control features and own this category as well.
Ease of Use
Camp Chef: Camp Chef grills don't have high-end features, but this proves to be useful in terms of ease of use. Since they stick to the basic features, their grills have conventional designs and are simple to operate.
Traeger Grills: Traeger's pellet grills incorporate better technological features along with enough space for cooking.

But this also makes the grills a bit complicated to operate, with a variety of settings and functions to consider.
Our Verdict: The winner of the final category is Camp Chef, as their simple design and systems give them the edge here. Even people who are not very tech-savvy will be able to operate Camp Chef pellet grills without any problems.
Pros and Cons of Camp Chef Grills
PROS:
Their models have a sturdy built.
Camp chef pellet grills have garnered good customer reviews.
Simple features, easy to use.
Enough inches of cooking
CONS:
Less variety of models, and limited price range.
Lacks models with advanced features.
Pros and Cons of Traeger Grills
PROS:
Large selection of models to choose from
Low price models also available
Unique features such as WiFire and mobile app synchronization
Advanced digital temperature control systems
CONS:
High-end models are very expensive.
Technical features may be difficult for some people to operate
Final Verdict
Traeger Grills are the clear winners here, as they trump Camp Chef in 3 out of 4 categories. With better price ranges and a variety of innovative features, Traeger offers plenty of options for buyers to choose from.
Having said that, Camp Chef pellet grills also have some things worth considering. As we already said, their grills are much simpler to operate. In addition, they also offer better longevity and durability.
The reason is quite simple – less technical features means fewer chances of defects and issues.
So if you want a not-so-fancy, simple but reliable grill, then Camp Chef pellet grills are surely worth checking out. We will highly recommend you check out Z grills as well as they are known for delivering power-packed performance.
Frequently Asked Questions on Pellet Grills
Are pellet grills powered by electricity?
Yes, pellet grills must be plugged into a power source to operate. They use many electrical systems such as auto-ignition, temperature sensors, fans, motors, etc.
Do pellet grills consume a lot of electricity?
Pellet grills consume more power during the starting period after lighting the pellets. Once the temperature of the grill increases, the power consumption decreases.
How do I know when it is time to clean my grill?
Depending on the size of your grill and combustion chamber, you must decide the frequency of emptying it. Smaller grills require that you clean the ash after every use.
In larger models, you can use the grill a few times before the ash fills up.
For the best maintenance, it's advisable to always clean your grill after every use.
What type of wood pellets should I use?
You can use any commercially available wood pellet in your grill. But for the best results, you should choose a wood pellet by the same company as your grill manufacturer.
Is there a warranty on my pellet grill? What does it cover?
Camp Chef and Traeger pellet grills both have 3 years of warranty. This covers replacement for any damaged and defective part in the grill.
A Brief Guide to Pellet Grills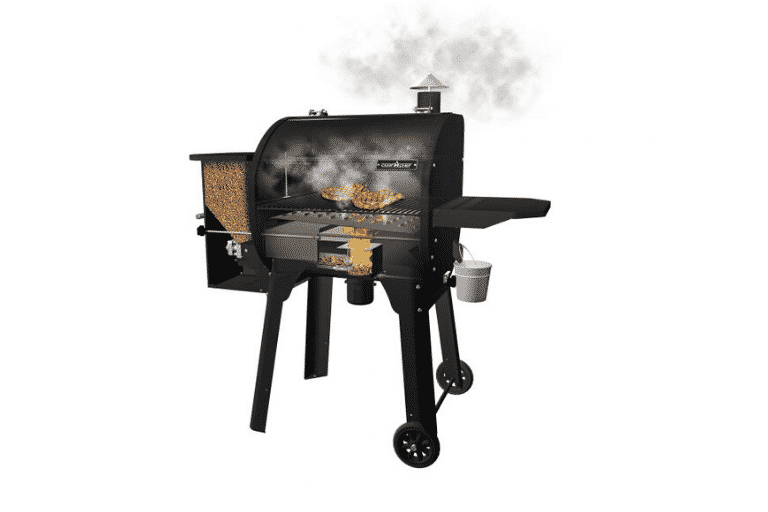 The main difference between different types of grills is the fuel source. Just like charcoal grills and gas grills are fueled by charcoal and gas respectively, a pellet grill is fueled by wooden pellets.
You can easily buy packets of these wooden pellets from your nearby store.
To operate the grill, you first feed some pellets into a hopper in the grill. The pellets are led by the hopper into the burning chamber.
Once you ignite the pellets, you'll have to wait for a few minutes to let them reach the appropriate temperature. After that, just place some meat, fish, or vegetables on the grilling tray and cover the lid.
Usually, the burning chamber in the grill doesn't occupy the entire base of pellet grills. The part of the grilling tray right above the chamber serves as the high heat side, while the other part of the tray acts as the low heat side.
Most wood pellet grills also have a temperature control mechanism to regulate the heat.
How a Pellet Grill Works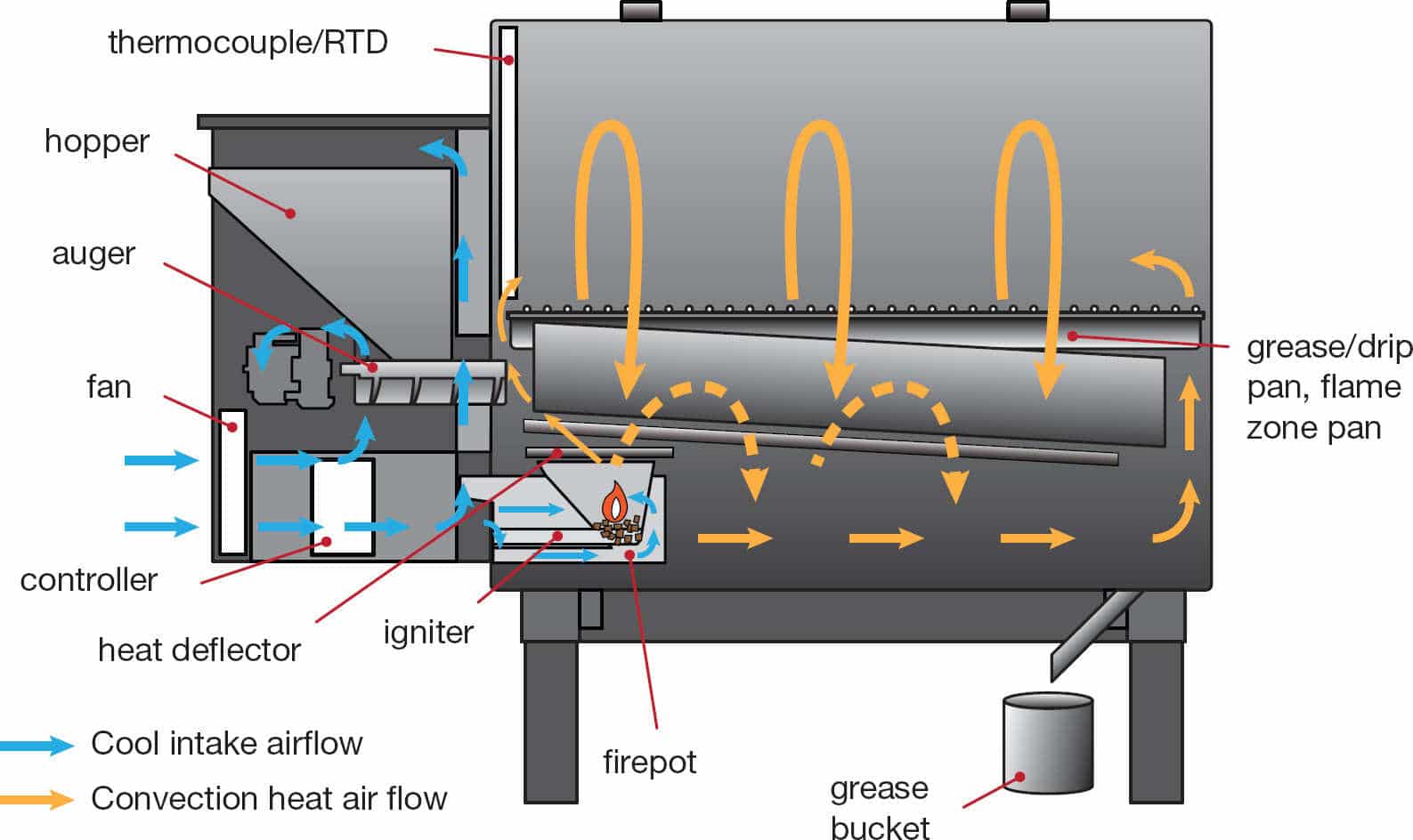 For starters, a wood pellet grill is an outdoor cooking machine that makes use of lbs of pellets instead of charcoal, gas, or wood sticks to produce heat.
These wood pellets are loaded into a hopper which is then sent into a firepot which is located in the bottom of the cooking chamber.
Pellets are ignited with the help of a ceramic rod, and the entire process can be easily controlled electronically with the help of the digital elite controller.
All that you would need to do is turn the knob on and achieve the desired temperature range and you are done.
This way, a pellet grill does all the hard work for you and makes cooking so much easier. You no more need to boggle your head by stoking wood and charcoal continuously into the grill.
Instead, you can just relax and still be able to control the entire process flawlessly. read more about how do pellet grills work
What's more, wood pellet grills are easy to clean as well, quite different from the traditional grills.
Benefits of Pellet Grills
Faster cooking: Wood pellet requires much less time to reach a certain temperature compared to charcoal.

That is why cooking meat in pellet smokers is a lot faster compared to other grill types.

Temperature regulation: It's easier to control the cooking temperature in pellet grills. Whether you want to roast the meat in high flame or cook it deep in low heat, a pellet grill will be perfect for both.
Customizable flavors: Unlike charcoal or gas, wood pellets not only cook the meat but also impart different flavors.

The pellets themselves come with different infused flavors, such as apple, pecan, hickory, maple, etc. So you can add additional textures to your meat using wood pellets.

Ease of use: One of the best parts of a wood pellet grill is that they are easy to use and make grilling a fun experience.

Providing enough grilling area in terms of the square inches of cooking, and allowing you to choose the best temperature range, they make cooking so much easier, all thanks to the elite controller that most of them come equipped with.
Due to these benefits, pellet smoker is are quite popular among many grill lovers.
Conclusion
In our comparison of Traeger vs. Camp Chef pellet grills, we came to the conclusion that Traeger is a better choice. Despite that, we also explained some areas where Camp Chef can be a suitable option.

But which pellet grill is appropriate for you, depends on your own specific requirements. So we hope that the information we shared in this review will help you to determine which pellet grill is the best pick for you.

If you want to know more about grill competition read our comparison of Pit Boss vs Traeger and Camp Chef vs Pit Boss
Whatever model you end up buying, we do advise you to provide proper maintenance to your grills, so that you can enjoy delicious barbecued recipes for a long time!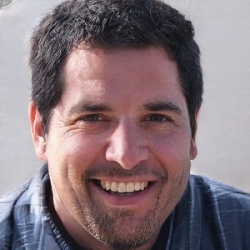 This article is written by Noam Shahar the founder of Limited-Red, Noam is a serious carnivore, And he has a strong passion when it comes to meat and cook, He Decided to review the "BBQ world" 9 years ago after discovering how many people struggle with choosing their dream grill.