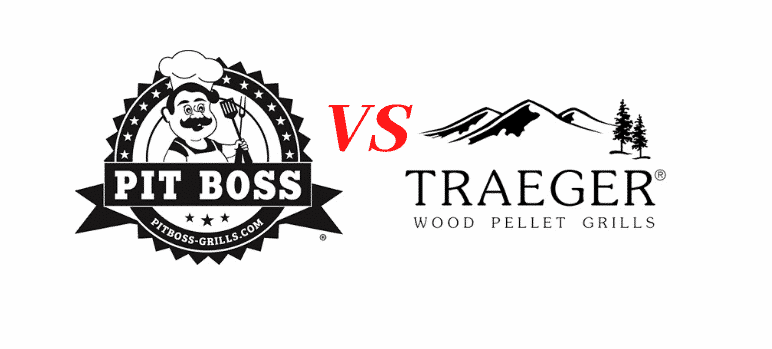 Wood pellet grills have become an ultimate choice of grillers over all other forms of grills. Traeger and Pit Boss are two brands that are known for the juicy, smoky and wood flavored food.
Their grills are much more than just wood pellet grills. To know what extra vibe each of these grills holds, read on this Pit Boss vs Traeger review.
Pit Boss versus Traeger: Which Pellet Grill Should You Buy Based Your Decision On Your Needs?
So, here are the highlights of the Traeger and Pit Boss smokers that will make you fall for them instantly depending on your requirements. These are:
Best Overall: Traeger Ironwood 650 Vs Pit Boss 440 Deluxe
Traeger Grills TFB65BLF Grill Ironwood 650
This elegantly built grill had us fall for it in the first glance. This bestselling Traeger grill on Amazon has a lot in store for you. Be its WiFIRE Technology, versatile 6 in 1 cooking, sturdy all-terrain wheels or its digital control panel – it has left us impressed throughout.
This Traeger pellet grill boasts a good 650 sq inches of cooking space that can easily accommodate 8 chickens at a time, making it perfect for backyard and patio parties. Its stainless-steel constructions make it a one-time investment.
Pros:
Sufficient cooking surface
Storage space on both sides of the unit
Rollerblades wheels
Supports TurboTemp, D2 Direct Drive and Alexa
Efficient temperature control
No need for charcoal and gas
Easy to assemble and operate
The 20lbs pellet hopper, a meat probe, pellet hopper sensor, TurboTemp (immediately reaches desired set temperature), D2 Direct Drive (eliminates auger jam issues) and the LED digital panel adds extra stars to this Traeger grill.
PIT BOSS 440 Deluxe Wood Pellet Grill
Our best overall Pit Boss 440D is here because of its highly affordable price and durable construction. A grill that won't rust and provide you with a max temperature of 500-degree F, smoker, flame broiler for direct grilling, and even a built-in temperature gauge on the lid that goes up to 750 degrees F.
With two-tier cooking grates and flame broiler technology, you can cook a variety of food in one go. The only concern with this grill is its sudden spike in temperature (you have to be a pro to handle this) and it's wood pellet auger system.
Pros:
Durable and built to last long

Reaches up to 500 degrees F and above

Tools hooks and stainless-steel shelf

465 sq. inches with Warming rack

Automatic start and cool down

Two-tone black and copper finish

Affordable
Negatives:
Poor customer service

Temperature control issues
Apart from this, this is a versatile grill that lets you sear and smoke as well. It has a well build grease management system, comes with a bottle opener, ample storage space, and an automatic ignition system.
Best For The Money: Traeger Renegade Pro Vs Pit Boss Sportsman 820
Traeger Grills TFB38TOD Renegade Pro Series Pellet Grill and Smoker
Traeger Renegade Pro series is a budget grill you can get your hands on if you are looking for an affordable yet full-fledged wood pellets grill. This is a perfect grill for small-sized families that love to BBQ on weekends.
With a sufficient cooking surface of 380 square inches, it will serve you limited quantity best-cooked food that also prevents food wastage.
Pros:
Comes with a 3-year warranty
Cool-touch lid handle
Steel construction with a durable coating
Has a side rack over wood pellets container
Comes with smokestack as well
Two sturdy rollerblade big wheels
Bucket for collecting ash
Negatives:
Temperature control dial in the knob isn't too impressive
This pro series grill has an impressive 18lbs pellet capacity with regard to its cooking surface and is a unit that will last long. Even at such a low price, you can experience 6-in-1 versatility cooking, enjoy operating digital temperature control with two probes.
Moreover, this Traeger pro series grill also comes with Advanced Grilling Logic that facilitates precision cooking.
Pit Boss Sportsman 820 Wood Pellet Grill
Priced at nearly the same price as Traeger's Renegade Pro, it is going to be a tough decision to make to choose between the two. Let's see which one is more impressive.
The looks of Pit Boss Sportsman 820, the larger cooking space and pellet hopper capacity, the extra storage space all provide an upper hand to Sportsman 820.
However, Pit Boss does lack some advanced technology features like Advanced Grilling Logic for precision cooking. But that's not much to worry with its dial-in digital control with P setting.
Pros:
Great looks with orange highlights
Tracks fuel with pellet hopper window
Monitor meat doneness and supports P setting
Easy to use and assemble
21lbs pellet capacity
849 sq. inches of cooking space
Stainless steel removable and adjustable side rack
Negatives:
Should have four wheels or an extra handle for moving the unit
Moreover, Sportsman 820 also has come with Pit Boss patented flame Broiler for direct grilling that can be easily adjusted with bar leveller. It also has ample storage space to the right, left and bottom, bottle opener, spice rack, tool hooks etc.
Best For Beginners: Traeger Pro Series 780 Vs Pit Boss Sportsman Portable
Traeger TFB78GZE Pro Series 780 Pellet Grill
Loaded with many advanced features, Traeger Pro Series 780 pellet grill though priced higher is perfect for beginners.
With a decent cooking space of 780 square inches, this pro series grill is still a compact unit with four wheels to move it around. The 18 lbs pellet capacity, barrel-shaped chamber and two-tier chamber system will enable you to cook for hours with ease.
Pros:
Easy Ash cleanout system
All-terrain wheels with lock latches
Comes 1500 inbuilt recipes with grill guide
Alexa enabled
Heavy grade stainless steel body
Bronze fulfilled chamber lid
One meat probe
Moreover, its advanced digital temperature controller with LED display makes you cook delicious food even with no expertise. The Pro series D2 Controller, Pro series D2 Direct Drive, TurboTemp and Wifire Technology are all flushed in it together makes it perfect for beginners to the core.
So, you get precision cooking, improved searing marks, Set It and Forget It feature, grill cum oven in short with this pro series grill. It's as easy to operate as a microwave oven plus you get a smoker as well. You have both of your hands full if you get your hands on it, indeed.
Pit Boss Sportsman Portable Wood Pellet Grill
This Sportsman portable wood pellet grill is best for both beginners and travelers alike. We are sure you will be amazed by its flexibility like we were too. Would not be wrong to say that this one will make a good competitor in gymnasts!
So, this Pitboss grill has a pellet hopper at the back and grill grates in the front half. It has 387 square inches of cooking area capable of feeding a couple of people easily.
Positives:
Premium gauge stainless steel construction
19lbs pellet capacity
Includes one meat probe
Grease management system
Fan forced convection cooking, smoker
Flame broiler adjustable bar at the front
Facilitates direct as well as indirect grilling
Its foldable legs easily make it a rolling griller in no time. Moreover, this Pit Boss unit doesn't take much power to operate and can even be powered by the inverter of your vehicle.
When it comes to temperature control, you don't have to worry about that either. This Pit Boss unit has a dial-in digital control with LED. The Pit Boss unit also locks itself well with stainless steel lid latches.
Best For Pros: Traeger Ranger Vs Pit Boss Rancher Xl
Traeger Grills Ranger Grill TBT18KLD Wood Pellet Grill And Smoker
Traeger's Ranger is a portable grill always ready to be loaded in the back of your vehicle. Priced at a very minimal price, it is shaped like those traditionally styled suitcases we used to carry.
If you are a professional RV traveler or adventurer and excels in grilling as well, this is undoubtedly made for you.
Pros:
Heavy built and durable
Includes one meat probe
Have a griddle as well
Digital controller with LED readout
Four legs for keeping it firm
Stainless steel lid latches
Priced below $400
Amazing set of features
Cons:
Poor grease management issues
With grilling grates, it also includes a griddle that can be used for sautéing fishes, veggies, or make an omelet as well. It has Traeger special digital controller, Advanced Grilling Logic, Keep Warm feature and much more.
With 8lbs of hopper capacity, 187 square inches of cooking space, lid latches and even cook timer, we feel this Traeger unit fit for everyone be it pros, beginners, travelers or just normal people.
Pit Boss Rancher Xl Wood Pellet Grill
Rancher XL is a big Pit Boss unit definitely ones that can be used in competitions and commercial spaces or if you love to throw big parties.
Just cook on it once and it can feed a great bunch of people with more than 1000 square inches of cooking space. Just fill the pellet hopper once and it will run for hours without interruption.
Pros:
Enormous cooking space
Heavy-duty build construction
Porcelain-coated cooking grates
Fan forced convection cooking
Reaches maximum temperature range of 500 degrees F
31lbs hopper capacity
Ash management system
Cons:
Includes no meat probes
Auger jam issues
Also, with ample storage space on all sides, tool hooks and bottle opener, this unit looks like a pro will handle it better and have fun cooking over it. It also has an analog thermometer over the chamber lid.
However, this Pit Boss smoker features the traditional V3 digital control board that only includes Led readout and a dial-in. But it has an impressive hopper capacity of 31lbs, 8 in 1 cooking versatility, pellet fuel window and standard flame broiler too. if you like this product you should read the Pit Boss Austin Xl review to make your choice easier
The Pit Boss grills included in our list stands tough against the Traeger grills. It's difficult to stand against Traeger grills which come with ultimate precision cooking and have been pioneers of wood pellet grills.
But the new Pit Boss Sportsman series wood pellet grills have totally outdone themselves as well as Traeger grills with their advanced digital control board with P setting. They provide Flame Broiler, advanced technology temperature control and more storage space than Traeger at a much lesser price than Traeger. This is what makes Pit Boss Sportsman grills are a notch higher than Traeger.
However, if you are looking for long term and durable grills with at least a 3-year warranty no matter what price you need to pay, Traeger grills won't disappoint anytime. However, if you are on a budget, these best grills under 500 need your attention.
All in all, to summarize Pit Boss vs Traeger review, both Traeger and Pit Boss flaunt an amazing build and are worth trying. Also, don't forget to check out a comparison of the other two best companies the Camp Chef vs Traeger and Camp Chef versus Pit Boss.
1. What is P setting in Pit Boss grills?
P in P setting stands for Pause. This can be used to maintain the temperature range when your grill is either too hot or too cold. With the help of P setting, you can increase or decrease the pause time between pellet cycles. If your grill is too hot, you can withhold the pellets in the auger to lower the temperature also resulting in more smoke and vice versa.
Moreover, did you know on long pressing the P button on Pit Boss grills you can change the temperature readings from Fahrenheit to Celsius and vice versa?
2. Are pellet grills worth the money?
Yes, they are worth the money and they provide more versatility for cooking. Moreover, there aren't priced too high and you will find good pellet grills for even less than $500 too. Though they require electricity to operate, the power used is minimal and isn't anything that could be heavy for your pocket.
3. Is Pit Boss better than Traeger?
There is no clear winner between Pit Boss vs Traeger. Some of the Pit Boss grills work much better than Traeger and some are not. It all depends on your requirement and the amount of money you are willing to spend.
Though Pit Boss grills are highly affordable in front of Traeger, they do miss out on advanced features that could enhance the grilling experience. Pit Boss grills come with 5-year warranty whereas most Traeger grills come with 3-year warranty only. Also, Traeger grills provide the most impression tailgater lineup.
4. Are pellet grills good for health?
Pellet grills are safer to use in terms of health as compared to other types of fuelled grills. When it comes to risk, it all depends on how well you operate and take precautions as all Pit Boss units are prone to risk when exposed to negligence. So, choose between Traeger and Pit Boss accordingly. You might also like to review Z grills here.
5. How long do Traeger grills last?
As Traeger provides a 3-year warranty on some of its grills, they meant to last that long and further. Moreover, it also depends on your how well you keep the unit, how well you clean it up and how much you use it. They are made to last long and by the looks, you can feel their sturdiness.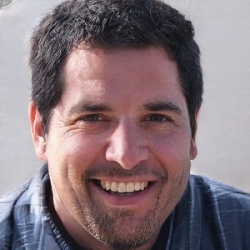 This article is written by Noam Shahar the founder of Limited-Red, Noam is a serious carnivore, And he has a strong passion when it comes to meat and cook, He Decided to review the "BBQ world" 9 years ago after discovering how many people struggle with choosing their dream grill.