Pit Boss Austin XL Features
As expected, pellet grill sales have increased tremendously over the last few years. People favor it now more than other types of grills. A pellet smoker also offers more convenience to users as it has features like a flame broiler that lets the meat grill evenly.
You will be amazed by the other features that make up Pit Boss Austin XL. Once you read this entire review, you will be in a better position to decide if this mighty grill deserves your attention or not. 
The Pit Boss Austin XL features include:
If you want to smoke or grill lots of food and are looking for a pellet grill that can do so in one go, Pit Boss Austin XL is the right product for you. It has an impressive 1000 sq. inches of cooking surface, out of which 930 sq. inches contribute to the main cooking surface, and the rest is dedicated to the secondary cooking area.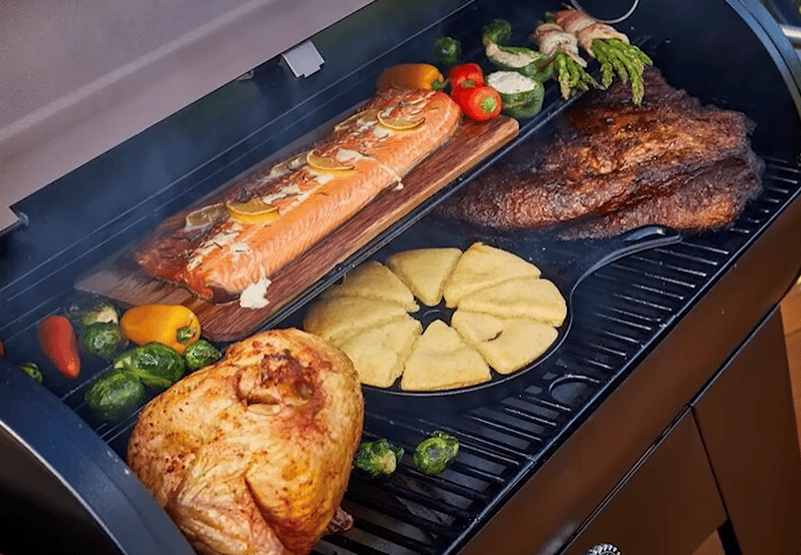 This size is ideal when you have whole chickens, hams, ribs, and other delicious cuts to grill to perfection. To paint you a clearer picture, this product can easily accommodate eight Boston butts, three full briskets, at least two 20-lb turkeys, or 52 burger patties. It ensures that you won't need to stay in front of the grill throughout the party, so you will be able to have fun and mingle with your guests. 
The cooking chamber has a couple of porcelain-coated grids that are easy to clean and maintain. One of them is narrower than the other and sits a few sq inches above the bigger rack for indirect grilling. This is suitable for cooked meat that you wish to stay hot and vegetables that need a smoky flavor.
The pellet hopper on the left side of the unit can carry 31 lbs of wood pellet. This capacity is well above the average, so the fire can burn for hours. That allows the meat to get more flavorful.
If you are buying a branded pellet smoker, it should last longer than other smokers. Hence, it's important to make sure that the unit is heavy and constructed from high-quality materials. 
Austin XL, to be specific, weighs around 180 lbs. and is built from heavy-duty steel. Even at first glance, you will know that it is indeed a sturdy and long-lasting grill.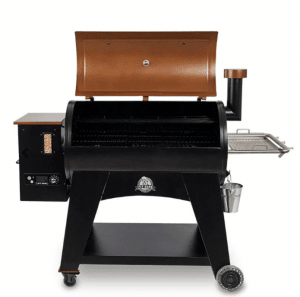 The heavy lid has another advantage. You may notice its curvature and how it fits seamlessly on top of the chamber. It guarantees that the smoke and heat stays locked inside for a better smokey taste and even cooking. 
Are you one of those cooks who like to keep an eye on the temperature constantly? Austin XL has an analog thermometer embedded on the lid, so you can check and read the internal temperature without opening it and letting the smoke out. 
You may also like the four wheels at the base of this grill. The front two wheels are rollerblade type of wheels that provide comfortable rolling on any terrain. The two small castor wheels at the back come with foot latches, so it's effortless to stop the grill from moving while you are cooking. 
As a general rule, though, it is recommended to move the grill as heavy as this one on paved, tiled, or wooden surfaces, not on gravel. It may be highly durable, but its wheels may not handle the uneven ground well.
Everyone is all for getting extra storage space while cooking, especially when you are outdoors and there aren't countertops around you. The convenience of keeping your cooking tools nearby without dropping them off adds to the experience of grilling, too. 
Well, Austin XL pellet smoker provides that pleasure by including a removable stainless-steel side shelf with three tool hooks on the right, a flat pellet hopper top on the left, and even base support that doubles as a sizable shelf.
No matter how fancy a grill seems, the deciding factor is how well it can control the inner temperature while grilling. After all, that determines the outcome of your cooking. 
Luckily, Austin XL grill has a V3-type digital control board, which as a temperature dial on the right that allows you to move it from 200°F to 550°F. Below the minimum temperature is a Smoke option (the lowest temperature).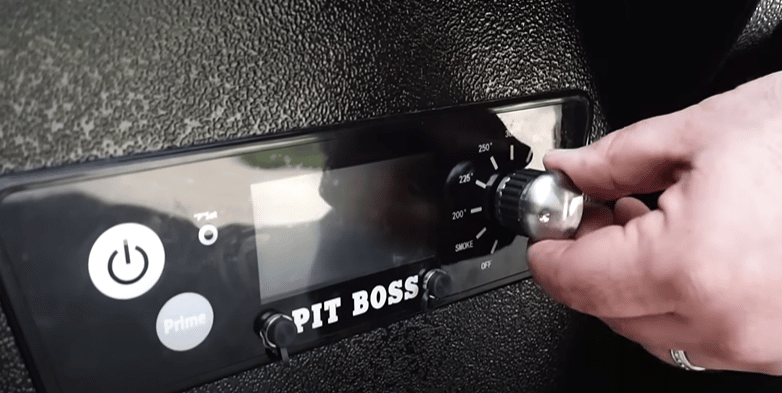 This Pit Boss grill has a big power button on the left side of the panel to turn your unit on and off. It has a P set button with eight different temperature fine tunings, as well as a Prime button underneath the power button.
The P set button can be used to change the temperature from Fahrenheit to Celsius by giving it a long press. (You can see the change on the LCD screen, conveniently placed between the temperature control dial and the buttons.) The P set button also allows you to withhold pellets for a longer period, enabling grilling at low temperatures for more hours than you expect.
The Prime button is used when you want to add extra wood pellets to the firepot. It can also be used to increase the smokey flavor in cooking. This feature has been added as an answer to the request of competition cookers, so it is an ideal product even for professionals.
As mentioned above, you can find Smoke on the dial menu — that is the start-up mode for the grill. This is the best option if you want to run the Austin XL grill at the lowest temperature without the fire going out.
If the analogue temperature viewer on the lid does not suffice for you, you may utilize the two meat probes attached to this grill. The temperature that each probe gets will appear on the LCD display, along with the actual reading. This is essential when you are grilling a massive turkey, ham, rack of ribs, etc.
If you love direct grilling, Austin XL has a Flame Broiler feature that is pretty easy to use. You need to remove the grilling grates and slide the plate to one side to expose the broiler that has slits where the flame can rise from.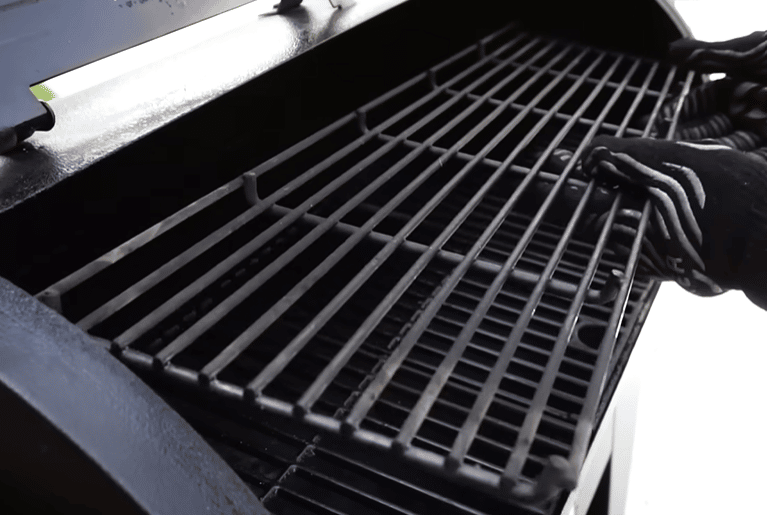 This exposed cooking space measures around 64 sq inches. You can grill steaks, chicken breasts, fish fillets, and other meat cuts over this plate then. You may also attach the porcelain-coated cooking grates back in if you need space for indirect grilling at the same time. 
Are you concerned about what will happen to the Austin XL grill in cold weather conditions? 
This pellet grill will literally not let a temperature drop get in the way of your BBQ parties. If you are looking forward to eating grilled steaks and fish in the winder, just increase your preheating time by 20 minutes and cook at slighter higher temperatures than you usually do to achieve the desired results. 
Consequently, cooking in hot weather may increase temperature flare-ups and make it challenging to cook evenly. In this case, you may set the grill below the normal temperature to avoid messing up. 
Pit Boss Austin XL costs approximately $500. If you can get a Pit Boss wood pellet grill at this amount, it is enough to consider buying it. Moreover, this Pit Boss pellet grill comes with an impressive set of features, an optimum flame temperature, a digital control panel, two meat probes, and everything else that cannot be seen in mid-range pellet grills. 
Flare-ups are inevitable due to the external temperature, but by following the Pit Boss user manual's instructions, you may have better control over its temperature. Pit Boss Austin XL is a masterpiece that's worth giving a shot, indeed. 
What Users Say About Austin XL
Pit Boss Austin XL pellet grill has proudly maintained a 4-star rating on Amazon and Walmart, as well as a 4.7-star rating on its official website. 
Most users consider it an awesome pellet grill with a great set of features at such a low price. It is easy to assemble, use, and clean. They are also amazed by the large cooking space, which is almost impossible to find in affordable grills.
1. Is Pit Boss better than Traeger?
Pit Boss smoker will always be favored all and above Traeger grills when it comes to budget-friendly grills. However, the latter has the upper hand on temperature control and precision cooking, which somewhat lacks in Pit Boss units (though it is not that bad altogether). For related posts, check this comparison of Traeger vs. Pit boss.
If you want a good griller that can handle cooking temperatures well, Pit Boss is a good affordable option for you. Traeger grills are strictly better for beginners and starters. 
2. Are Pit Boss grills good?
Pit Boss deals with a wide range of grills from wood pellet grills, vertical smokers, charcoal grills, and many more. Pit Boss grills are not only affordable but are also laced with enticing features, sizable storage space, and other add-ons that make grilling easy.  
3. How do you use the Pit Boss Austin XL?
Austin XL pellet grill is known for its ease of use. This Pit Boss pellet grill starts with the press of a button. It follows an automatic procedure by feeding pellets and activating the startup cycle. The barrel lid should remain open during this period. 
Once the heating begins, or you hear a torchy roar, it's time to preheat your Austin XL. It only takes three minutes before you can start grilling on it. 
Austin XL grill can also be used for baking, roasting, braising, chargrilling, smoking, and searing. 
4. How much does the Pit Boss Austin XL grill weigh?
Austin XL grill weighs 179 lbs, which makes it a heavy-weight pellet grill. You can actually feel its sturdy construction while grilling on it. However, it comes with a 1-year warranty.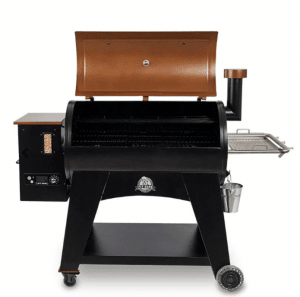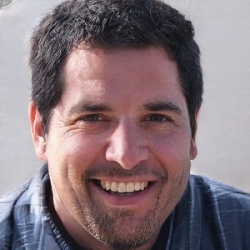 This article is written by Noam Shahar the founder of Limited-Red, Noam is a serious carnivore, And he has a strong passion when it comes to meat and cook, He Decided to review the "BBQ world" 9 years ago after discovering how many people struggle with choosing their dream grill.