Confused between Camp Chef and Pit Boss grills?

Well, this is where I found myself a few days back. I tested 50+ grills, and I don't recommend most of them! The good news is: I have done all the hard work for you.
I am here to sort the dilemma out for you with the full knowledge, reviewing them to make you reach a final solution.
Camp Chef Versus Pit Boss: Which One You Would Choose?
Let's head on to the reviews to get a better understanding of these advantages mentioned here. No, don't exit this article without checking all the action in the next sections that I have got, especially for you!
Best Overall: Camp Chef SmokePro SG Vs Pit Boss 440 Deluxe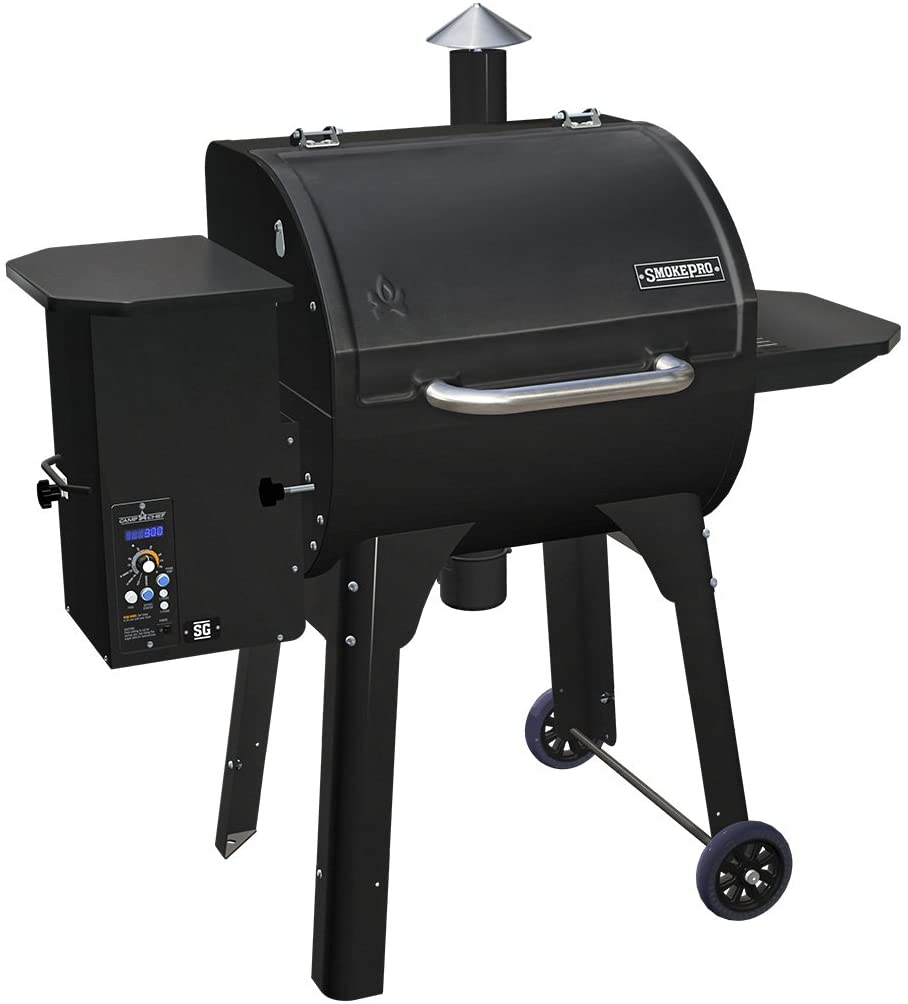 Expanded chamber, two meat probes, and its excellent temperature control will make you root for it forever. Plus, the amazing customer service of Camp Chef will not make you regret it.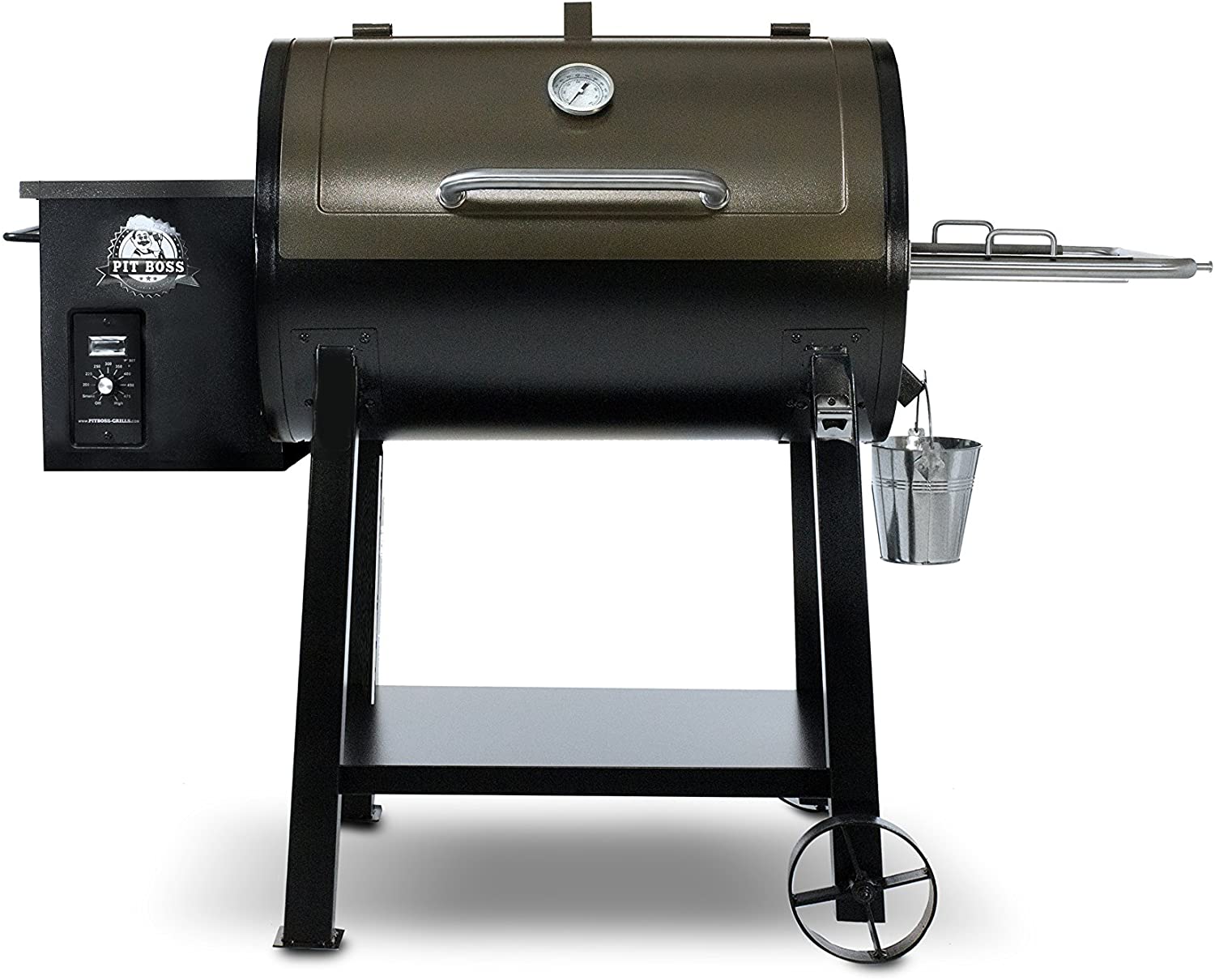 This is one efficient wood pellet grill that does well even in the low-temperature setting. Though it has a traditional dial-in digital control, this is a good Pit Boss model overall, suitable for pros and a great unit to have within $500.
Camp Chef SmokePro SG Wood Pellet Grill Smoker
Its elegant look is not the only favorable thing about SmokePro SG. It has a decent cooking area of 811 square inches. This area is subdivided into two cooking racks, which enables cooking at two different temperatures simultaneously. The expanding chamber height is like an icing on top.
As the hopper has a good 22 lbs capacity, you won't have to refill it for even several hours of cooking. Next in is the PID controller (the digital screen that displays the temperature) and the knob that lets you set temperature +/- 5 increments for precision cooking.
Apart from this, it has two meat probes, menu dial, and is Wi-Fi enabled, all thanks to the Camp Chef App. The Slide and Grill technology and Ash Cleanout Management system are its two main strengths. You can slide the grill to cook over the flame directly.
For ash cleanout, the unit includes a removable cup in the bottom that can be used on a push of knob to dispose of the ashes.
So, if having an effective ash cleanout management system is a must for you in a grill, this product needs all your attention.
PIT BOSS 72440-PB440D LGrill 440 Deluxe Wood Pellet Grill
Pit Boss 440 Deluxe wood pellet grill is one versatile grill and is gold amongst the bunch of new technology grills.
You can't name a feature this grill doesn't provide. Be it a decent cooking space, built-in temperature gauge, bottle opener, side tables, storage space, or grease management system; this grill is built well with no serious flaws.
The only thing to take care of is its temperature control. If you are a pro in grilling, this won't trouble you a bit. Undoubtedly, like every other Pit Boss grill, it has a heavy built constructed from heavy-duty 16 gauge steel.

With 465 sq. inches of cooking space, this is a good backyard grill as well. It also includes a flame broiler for direct grilling and searing.
Best Budget: Camp Chef PG24XT Vs Pit Boss Sporstman 820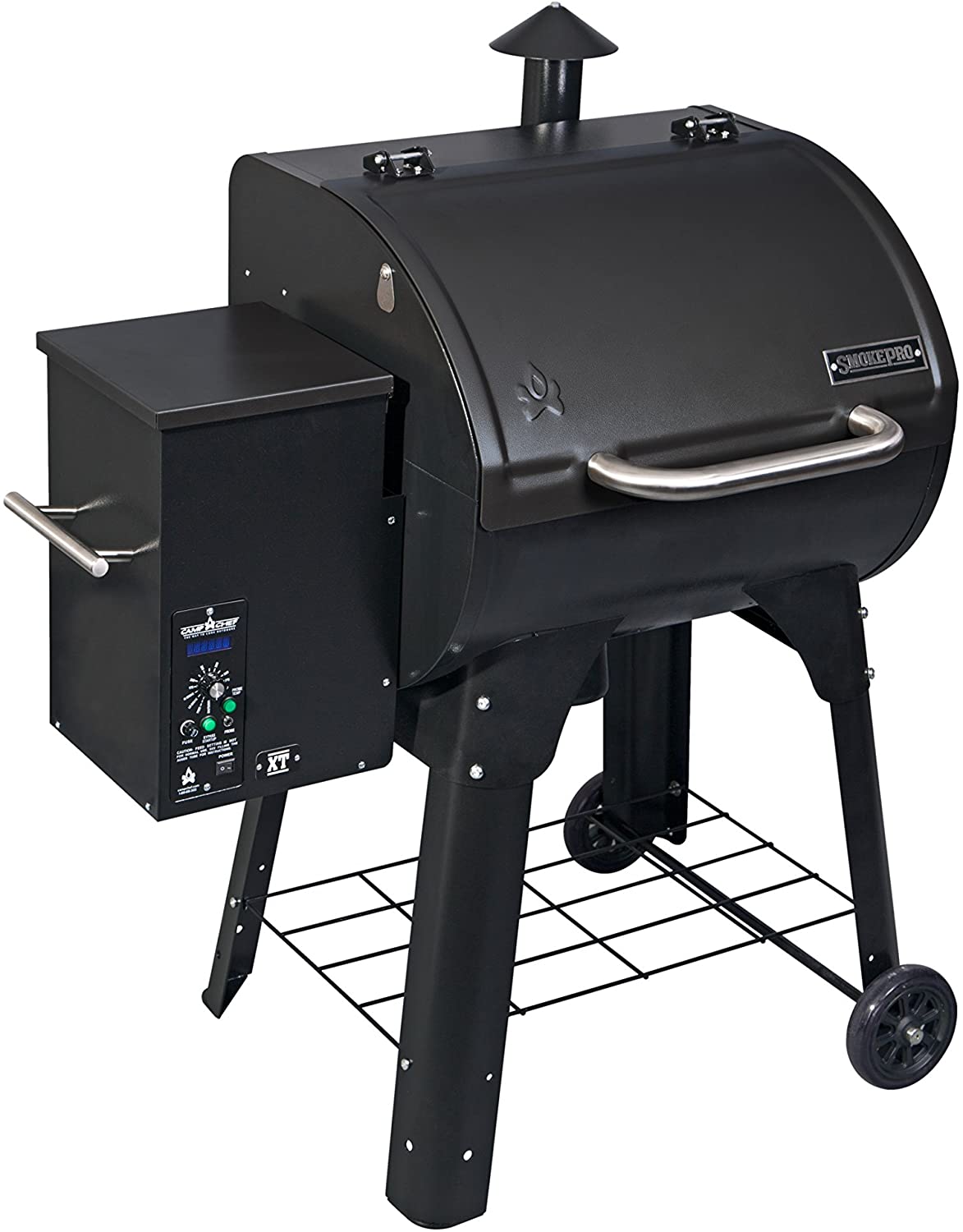 SmokePor XT won't make you go bankrupt and will still provide delicious and juicy grilled food at the comfort of your home. Especially for beginners, its like the treat to your eyes and taste buds as well.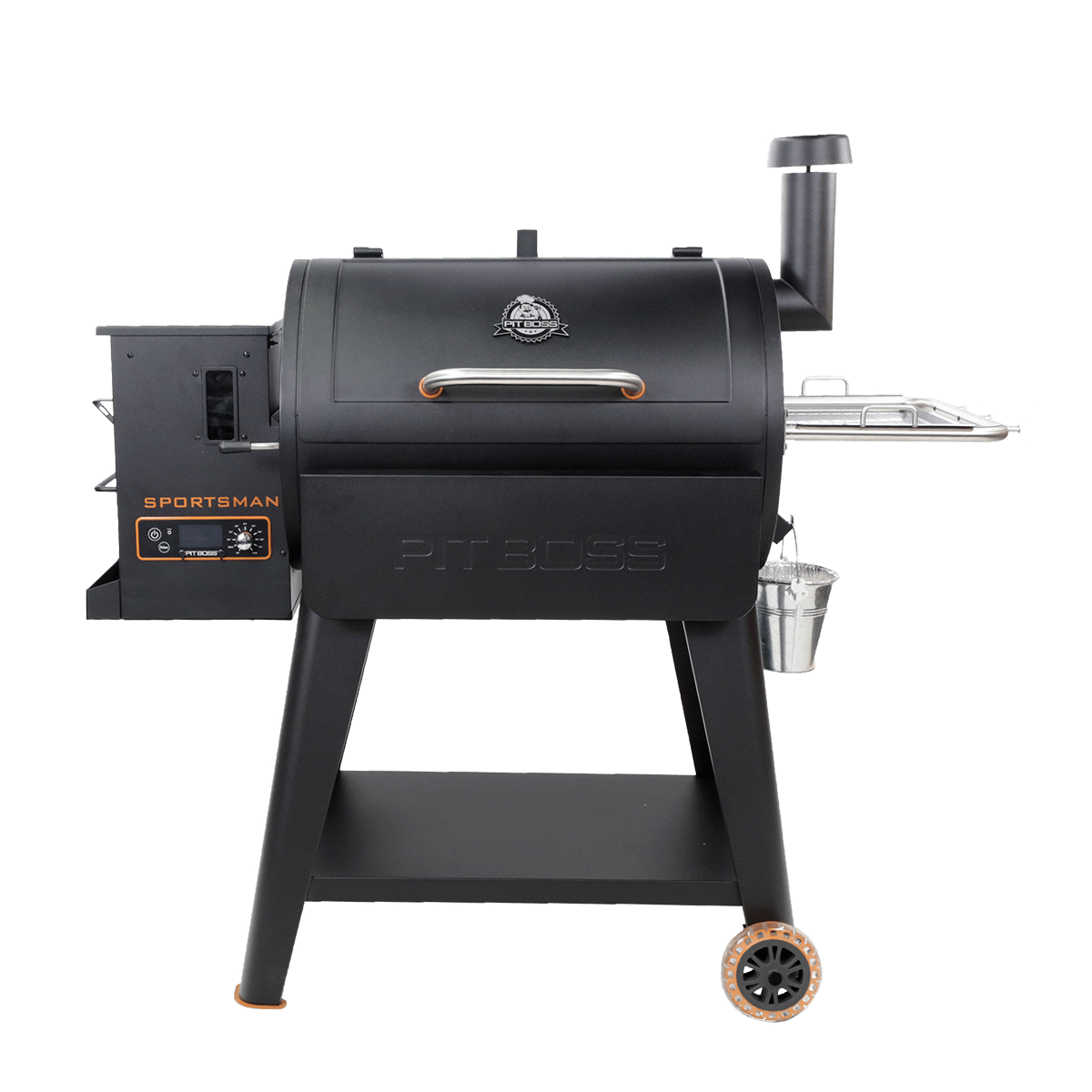 Sportsman 820 will again not fail to impress you one bit. Little things matter and make us happy, and this unit has a spice rack, Flame broiler leveler, bottle opener, etc. to add to it.
Camp Chef PG24XT Smoke Pro Pellet
Well, this unit ends up being the best budget pellet grill because it costs around $500 only with all the necessary advanced features included.
With a cooking space of 570 sq. inches, smart smoke technology, slide and Grill, and Ash Cleanout Management system, I still find it the best grill for beginners. With the hopper capacity of 18lbs, meat probe, stainless firebox, automatic auger feed pellet, it is made convenient at every level for starters.
Also, with its patented ash cleanout system, you will not have to hassle with cleaning the ash after hours of cooking. All you need to do is remove the cup with the help of knob attached at the base of the unit, and your unit will be free of ash in no time. It contains only two wheels in front, moving it around.
A beginner in grilling? You cannot go wrong with this one. Give it a try.
Pit Boss Sportsman 820 Wood Pellet Grill
Yet another worthy Pit Boss pellet grill is this sportsman 820 with an ample cooking area of 820 sq inches at just a price of $599. Well, let's see if it is worthy enough to stick around or not.
This unit will be favorable for those who love having extra space at hand. Along with side shelves and bottom storage, it also includes a removable front shelf/ rack as well. Not only this, but it also includes a built-in spice rack in the left as well
It has a pellet hopper capacity of 21 lbs, includes a meat probe, a sleek digital panel with a dial-in knob for temperature setting, and flame broiler adjustable bar as well. Not only this, but it also boasts 8 in 1 cooking versatility to grill, smoke, roast, bake, braise, sear, BBQ, and char-grill.
If you have extra space in hand, this grill is what you need.
Best Portable: Camp Chef Pursuit Vs Pit Boss Sportsman Portable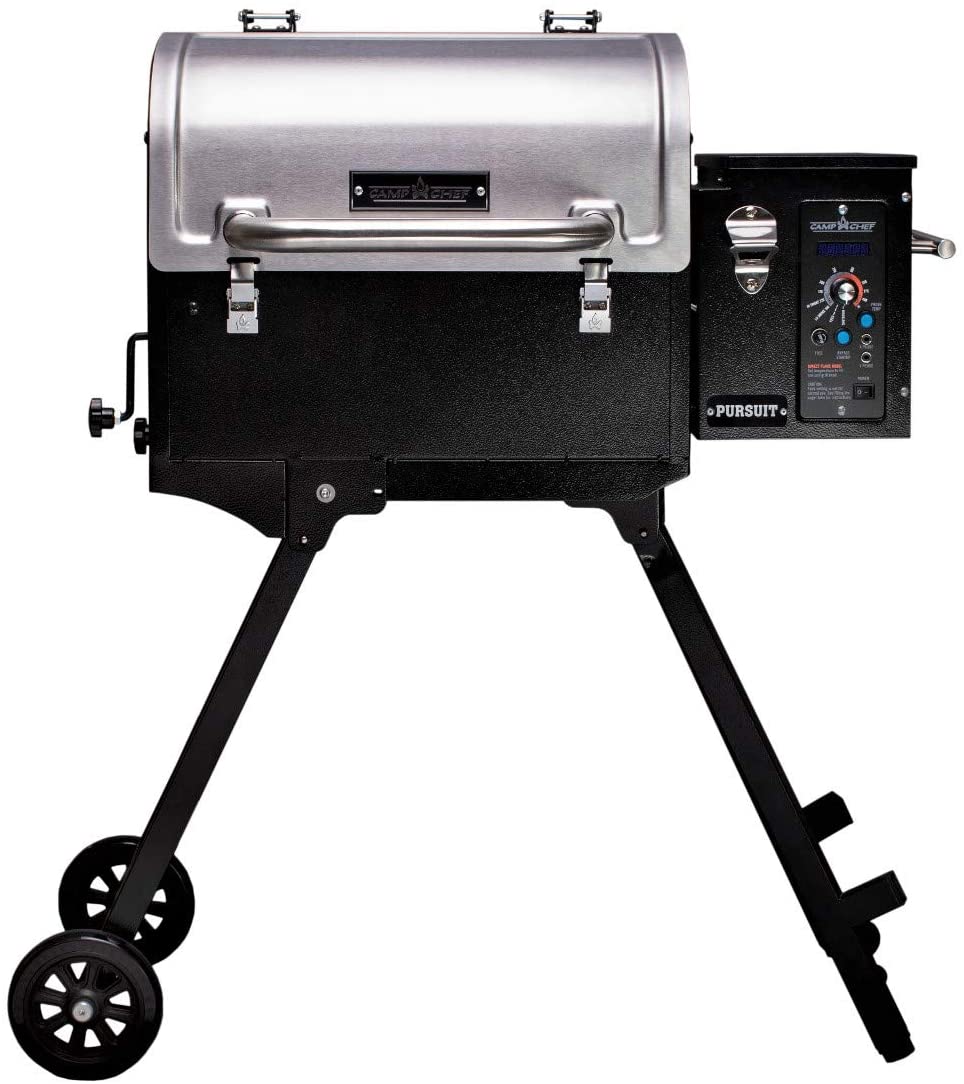 Calling all the RVers and Tailgaters to adopt this little yet bomb portable pellet grill. It deserves to see all the world out there with the amazing juicy and smoked food it cooks for you anywhere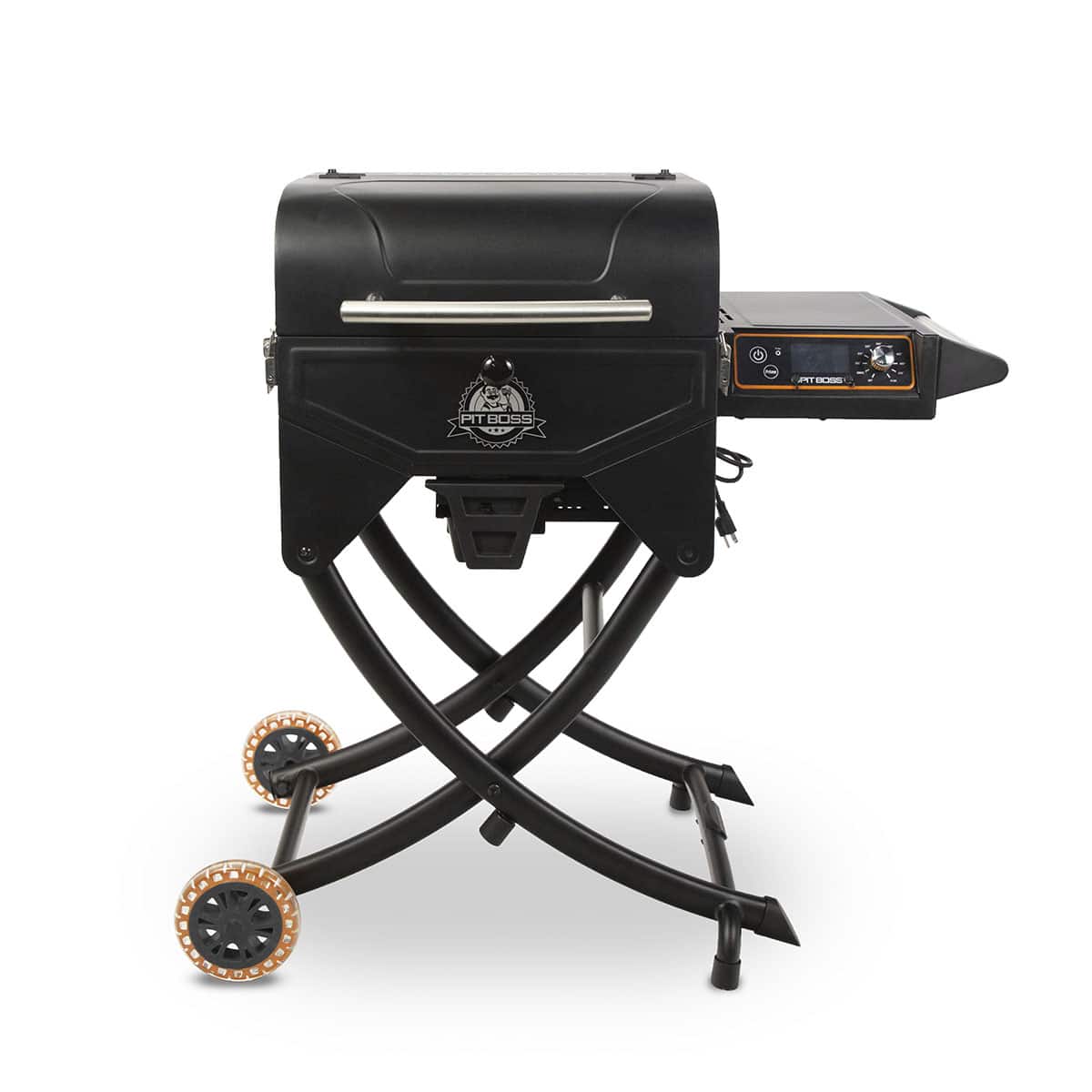 The whooping 10lbs hopper capacity is enough to say how this portable grill can add stars to your traveling, compositing, or RVing experience.
Camp Chef Pursuit Portable Pellet Grill PPG20
When it comes to naming the top portable grills, Camp Chef definitely has to be one of them.
It is commendable to have a cooking space of 501 sq inches in a portable grill with 10 lbs pellet hopper capacity. It also has Camp Chef's patented Gen 2 Digital controller that lets you cook like a pro with ease and precision.

It is an ultimate smoker with ten levels of smoking settings. Along with this, it has two meat probes (difficult to find in portable grills), 5-degree increments of temperature setting, bottle opener, rolling wheels, lockable latches on the lid, etc.
What makes it unique is its roll away features, which actually make it portable and perfect for tailgating, RVing, travelers, and adventurers alike.
Sounds good, right?
Pit Boss Sportsman Portable Wood Pellet Grill
This is yet another amazing portable wood pellet grill by Pit Boss. The sportsman portable wood pellet grill is something you should look forward to finding about. It has all the amazing things about it at just $399.
A portable grill with 19 lbs of pellet hopper capacity says it all. It has a cooking capacity of 387sq inches with two-tier cooking grates. It has X shaped foldable legs, which makes it easy to carry the unit around wherever you go.
Like every other pellet grill, it can also maintain a temperature from 180 degrees F to 500 degrees F. The Matt black finish with orange highlights adds to its likings. Also, the external flamer broiler leveler in front allows direct grilling up to 1000 degrees F.
The pellet hopper is at the back of the unit. The digital control board is to the right with a storage space at the top. It also includes a meat probe, fan-forced convection cooking, and a lot more.
The maximum temperature this pellet grill can reach is 450-degree F. It includes all the trademark advanced technology features Traeger grills are equipped with. The Keep Warm feature, Timer, Ignite are all part of this small power package.
Best Large: Camp Chef SmokePro DLX Vs Pit Boss Rancher XL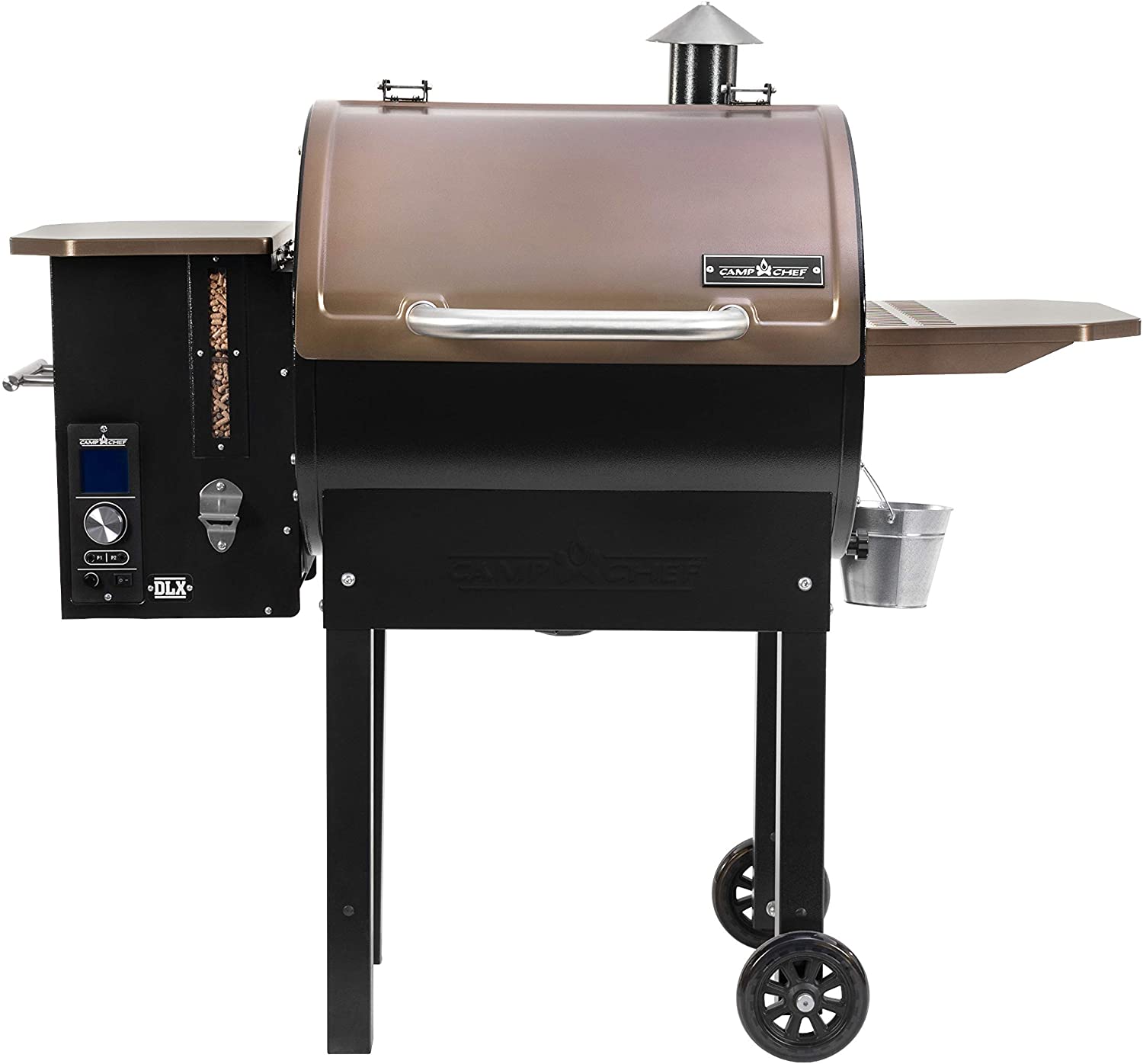 This freestanding unit actually knows how to smoke well, and you will altogether be impressed by how many years it can last. Maybe you won't have to buy another grill for your coming generations as well.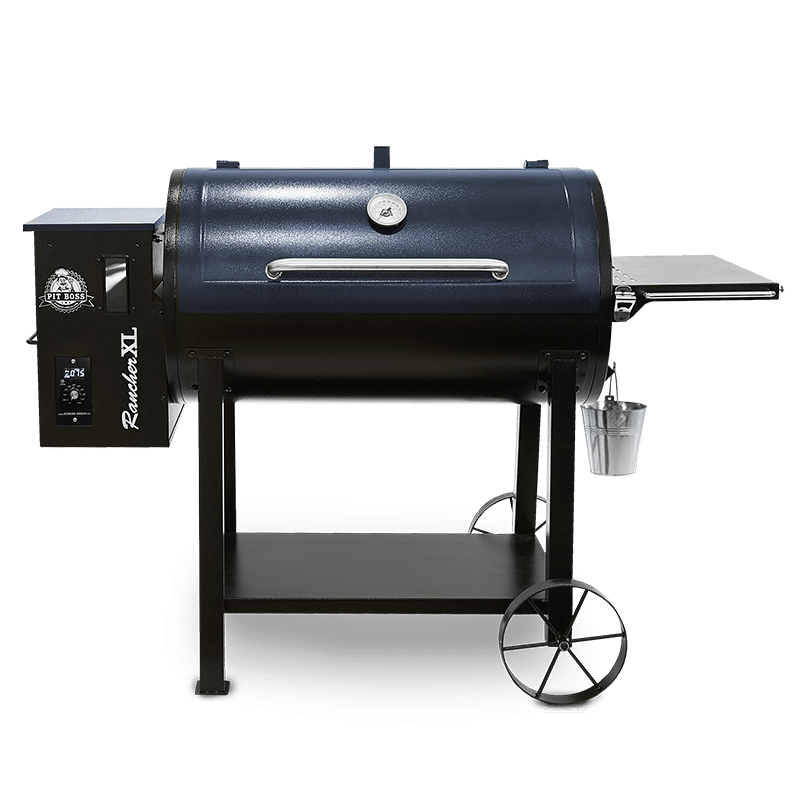 If you got to feed a ton of people at your house party or BBQ, just get your party started with Pit Boss Rancher XL with a variety of cooked food on it. Oh! Just do not forget to leave your woof pellets inside it forever and think twice before other brand pellet grill on this.
Camp Chef SmokePro DLX Pellet Grill w/New PID Gen 2 Digital Controller
There are a few features that make SmokePro DLX different from its older version SmokePor XT. Let's see the additional features it contains that will make you pay an extra dollar for it.
So, the SmokePro DLX comes with 570 sq inches cooking space, sufficient for feeding an average family, 10lb pellet hopper capacity, meat probe, pellet rake, three-year warranty, and same construction as SmokePro XT.
However, the difference lies in convenience features added to it. It includes an additional bottle opener, side shelf in the right, and comparatively larger shelf on the top pellet hopper. It also includes two meat probes and an advanced Gen 2 PID controller.

It is also attachment compatible. The Gen 2 PID controller allows better temperature control and lets you cook at two different temperatures simultaneously with the help of meat probes.
So, the few extra dollars it charges for SmokePro DLX is just about reasonable. Don't you agree?
Pit Boss Rancher Xl Wood Pellet Grill
Rancher XL is priced just right around SmokePro DLX as well. It will be exciting to compare the two. Let's see who wins it!
So, Pit Boss Rancher XL is like a beast with over 1000sq inches of cooking space sufficient enough to accommodate 31 burgers and 31lbs of hopper capacity. What's special about Rancher is that it allows direct flaming by removing the slider plate and sear over direct flame.
It favors 8-in-1 versatility cooking, constructed from heavy-duty steel, and is definitely heavier than other models.
It also includes a removable side shelf with towel handle and tool hooks as well. You will also find a bottle opener near it, plus sturdy bottom storage as well.
It has an analog thermometer on the lid to keep an eye on internal temperature. It uses a D3 digital control board with a dial-in knob and a digital screen. Also, you could check the twin of rancher" Pit Boss Austin Xl.
When it comes to precision cooking, Camp Chef performed neck and neck with Traeger pellet grills. So, if you are a beginner and looking for easy temperature control, Camp Chef has the upper hand on Pit Boss.
However, if you a pro in grilling and affordability matters to you, Pit Boss provides the cheats and affordable pellet grills of all. With large cooking space, Pit Boss grills are better made for experienced grillers. If you are looking for more options, you might even consider exploring Z grills.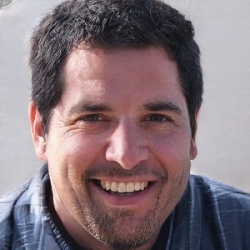 This article is written by Noam Shahar the founder of Limited-Red, Noam is a serious carnivore, And he has a strong passion when it comes to meat and cook, He Decided to review the "BBQ world" 9 years ago after discovering how many people struggle with choosing their dream grill.