To explore the best pellet grill in the market, we selected the top-selling pellet grills of two best companies, Camp chef and Pit Boss. To select a single best pellet grill, here is a comparison of the best products of Camp Chef and Pit Boss pellet grills.
Camp Chef Versus Pit Boss: Which One You Would Choose?
Camp Chef SmokePRo 36 SGX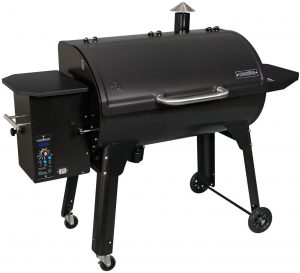 Priced around $900, SmokePro 36 SGX is both a smoker and a grill. You can easily switch between the two and enjoy both traditional slow smoking and direct flame wood pellet grilling. It is perfect for both the moods of cooking and eating.
It has 2 racks summing up the total cooking area to 1236 sq. inches as against 1100 sq. inches in Pit Boss Pro Series 1100, and is enough to handle 69 burgers. It also includes a side warming rack and a front shelf.
With its Smart Smoke Technology, it is easy to grill with pellets without worrying about burning your food. Also, its Ash-Cleanout System saves you from the trouble of cleaning ash for hours.

Just twist the pellet hopper cleaner up to empty its contents in the trash. Its Pellet hopper is easy to clean and has a large capacity of holding 22lb pellets at a time.
Its other impressive features include easy-to-clean grease management system, electronic auto-start ignition, simple temperature selection system and others.

To add to the convenience of grilling beginners, it includes a dual LED temperature readout that helps you set both internal cooking temperature and internal food temperature.
However, it lacks any tool hooks if you are looking for them. It is easy to move around with its four cartwheels. It is large enough to throw backyard, deck and patio parties.
PROS:
160 to 500 degree F temperature range
Easy to clean ash
Large cooking capacity and a hopper capacity
All the advantage above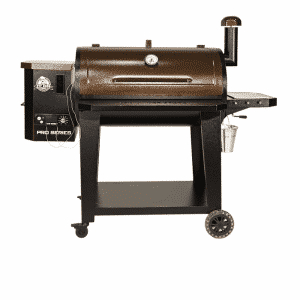 If you think, Camp Chef is worth the price with the features it provides, wait for us to list the features of Pit Boss Pro Series 1100 and you will be amazed by the contrast.
Priced at nearly half of Camp Chef at just around $599, Pro Series 1100 is light on pocket and best on all aspects.
While Camp Chef is just a smoker and griller, Pit Boss Pro Series 1100 pellet griller is an 8-in-1 cooking system where you can not only enjoy grilling and smoking but searing, roasting, BBQ and a lot more.

You can set full food of backyard Barbecuing, throw big parties without a worry.
It also has 2 racks of porcelain-coated cast-iron cooking grates that sums up the total cooking space to 1100sq inches just slightly less than Camp Chef's but sufficient enough to cook 56 burgers.

It also has a side warming rack, front shelf, and a bottom shelf too.
With Pro Series 1100, you can adjust the temperature digitally with the help of a digital control pad and dial in temperature range and two meat probes.
With its Flame Broiler technology, you can easily reach to 1000 degree F temperature for direct flame searing. So, you can enjoy both direct and indirect flame cooking.

Its pellet hopper has a 35lbs hopper capacity which requires to be filled with 100% natural hardwood pellets which are sufficient enough to last for hours without having to refill it now and then.

However, it does not have an ash management system like Camp Chef.
Its BTU value is 40,000 and it supports a temperature range from 180 to 500 degree F. For convenience, it has extra-wide stability legs, built-in tool hooks, locking caster wheels and foldable front table.
Talking about its built, it is crafted with heavy-duty steel making it the heaviest in its class.
PROS:
Automatic start-up and cool down
Tool hooks
Fan force convection cooking
Pellet purge system
All the advantage above
CONS:
Slightly heavier
No removable ash catcher
Other 3 Honorable Products Of Each Brand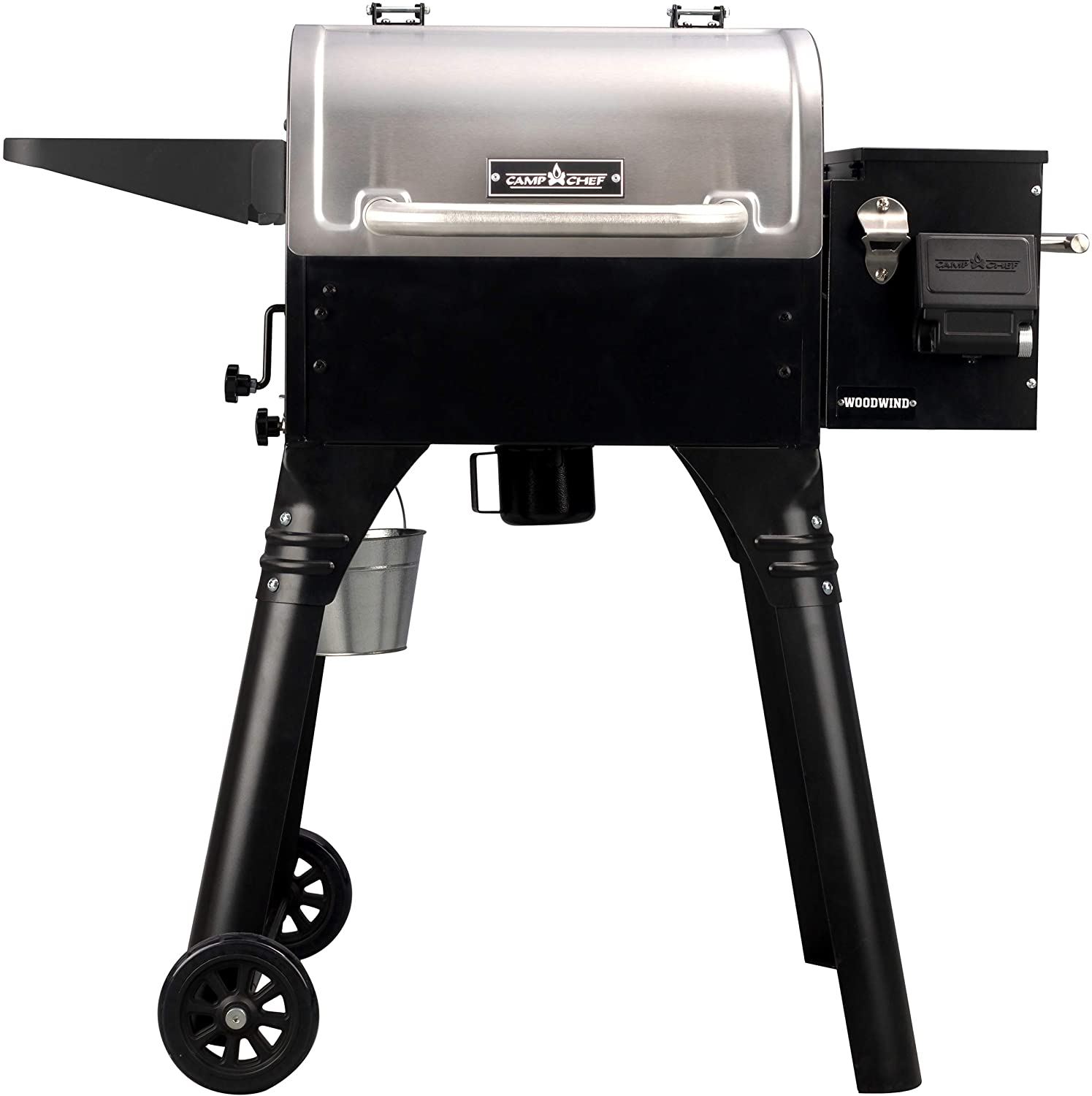 Priced around $600, this pellet grill by Champ Chef is suitable for small families. It can easily be placed in your backyard or patio. It is equipped with the Wifi PID controller which will let your control the cooking through your smartphone too.
PROS:
WIFI & Bluetooth PID controller automatically maintains cooking temperature.
It has Folding side shelf.
Slide and Grill technology that allows for direct flame cooking with temps up to 650 F.
Patented Ash Kickin' Cleanout system that allows you to dump the ash after every cook.
Grease management system.
CONS:
Small hopper.
Difficult to maintain temperature in cold weather.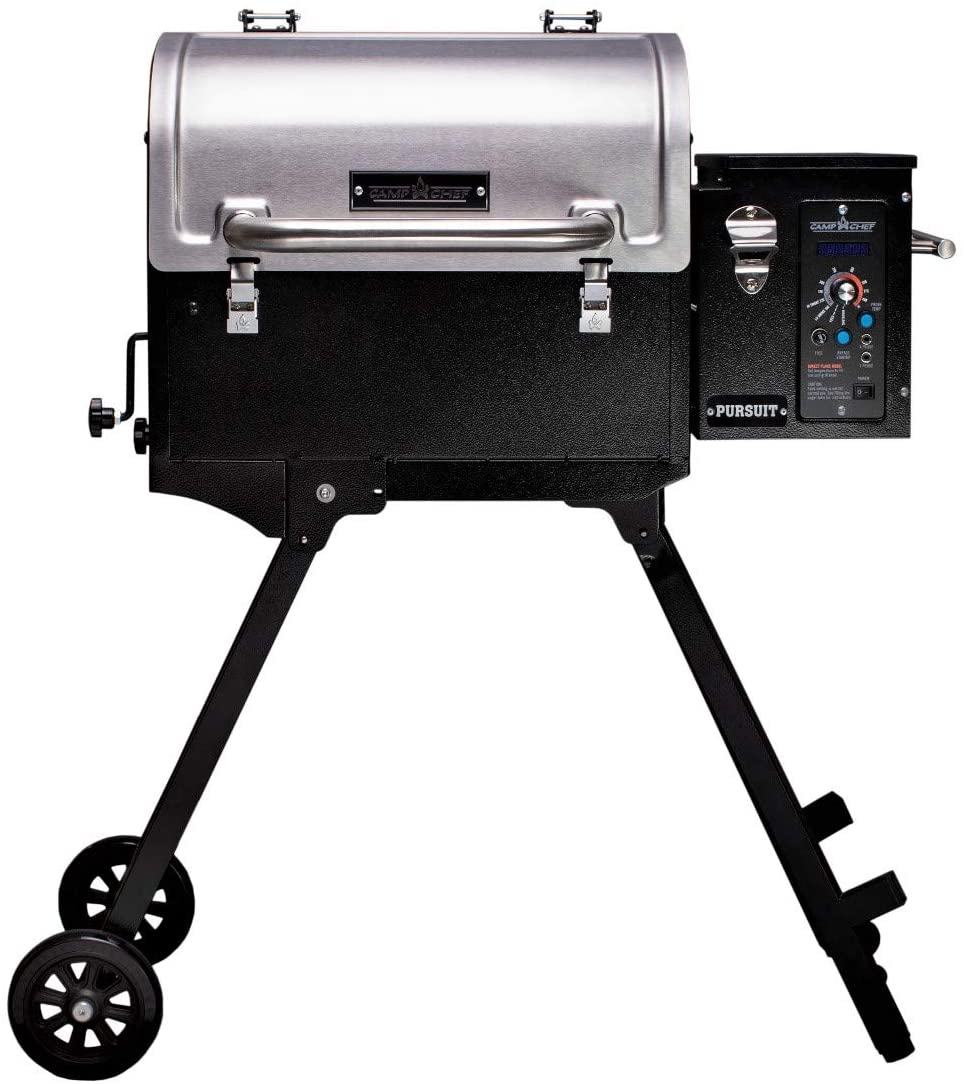 2. Pursuit 20 portable Pellet Grill
Priced around $440, this portable pellet grill is great for travelers, campsite, tailgating, and RVs. It has all the great advanced features too.
PROS:
Has two LED thermometers for superior temperature monitoring.
Easy to use.
Compact design, stores, and transports easily.
Precise temperature control.
Patented ash cleanout system.
CONS:
Can't sear the entire grill grate at once.
Legs are a little bit wobbly.
Still a little bit heavy.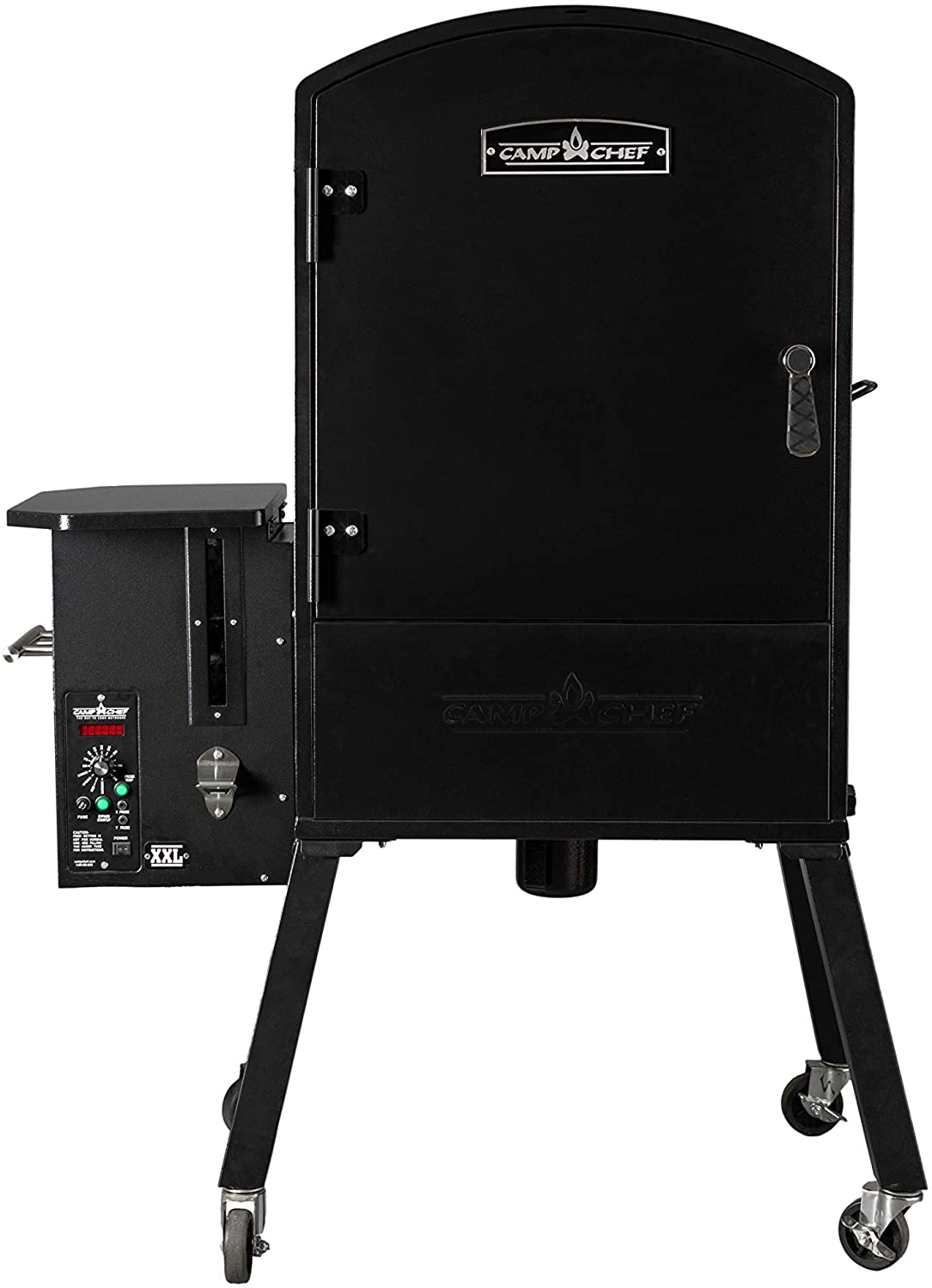 If you are a sucker for vertical pellet smoker and grillers, this one is for those who love to have extra space and likes to cook a variety of their favorite food at once.
PROS:
Dual temperature probes and Smart Smoke Technology.
Grease management system.
Easy to use.
High capacity vertical smoker.
Very versatile for cold and hot smoking applications.
CONS:
The racks are not coated.
Doesn't have Wi-Fi control.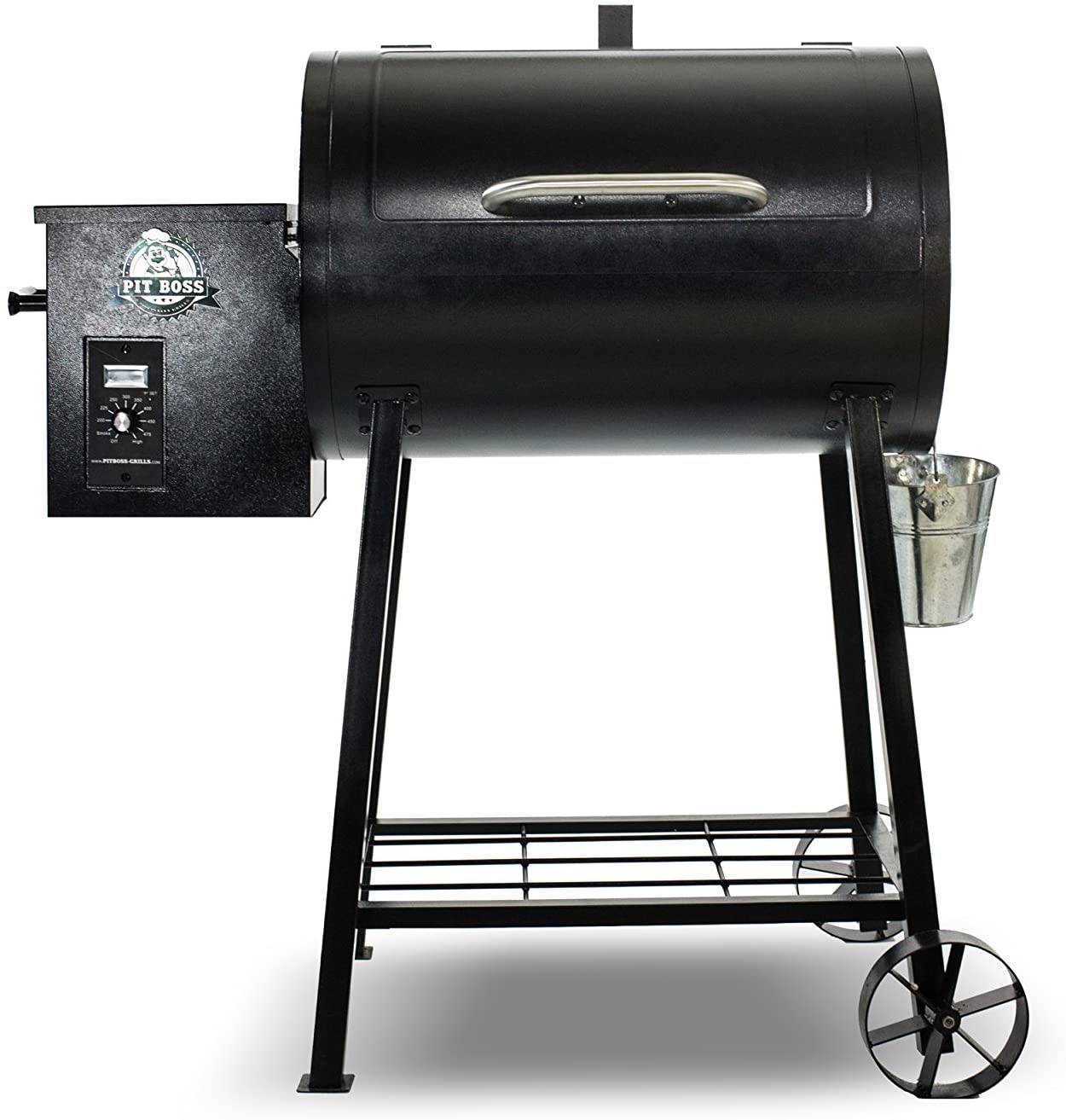 Priced at around $350, it is a perfect wood pellet grill for starters and small families. One of the smallest models of Pit Boss.
PROS:
Pit Boss wood pellet grill is fueled by 100% all-natural hardwood pellets.
This unit includes a shelf for storage.
Has automatic start and cool down.
Porcelain-coated cooking grids.
The cooking temperature can be set from 180-500 degrees Fahrenheit.
CONS:
fluctuation of the heat thermostat.
Difficult and dirty to replace.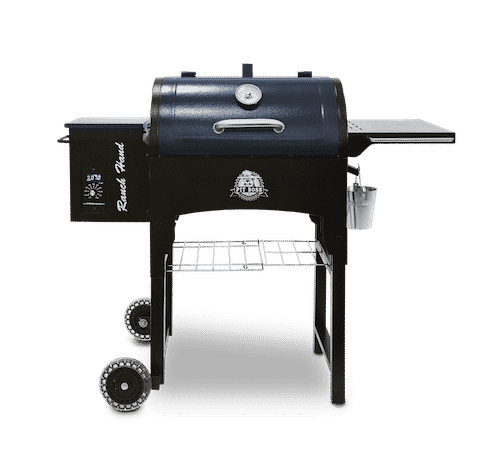 2. Ranch hand Wood pellet grill
This wood pellet grill is mainly for enjoying its portability with some of the great features at hand. It is priced at around $450.
PROS:
It is a high-quality grill and easy to assemble.
Control Type: V3 - Digital Control Board.
440 sq. in. cooking area.
Grease management system.
Easy to use.
CONS:
Still a little bit heavy.
fluctuation of the heat thermostat.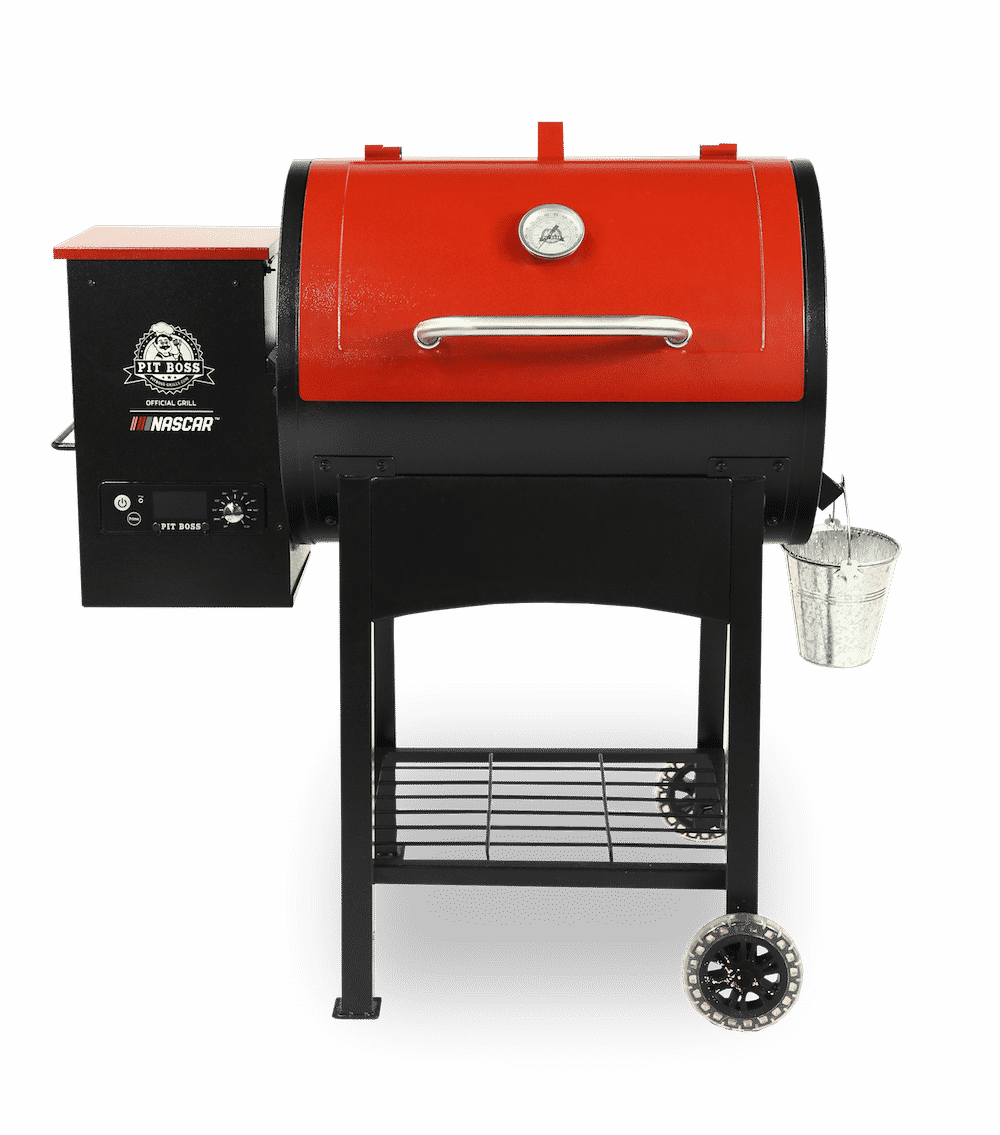 With 8-in-1 cooking versatility, this pellet grill also comes with a starter kit and some advanced features.
PROS:
High performance pellet grill with great versatility and free grill cover.
Slide plate over the burner - allows for direct or indirect cooking.
Built-in dome thermometer on lid.
Bottom shelf and side shelf with tool hooks and bar handle.
Cooking temperatures from 180°F to 500°F..
CONS:
The igniter sometimes does not work.
Doesn't have Wi-Fi control.
These were the top 3 models each serving a different purpose like portability, fit for smaller families and more cooking space respectively.

If you still is doubt, check our comparisons of Camp Chef vs Traeger and Pit Boss vs Traeger to feel more comfortable with your choice. Looking for more options? Here are some amazing grills below 500.
Final Verdict
So, the Pit Boss Pro Series 1100 is a clear winner here with all the features of Camp Chef SmokePro and other deluxe features too at nearly half of the price.

When compared to Camp Chef, all models perform great cooking and are made to last for years to come. However, when it comes to affordability, Pit Boss wins it by a huge difference. If you are looking for more options, you might even consider exploring Z grills.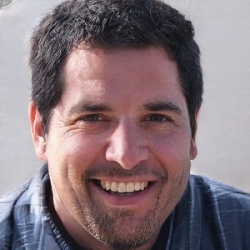 This article is written by Noam Shahar the founder of Limited-Red, Noam is a serious carnivore, And he has a strong passion when it comes to meat and cook, He Decided to review the "BBQ world" 9 years ago after discovering how many people struggle with choosing their dream grill.