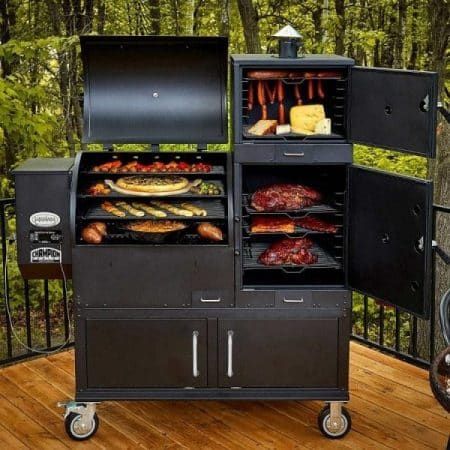 If you're looking easy to use, quality cooker to use during tailgating parties, then a pellet grill is the right choice for you.
In this guide, we'll review the best pellet grills under $500. Also, we'll review the pros and cons of each model so you'll have a clear perspective of how they work. Without further adieu, let's start the review!
Top pellet grills under 500 dollars of 2020 reviews
Buying Guide
Still confused about what makes a good pellet grill?
Continue reading this buying guide!
Temperature Range
Knowing your grill's temperature range is important for the final result of your food. What you'll need will depend on what cooking techniques you plan on using. High-end pellet grills can reach to 180°F – 425°F which is enough for smoking, grilling, baking, and roasting.
However, if you want to sear meat, you'll want a grill that can reach 500°F – 550°F heating levels. A good thermometer is necessary. You'll need an accurate and precise reading so you know that you're cooking meat at the right temperature.
Cooking Size, Area, Portability
Pellet grills can range from portable grills for tailgating to large grills for commercial usage. If you're someone that wants to take your pellet grill on the go, be it partying, camping or any event, you'll want one with wheels and easy to lift. If you have a lot of tailgating parties or you cook often at home, then you'll want a larger pellet grill. Decide your needs before buying a pellet grill to ensure you buy one that properly sized.
3 Position Controller
When it comes to cooking, consistency is the key if you want better results. For instance, if you're cooking brisket, the cooking temperature needs to be around 250°F throughout its 12 hour cooking period.
The controller board is necessary for precision. The three types of position controllers are 3-position, non-PID one-touch, and PID multi-position. Check out the types of controllers and pick the one that works best for you.
Price Factor
Price is a major factor when searching for a pellet grill. Everyone wants affordable products, but buying a cheap, low-quality grill might mean that you'll have to spend more money in the future. A high-quality grill at an affordable price because it's more durable and used more often because you're satisfied with your purchase.
Hopper Size
Your pellet cooker's hopper container stores pellets ready for the device's auger to bring them to the firepot. Basically, the size of the hopper will determine how long the cooks will be. So, buying a grill with a smaller hopper size will be annoying because it will fail to go the distance while cooking.
Additional Accessories
Despite being more complicated than standard grilling equipment, pellet grills are easier to repair once you have the right parts. It doesn't matter if you need to replace the fan or the auger; for most brands, you can find replacement parts easily. Here are the most common pellet grill smoker accessories that can be easily replaced.
Wheels: Wheels are affordable and replaceable and are available in most shops. Usually, you'll discover that the wheels are losing its quality once the grill sees heavy movement. We recommend that you don't trail your grill around with your car if you don't want to replace it frequently.
Auger Motors: Your pellet smoker needs this to run properly. If you need to get them replaced, then you can buy them online or your local hardware store for $30-$40.
Fan Motors: Fan and motors come pre-bundled if your grill isn't working properly. You can easily replace these parts, and with the internet available, it won't be difficult to find a video tutorial after buying one.
PID controllers: PID controllers are replaceable, but you have to buy them separately. Sadly, there is no one size fit all PID controller for pellet grills. 
Meat Probes: You'll want to know the temperature of the meat you're cooking. For pellet grills without meat probes, or if your current one is broken, then you can purchase these accessories to help you.
Pellet Hopper: Some pellet grill smokers come with a hopper extender, which allows you to hold a larger amount of wood pellets. This is useful as it increases your slow cooking time without needing supervision.
Chimney, Body Parts, Hinges: Loose body parts like chimneys, screws, and hinges for pellet smokers are widely available online. Whether it's a broken axle or the casters of your wheels, you won't find many issues with replacing it.
Direct Grill Gates: These protect the grill from dust, moisture, and weather in general.
Flat Top: Flat top griddles can increase the range of foods you can cook and provide a different cooking experience.
How to Find the Right Pellets For Your Grill
So far, we've covered some tips on how to find the best pellet grill under 500 dollars. Now we're here to give you tips on how to find the right pellets to fuel your smoker.
Select Your Flavor
The reason why the flavor is the most important aspect because it will determine the color of the meat by improving its natural smokiness. For instance, pellets like pecan, apple, and alder work great for chicken, while hickory, mesquite, and oak work well with beef. If you're grilling vegetables, you should go with apple, cherry, or maple, while seafood uses mesquite, alder, and oak.
Food Grade Pellets
Pellets come in different types. For instance, heating pellets are designed to fuel heaters, while the food pellets are good for smokers. We suggest that you buy food pellets because they don't have chemicals or other harmful substances.
Select Hardwood
Pellets are divided into hardwood and softwood. Hardware pellets are best for smokers because they burn longer and slower. Plus, they maintain even temperature or give off realistic smoked flavor.
How to Use Pellet Grills Correctly
Here are some tips on how to utilize your pellet grill after buying it:
Maintenance is crucial. You need to keep your grill clean as a buildup of ash and grease will negatively affect your food's flavor in the long run. We suggest that you invest in a cover to protect the grill from outside elements and prolong its lifespan.
Don't open the lid while cooking. Doing so will compromise the flavor of your food and allow smoke to leak out.
Safety first. Don't expose your pellet grills to rain, check all of the components before using it, and don't allow the cords to get wet.
You will have to replace your grill's components sometimes. Such as the gasket for instance.
The pellets should be stored in a cool place that's free from moisture. Make sure that they never become wet or damp, because that will render them useless.
Smoking vs. Barbeque vs. Grilling
It can be easy for beginners to confuse words like smoking, barbecuing, and grilling. However, once you become more experienced with grilling and smoking, you'll notice the subtle differences between these cooking methods that determine your final product.
Pellet smokers can do all three of the cooking methods because they have a lid and a wide cooking space. Pellet grills have storage space for charcoal in case you need to use it for a barbecue or a charcoal grill. Alternatively, you can make it operate like a normal oven via the direct fire method.
However, pellet smokers work best when used for their original purpose. This involves using indirect heat to slow down the cooking of food and smoke it until it's perfect within a prolonged time period.
Should I Upgrade My Current Grill?
For best results, we suggest you get a smoker that's well-made and has a longer warranty. The key to keeping your grill for longer than five years is to maintain it properly. This means you should clean it thoroughly replace the components regularly, so it doesn't wear out the full system.
Most of the issues with pellet grills can be traced back to a lack of proper maintenance. As a result, it leads to temperature inconsistency and congestion. However, if your grill is beyond repair, then you should ask the following questions before buying a new one:
Will Upgrading My Grill Fix My Problem?
Fixing your pellet smoker can be as simple as replacing a faulty part. Usually, you'll spend $50 or less instead of shelling out hundreds of dollars for a new smoker. If issues still arise with the grill's digital operations, then you should hire a professional to help you.
When Should I Look For a New Pellet Smoker?
The answer to this question will depend on the type of malfunction your grill is expecting. If the problem is fixable, then try repairing it before chucking out money and buying a new one. Sometimes, you can easily replace the digital control levels or changing the hopper to maintain the smoke levels fully.
Conclusion
To conclude, we believe that you can get a pellet grill at an affordable price. Although we did not include products from good companies like Pit Boss 700fb and Camp Chef Smokepro Dlx, If you want something that's easy to use, try using the Camp Chef Pursuit 20. But, for those wanting something more advanced, try the Green Mountain Davy Crockett. Whatever model you choose, you'll have a reliable pellet grill that will be the life of your next BBQ party.