Over time, the popularity of pellet grills has increased due to their reliability and convenience in smoking barbecues. Typically, you may expect average grilling results from a standard and affordably priced pellet grill. However, this isn't the case with Big Horn Grill.
This grill rivals some of the expensive models on the market. However, does it maintain consistency in providing smokey results over time? This review below dissects the Big Horn grill performance, quality, and customer satisfaction.
Big Horn Pellet Grill Overview
The Big Horn Pellet Grill should be your go-to grill if you are looking for an affordable yet reliable pellet grill on the market. The unit features six cooking styles that provide satisfactory grilling results. Unlike other brands that sell their accessories separately, Big Horn grill provides customers with extras and essentials needed to achieve a good barbecue experience.
Feature Specifications
Name:
Weight: 110lbs
Dimensions: H 43" x L 45" x W 20"
Temperature range: 225 – 450 degrees
Cooking area: 700 square inches
Pellet hopper capacity: 8lbs
Key Features of the Big Horn Pellet Grill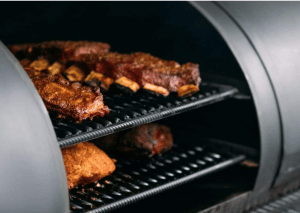 An extensive cooking space is probably the best feature of the Big Horn Pellet Grill. The grill comes with a total of 700 square inches of cooking area, which is enough to hold all your preparations. Its top rack provides 270 square inches, and the bottom rack has 430 square inches of cooking space.
As if not enough, the top rack is removable and can support even the bulkiest barbecue foods, such as large pork, chicken, and beer cans. The front part also has a top shelf where you can conveniently place the basting source and barbecue sprayer.
If you are a grilling enthusiast, you definitely know that grills that provide 700 square inches of cooking space aren't cheap. However, the Big Horn Pellet Grill provides this space with two additional racks at a reasonable price.
Always use the bottom grill as it is directly at the center of the grill and top-shelf when necessary.
Digital Control Temperature Gauge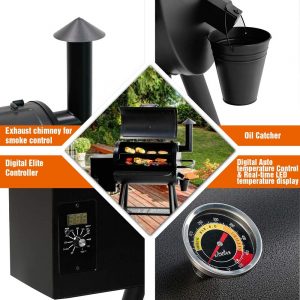 The main function of a digital temperature gauge is to provide accurate temperature readings. This automatic system makes it easy to regulate temperatures, as you can do this by simply turning the heat dial. You can adjust temperatures from 225 to 450 degrees with ease, lessening the chances of producing under or over-cooked meals.
While the temperature gauge is easy to use and always displays the temperatures of the grills, some users report that the temperatures can fluctuate. Therefore, to ensure even cooking, always cross-check to confirm that what's displayed in the digital gauge reflects the readings on the decent built-in gauge.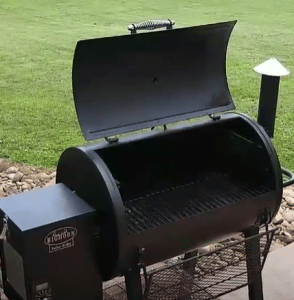 The Big Horn Pellet Grill is made from sturdy steel and porcelain materials that can withstand high temperatures. The use of slick porcelain construction material makes it easy to clean, as you can simply wipe off grease and food drippings using a cloth.

If there is a lot of drippings, you can as well remove the tray and wash it in your kitchen basin.
Tough construction materials make the Big Horn Pellet Grill overly durable and long-lasting. However, the major drawback of this construction is its heavyweight. The unit weighs 110lbs, which makes it difficult to move on dirt or grass, even with wheels. Even though other pellet grills are heavier.
For instance, the Pit Boss 820's is 146lbs while the Traeger Pro is 124lbs. However, these models have tread wheels that enable them to move in all terrains. Based on this, the Big Horn Pellet Grill is great for backyard barbecues only.
The Big Horn Pellet Grill comes with a large, sloping steel tray under the cooking grate that collects grease and directs the collected great into the grease bucket outside the grill.

If you hate cleaning, you can line the grill tray with aluminum foil to ease cleanup. While other pellet grills use the same technique to control grease, Big Horn Pellet Grills differ in their relationship between the pellet feed auger and burn pot.
Most pellet grills on the market have an auger that directly feeds to the firepot. However, the Big Horn Pellet Grill has a vertical auger that allows wood pellets to fall directly into the firepot.

The main advantage of this configuration is that it prevents dire from moving back towards the auger and possibly igniting the pellets stored in the hopper.
Even though "burnbacks" are not common in other pellet grill brands, they occasionally happen. Therefore, manufacturers of this grill separated the auger from the firepot as a safety upgrade.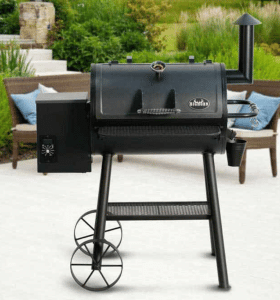 What Other Users Say About the Big Horn Pellet Grill
Based on reviews from verified purchases, most customers are happy with their purchase, specifically the grill's performance, strong construction, and versatile cooking experience. However, some had an issue with its weight and portability, which some found to be okay since they needed a stationary grill.
Well, Austin XL pellet smoker provides that pleasure by including a removable stainless-steel side shelf with three tool hooks on the right, a flat pellet hopper top on the left, and even base support that doubles as a sizable shelf.
Does the Big Horn Pellet Grill maintain temperatures well?
You might think that the grill doesn't have a tight seal. However, it keeps steady temperatures if you keep the door shut.
How many temperature probes does the grill come with?
The Big Horn Pellet Grill has only one temperature probe. This should provide satisfactory results if you monitor its ambient temperature.
How long can a 10lb pellet bag last?
If you fill the hopper with this amount of pellets, it should last for at least 3 days. However, this depends on the units that you burn and the temperatures of the probe.
Buying an affordable pellet grill that has all the great features is impossible. You will get one feature in one grill brand and lose another. Therefore, you should identify your priority features to ease your decision-making.

That said, while Big Horn Pellet Grill may not be overly portable, it provides a wide cooking surface, excellent temperature control, and durable construction.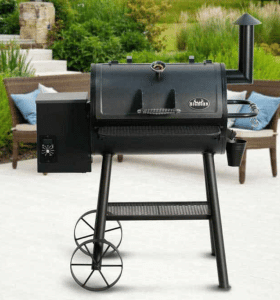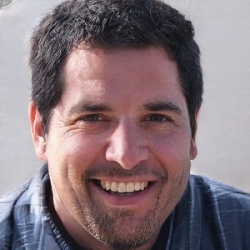 This article is written by Noam Shahar the founder of Limited-Red, Noam is a serious carnivore, And he has a strong passion when it comes to meat and cook, He Decided to review the "BBQ world" 9 years ago after discovering how many people struggle with choosing their dream grill.