Z Grills are arguably the future of home and backyard barbecue technology. Enjoy the rustic and traditional firewood smoked flavor with the convenience of propane, gas or pellet grills.

At their reduced prices and high-quality guarantee, they are an increasingly popular choice amongst backyard chefs.
Learn The Best Features, Benefits, Specifications, And Pros And Cons Of Z-Grills Products.
Product Dimensions
48.5 x 22.5 x 51.2 inches
Z Grills ZPG-700E 2019 New Model Wood Pellet Grill & Smoker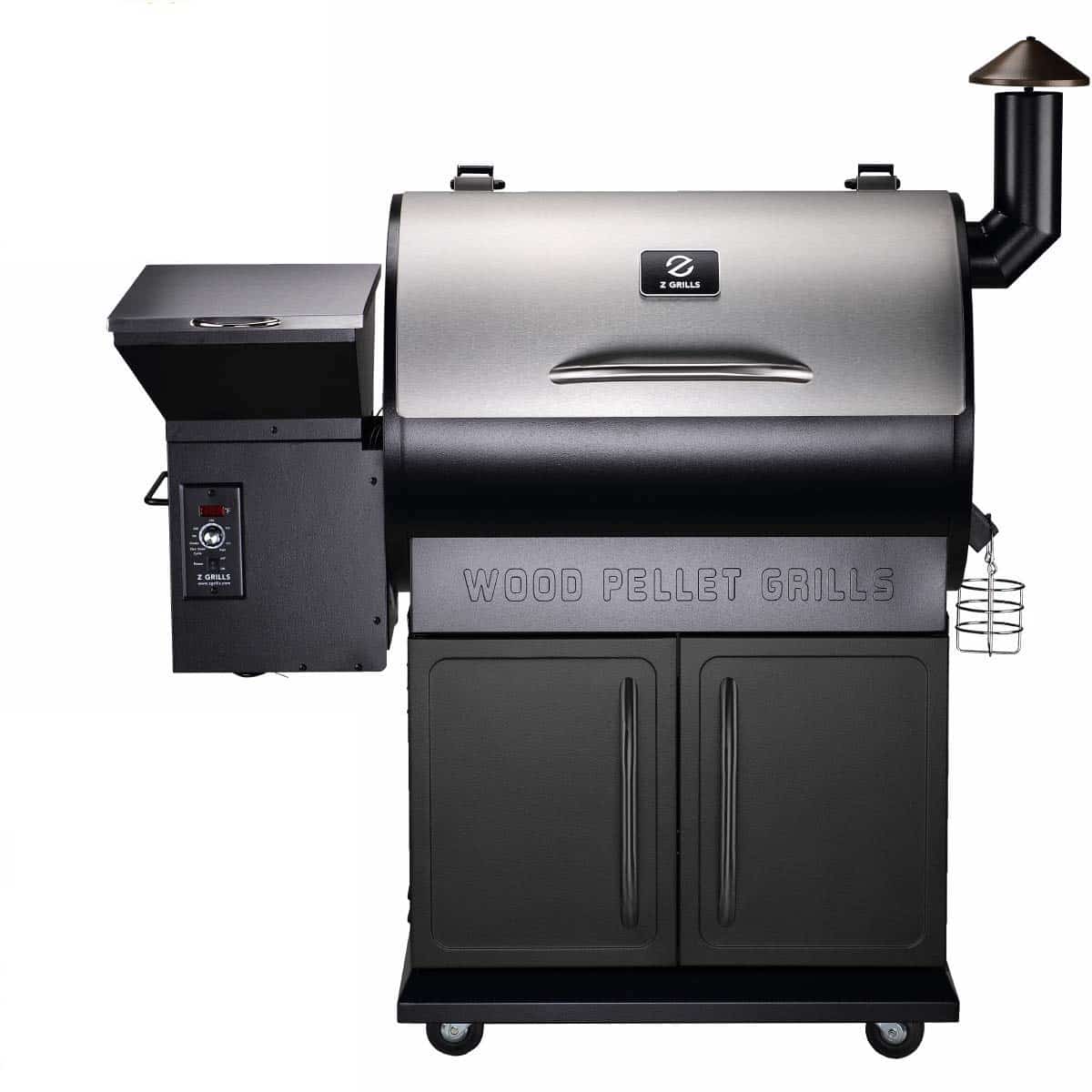 Are you tired of your grill only being able to have one, or at best two or three functions at once?

Well if you're looking for the grill of your dreams, the Z Grills ZPG-700E is an 8-in-1 grill that smokes, grills, bakes, roasts, sears, braises barbecues and char-grills your meat.

Now that you think about it, it's the equivalent of a personal chef!
The convection cooking function, which uses a fan to propel and circulate the air inside the grill cooks food faster and more evenly.

This means the meat comes out tender throughout instead of raw on one side and near-burned on the other.
This is the 2019 upgraded model with fixed issues such as more accurate temperature control and a pellet feed control system.
The automated grill maintains the heat to the cooking temperature you set, ranging from 180 to 450 degrees Fahrenheit. There is no need to worry about over-smoking.

Just set the temperature and go about preparing other dishes or conversing with family while the grill gets to work.
It comes with a grilling area and a smoking/warming rack with a 20-pound hopper capacity.
After a fun day of barbecuing the last thing you want to do is to scrape off charred pieces of food from your grill. The Z Grills ZPG-700E is easy to clean and comes with a waste oil collector to keep the mess in one place.
Move and store the grill easily with the locking caster wheels that allow you to move and position the BBQ grill as needed.
The best part is your product is covered by a 3-year warranty!
Z Grills ZPG-700D 2019 Upgrade Wood Pellet Grill & Smoker
The difference between the Z Grills pellet grills is the size and function. The larger the grill, the more space you have to grill and the more functions it has.

However, 6-in-1 is already pretty good! The ZPG 700D also has 8 functions like the 700E, which includes grilling, smoking, BBQing, char-grilling, baking, roasting, searing and braising.
The fan-forced convection gives the perfect environment for dynamic cooking for grilling, smoking, roasting, and baking.
All the 2019 upgrades have corrected the previous issues and this includes having more precise temperature control and a pellet feed control system. With the digital control board, you get an auto-ignition to start the grill. This makes it easy to use even for first-timers.
The new pellet feed system maintains the temperature at whatever you set between 180 to 450 degrees Fahrenheit. Just let it do the work while you go about your daily activities.
The 700 series are all very large grills with a surface area of 700 square inches and a 20-pound hopper capacity. However many pounds is the equivalent of however many cooking hours. So for the 20-pound hopper, you get twenty happy hours of cooking!
Similar to the other Z Grill grills you get a 3-year manufacturer warranty with your purchase and the four caster wheels maneuver the grill easily.
Z Grills ZPG-450A 2019 Upgrade Model Wood Pellet Grill & Smoker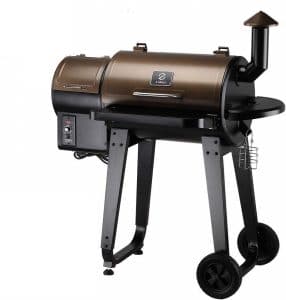 Z Grills specializes in wood pellet grills. Wood pellet grills are desirable due to the versatility, better temperature regulation, convection, and fast cooking.
This option (the ZPG-450A) is a tier below our first suggestion. Instead of an 8-in-1, which is great for avid grillers and backyard barbecuers, perhaps a 6-in-1 will suffice for you. Even with just a 6-in-1, you can BBQ, bake, roast, smoke, grill and braise!
Convection cooking is now sought after not only in BBQ grills but also ovens and microwaves as well. With convection, the fan circulates the hot air around the compartment to ensure even cooking, sort of like a rotisserie.
Start the grill with the auto-start ignition and the digital control board display lets you set your desired temperature anywhere between 180 to 450 degrees Fahrenheit.
The automated system steadies the temperature for you within the range and produces just enough smoke to obtain the desired result.
You no longer need to babysit the grill. While it's doing its job, you can chit chat with family members and wait to be served with perfectly cooked meat.
You get 450 square inches of grilling area (hence the name), allowing you to feed more people at once. A little bit smaller than the 8-in-1 (ZPG-700E), it only has a 15-pound hopper capacity but that is still enough for most cooks.
Your grill will have a foldable working shelf and all the racks and covers are rustproof.
Z Grills ZPG-550B 2019 Upgrade Model Wood Pellet Grill & Smoker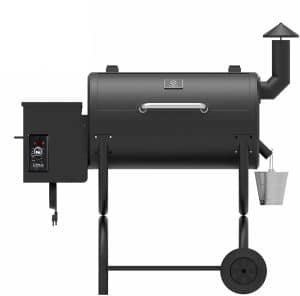 This option is similar to the one above, being the same 6-in-1 functioning grill with auto temperature control. The difference is the grilling area. This option measures a whole 88 square inches more than the above option.
The wood fire pellet grill can BBQ, roast, bake, braise, grill and smoke, but it comes with a smaller hopper capacity (at 10 pounds) compared to the smaller 450A grill. However, the ten-pound capacity should still get you around 10 hours of cooking time, which is more than enough for most.
All of Z Grills' grills come with fan-forced convection, for that even and perfectly cooked meat.
The 2019 options from Z Grill all have more precise temperature control systems as well as an upgraded pellet feed control system. With the digital control board, you can start the grill with the auto-ignition and set the temperature between 180 degrees to 450 degrees Fahrenheit.
The pellet feeding system is automated and won't produce copious amounts of smoke, unlike the traditional grill. The heat is maintained for you, all you need to do is dial in the proper setting.
All Z Grill models come complete with a foldable working shelf, wheels and rustproof stainless-steel cover and racks.
The waste oil collector makes the aftermath easy to clean. If anything goes wrong with the product during use that is determined to be a manufacturing error, you're covered by a 3-year warranty.
Z Grills ZPG-7002B 2019 New Model Wood Pellet Grill & Smoker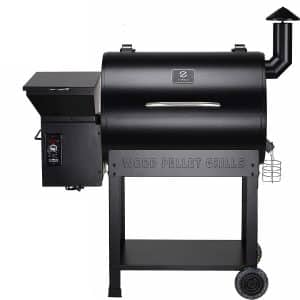 For people who often entertain guests or who love backyard cookouts, the 700 models are more recommended. They come with a larger grilling area and warming area and are larger overall.
The 700 series are all 8-in-1 BBQ grills that can not only carry out everything a 6-in-1 can, but with the added char-grill and sear functions.
Also using the wood pellet technology, the 7002B grill is convection based as well, providing that perfect traditional firewood flavor and evenly cooked meat without the need of a rotisserie.
No more opening the cover to turn the meat over. Once you set the temperature anywhere between 180-450 degrees Fahrenheit, you're free to leave the grill to do its job.
The grilling area is much larger than the smaller models and boasts a surface area of about 700 square inches!
First-time grillers might have a hard time with a traditional BBQ grill, but the upgraded versions from Z Grills come with electronic auto-start ignitions that make it easier to use. Fire it up on the digital control board and input your ideal settings.
This option is also covered by the 3-year manufacturer warranty to fix any issues you may face.
Z Grills ZPG-700E 2019 New Model Wood Pellet Grill & Smoker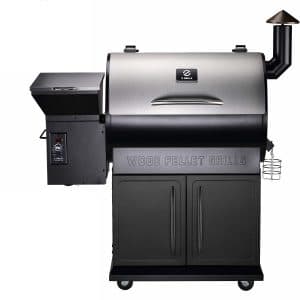 If we had to pick our favorite, the Z Grills ZPE-700E is quite a doozy. It is an 8-in-1 grill for avid BBQ chefs and infused the wood-smoked flavors right into your meat. You get a traditional and delicious taste without the hassle of propane grills.
It's easy to clean and the convection cooking technology yields the best tasting meat.
It's the larger size compared to the 450 and 550, which gives more space to grill more food at once. Larger hopper capacity of 20 pounds also lengthens cooking time.
If anything is wrong with the grill, you're covered by a 3-year manufacturer warranty, making this a risk-free purchase. You might also like to check the best grills under $500.
Also Read: Camp Chef vs Traeger
What to Look for When Buying Z Grills
Z Grills are wood pellet grills, meaning they burn wood pellets to generate heat and smoke to cook your food. The pellets are put in what's called a hopper, and the pellet feeder feeds the pellets into the grill where they are ignited.

If you aren't familiar with wood pellet grills, we have a few tips to help you find the right one.
Features
What do you want the grill to do? All Z Grills come with at least 6 features. Do you want secondary cooking racks? Cooking racks allow you to maximize your space.
Cooking Area
The size of the grill depends entirely on you, your preference and your allotted space. Z grills come in three different sizes all equipped with wheels for easy portability.
Also, consider the grill size when purchasing. For pellet grills, you get the main cooking area plus secondary cooking areas, which are any secondary cooking racks.

You don't need to invest in a larger grill if you hardly need to accommodate a significant group of people, bigger isn't always better.
Temperature
You need to be aware of the temperature range, with most Z Grills usually hit temperatures between 180-450 degrees Fahrenheit, which is pretty much good enough to do almost anything.

The wider the temperature range, the more capabilities and features a grill has. So if you aren't looking to fire-bake pizza, Z Grill temperatures are adequate enough for most things.
Construction
To get a grill that lasts, it needs to be sturdy and well built. You should be looking for stainless steel with an elegant finish and corrosion and rustproof racks and covers.

It's alright if the grill you want is lighter than smokers or propane grills, as they don't need to be bulky. Make sure the lid closes with a good seal, you don't want any smoke to escape. When you're putting the grill together, make sure all the pieces fit together securely.

Shopping online makes doing this difficult, so take a look at the return policy. Make sure you're covered by guarantees and warranties and it doesn't hurt to read the reviews either.
Price
Next up is your budget. You may have budget constraints, but it's still important to make sure you are purchasing something of quality, rather than having to replace this pricey cooking tool frequently.

The standard price we'd say is around $500. However, there are plenty of quality choices for under that and ones that go for $1000 and over! , more information about quality grills under 500$ here
Control
How does your grill keep to a certain temperature? With the controller or control board, of course! It's the mastermind behind the pellet grill and is the only thing that contributes to cooking the meat just right.

Their job is to maintain the optimal temperature or the one you set to cook the meat. Not all controllers are able to keep the temperature consistent, especially during harsher weather conditions.

Think about the type of controller you're looking at. Z Grill controllers work with the simple turn of a dial.
Hopper Capacity
Z Grill hoppers come with 10, 15, or 20-pound capacities. A pellet grill uses ignited wood pellets to cook your food. Generally, 1 pound of pellets gets you 1 hour of cooking time.

Use that as your reference when looking at which size to get. Are you a person who spends hours upon hours entertaining guests? Or are you the type to bring out the grill on a nice sunny day just to grill a few burgers?
Conclusion
Wood pellet grills possess many advantages and give BBQ lovers an easy and convenient option that produces that delectable and hard to achieve firewood flavor. Also, Z Grills competing in the top quality grills in the market, you should read our comparison of Z grills vs Traeger.
Z Grills makes it easy for first-timers and convenient for seasoned grillers. Ultimately, the choice comes down to you. We hope our list of suggestions and features to consider helps you in your quest to find the perfect grill.
Looking for more such awesome comparisons? Check out Pit Boss against Traeger here.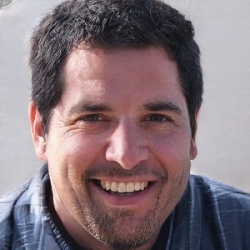 This article is written by Noam Shahar the founder of Limited-Red, Noam is a serious carnivore, And he has a strong passion when it comes to meat and cook, He Decided to review the "BBQ world" 9 years ago after discovering how many people struggle with choosing their dream grill.