Accessories, pros and cons and important things else that you have to know about this Camp Chef model.
One of the most popular and leading brands of pellet grills and smokers currently on the market is Camp Chef. You can find these grills available online and at various warehouses that carry them for a reasonable price. Not only are the prices for these grills reasonable, but they are high-quality grills for the price that you pay. We have a more detailed post about how pellet grills work, for now, we focus on one brand, Just reading the reviews alone across the web you will be able to learn more about why many people prefer this brand of pellet grills and smokers.
So let's take a closer look at a thorough review of the Camp Chef SmokePro DLX Pellet Grill. In this review, all of the known features will be discussed as well as the pros and the cons of this grill
Accessories of the Camp Chef SmokePro DLX
Smoker Body
4 legs (two with wheels)
Warming rack
Drip Bucket
Ash Cleaning System
Pellet rake
Instructions Manual
3 Year Warranty (Only if purchased it after January 1, 2017; otherwise it's a 1-year warranty)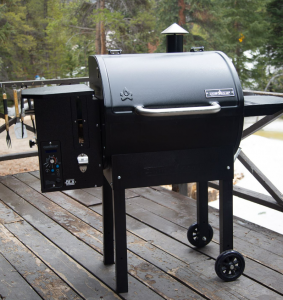 Design and Structure of the Grill
The build of this grill is actually quite sturdy and well-grounded. The grill itself is made of the most superb quality materials. These smokers are built to last many years to come, and you will know it upon in-person observation of them. However, there are some things that aren't quite pleasant about the grill when it comes to reaction to some weather conditions. If there are strong winds or heavy rains while this grill is being used, you will soon realize that it has a bit of trouble reaching high temperatures while in-use. If you use a windbreak or cover then this issue resolves itself.
One thing that consumers tend to love the most about the SmokePro DLX, is the design features that have been added to this model which make for a very pleasant and fun cooking experience. The built-in temperature probe is one of the main features of this smoker that you are sure to appreciate. Digital probes are by far the latest and best technology for the majority of the newer smokers and grills. Another great feature that you will enjoy that is included with this grill is the failure restart feature. This allows the grill to restart on its own if the power is cut during the time that you are grilling.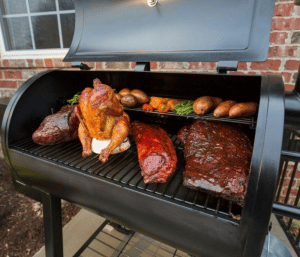 There is a dual temperature display which allows the user to be able to auto start the ignition. This makes starting and cooking with the grill very easy. This all just gives you an idea of just how efficient this grill really is.
The interface of the controls is probably one of the only things that might bring you slight frustration while utilizing it. While the screen and display work quite fine for what they were meant for, the feature alone is slightly dated and could have been updated to a better version. However, this in no way affects the performance of this smoker.
Easy to Use
All of the advantages of any pellet grill that has ever existed, you will find in the Chef SmokePro DLX. The temperature range is even ideal and you will find that it ranges between 160-500 degrees Fahrenheit. The heating up of the grill is also very fast, so there is no need to worry about it taking a long time before you can use it. Because pellet grills do most of the work for you they are known to be some of the most convenient options available on the market. For instance, it feeds the pellets to the grill for you so that you don't have to keep adding them. The temperature set-up allows for you to cook at the exact temperature you need to cook at without having to constantly monitor the smoker for temperature changes.
Ash System
Keep in mind that the ash builds up at the bottom of the smoker over time as you use your pellet grill. Unlike other grills models like the Yoder ys640 and Pit Boss 700fb, This is one of the only aspects of a pellet grill that can be quite a chore when it comes to cleaning time. However, Camp Chef keeps up with the product reviews of their customers and they have come up with a way to resolve this issue. They have included an Ash-Cleanout System. This works by the small metal shit that is on a spring; it slides underneath the firepit. This allows for the ashes to be released into a small metal cup. Most of the ashes are caught, but generally, there are leftover ashes that need to be cleaned once the tray has been removed.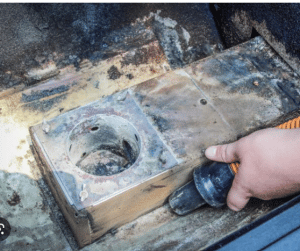 Control System
The Control system is very easy to use. There is a dial with the ability to pre-set your temperatures and modes that you use each time you turn your smoker on. This also makes cooking easier because you don't need to remember or worry about forgetting what temperature works for you when smoking your food. The cooldown function is also quite useful. This feature allows you to keep your food inside the smoker to keep it nice and warm once it is finished cooking. The fuse on the front of this grill has an access feature which allows it to be easily replaced in case the fuse burns out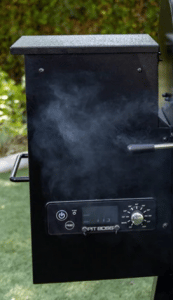 The pellet dump feature makes it easy to remove extra pellets from the hopper. With the safety grate in place, it can be a bit tricky to remove any leftover pellets that are inside your grill, and the excess pellet grill is definitely helpful in this case.
Pros of the Camp Chef SmokePro DLX
Amazing Tasting Food
Pellet smokers are just as good to use a classic charcoal grill. You will be able to acquire various tastes of smoky and woody flavors that are created by the charcoal grills.
Innovative Design
This design, in particular, is quite innovative (yet so are previous designs built by this brand) and it allows you to be able to operate it easily with hassle-free features. The ash cleanout systems also make it very easy to clean once you are done; it's an excellent feature for the convenience of use.
Thorough Cooking
The temperature control system as well as the auger, work hand-in-hand to give you an even cooking experience throughout. This build and the structure help to keep the heat for cooking evenly distributed so that you know that your food is cooking thoroughly the entire time.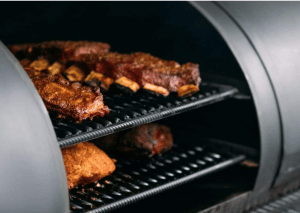 Various Pellet Flavors Available
What's even more exciting about this pellet grill is the fact that you will have so many different flavors of wood pellets to choose from. These flavors enhance the taste of your food and as you get accustomed to using your pellet grill, you will find that different flavors go really well with certain types of meat. Some of the flavored pellets that you will be able to choose from include:
Cherry
Maple
Bourbon
Pecan
Hickory
Apple
Efficient
The Camp Chef SmokePro DLX is a very efficient smoker to use. Surely you know this by now from what you have read so far.
Competitive Price
After comparing options, you will find that for the price of the SmokePro DLX, you won't find many other pellet smokers which such a decent price for the quality. If you are interested to find more quality pellet grills at a similar price click here.
Warranty
Camp Chef has listened to the concerns of their customers when it came to the 1-year warranty for their smokers. Instead of the 1-year warranty that they were offering previously, they have now offered a 3-year warranty on their grills.
Cons of the Camp Chef SmokePro DLX
It's a little on the small side
The size compared to some of the other competitor brands of pellet smokers is a little small. This isn't necessarily a bad thing, and really it all depends on your personal preference and what you consider too small or too big of a smoker. You can fit two medium-sized turkeys inside this smoker; just to give you a better idea of just how big it is.
A Challenge to Remove Excess Pellets
Although you are able to just leave the pellets in the hopper, you will most likely want to change the pellets at some point in time for a different flavor. The safety grate can make this a challenge to do. Even though there is a pellet dump, it can still be a bit tricky to get the pellets out.
Damaged a little Easier from Weather
Pellets that are left inside the smoker during the rain can cause the auger to become jammed which can take a while to fix. The metal can be rusted easily also if you do not keep the smoker covered. This, however, can be resolved if you just purchase a cover for the grill to protect it.
Conclusion
To conclude, the Camp Chef SmokePro DLX is a superb smoker that is reasonably priced for the quality that you get. It makes it easier for more people who want to purchase a pellet smoker to be able to afford to buy one. Using it and cleaning it is a breeze and you'll be able to smoke some fantastic food on it.
[wpsm_button color="green" size="medium" link="https://www.amazon.com/Camp-Chef-PG24DLX-Controls-Stainless/dp/B00DVELGT6/ref=sxin_3_ac_d_rm?ac_md=0-0-Y2FtcCBjaGVmIHNtb2tlcHJvIGRseA%3D%3D-ac_d_rm&keywords=Camp+Chef+SmokePro+DLX&pd_rd_i=B00DVELGT6&pd_rd_r=c71f2501-8de9-4956-b383-c2e0668a36a4&pd_rd_w=qRVPb&pd_rd_wg=N9oM8&pf_rd_p=d29bc9bc-49e2-46b8-bc05-387917c341ec&pf_rd_r=NS9AZYW82BTJFAA1RR4B&qid=1567592606&s=gateway" icon="thumbs-up" class="" rel="nofollow"]Click Here For The Best Price[/wpsm_button]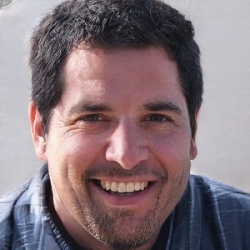 This article is written by Noam Shahar the founder of Limited-Red, Noam is a serious carnivore, And he has a strong passion when it comes to meat and cook, He Decided to review the "BBQ world" 9 years ago after discovering how many people struggle with choosing their dream grill.