Do you know that Blaze grills were constructed after duly keeping the needs and desires of the customers in mind? You read that right. And this is what we love about them.
All their models are compact, easy to move around, and don't take up too much space.
In this Blaze Grill review, let's talk about the best picks from the brand.
The Best Picks Blaze Grill Review
Product Dimensions
25.8 x 32.5 x 21.2 inches
27.13 x 14.5 x 15.13 inches
22.1 x 56.2 x 57.2 inches
BTU/hr
54000 BTUs and 14000 BTUs
Best For Beginners: Blaze 32 Inch 4-Burner Gas Grill With Rear Burner And Built-In Lighting System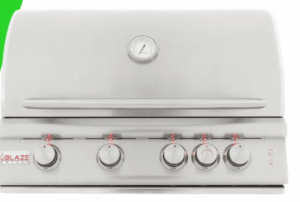 When it comes to gas grills, you cannot go wrong with this one.
This Blaze Grills' 4 burner grill is constructed with commercial quality 304 cast stainless steel which provides it with long-lasting durability. For this reason, it comes with a lifetime warranty.
Its burners can be operated by pushing and turning them. This makes way for a smooth ignition system.
The control knobs have a lighting system that illuminates in the night, adding an extra vibe to your evening and night house parties.
The hood of the grill is double lined with a grill that protects it from heat discoloration. The hood also comes with a steel handle for easy handling.
The grill comes with a total cooking surface of 54000 BTUs and 14000 BTUs cooking power per burner. It comes with a total cooking space of 740 square inches which is decent enough to serve an average size family.
The rods are made of heavy 9mm triangular stainless steel that provides distinguishing sear marks on your food.
It also has integrated halogen hood lights in the interior to enable grilling in dark too.
With the help of heat zone separators, the cooking surface can be divided into different temperature zones which enables grilling food at different temperatures simultaneously.
It includes a removable warming rack and also has a full-width drip tray for quick ash management.
Best For Professional: Blaze Professional 34-Inch 3 Burner Built-In Grill With Rear Infrared Burner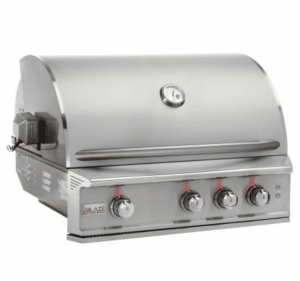 This is one of the best grills from professionals you should have your eyes on:
This 34-inch professional gas grill comes with 3 burners. It is also constructed from high-quality grade 304 cast stainless steel.
It also comes with a push-and-turn ignition system and heat zone separators to cook at different temperatures simultaneously.
The hood of the grill is constructed from double lined steel with an attached handle.
It comes with 18000 BTUs of cooking power per burner. It also contains an infrared rear rotisserie burner of 10000 BTUs with a rotisserie kit included. The total cooking surface of Blaze Professional is 816 sq. inches.
The cooking rods are constructed from a heavy 12mm stainless steel halogen for providing it with the sheer durability.
It includes a removable warming rack, full-width drip tray, and flame stabilizing grids to add grilling flavor to your food and avoiding flare-ups.
It has illuminated control knobs and interior lights that make grilling in evenings and nights just too easy and more fun.
It comes with a lifetime warranty as far as manufacturing defects in main burners, flame tamers, cooking grids, warming rack, heat zone separators, and control valves are concerned.
Ignition, lightning, and electronic system come under 1 year of warranty from the date of purchase.
Best Portable: Blaze Professional "Take It Or Leave It" Portable Grill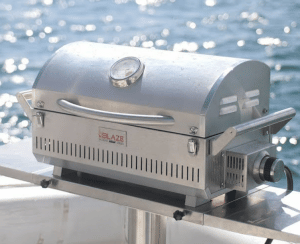 Blaze grills also present a lot of options in portable grills that are suitable for tailgating, RVing, travelers, and those living in apartments. The Blaze Professional portable grill features:
This portable grill is constructed from 304-grade cast stainless steel which makes it long-lasting and free from corrosion and rust.
The grill possesses the same ignition system and flame thrower as in the above professional-grade grills. The 12-gauge flamer tamers, 12000 BTU burners and cooking grids are made from heavy-duty cast stainless steel as well.
It is fitted with tank adapters to use a 1lb natural gas propane cylinder or a 20lb propane tank.
It has two front-facing clasps that keep the lid in place while transporting and storing. Thus, if you are a fan of outdoor kitchen, this Blaze gas grill has your back.
It can easily reach a temperature that is high enough to sear steaks with its 316L stainless steel body.
Charcoal: Blaze 32″ Charcoal Grill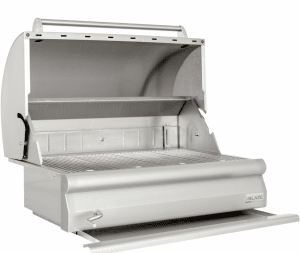 The only Charcoal grill Blaze grill manufactures is Blaze 32" but is the best. This charcoal grill features:
All the components of the charcoal grill are made from 304-grade stainless steel providing it lasting durability.
The hood of the grill is doubled lined to prevent from heat discoloration and from getting the heat lost. The hood also has a long steel handle to open and close it easily.
It has 4 individual grids that also have a hook-and-hang system to add the smoky flavor to your food through charcoal or wood.
The charcoal tray is adjustable which enables you to cook at various temperatures simultaneously across the cooking surface.
It provides an easy ash clean management system with the help of a removable ash pan.
It also has an adjustable rear vent to control the airflow.
Griddle: Blaze 30-Inch Built-In Gas Griddle LTE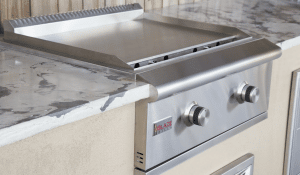 A gas griddle is much convenient as it can be set over any countertop for grilling. Being a built-in gas griddle, this Blaze griddle is all the more convenient to use and cook.
The grill is made up of 304-grade stainless steel for lasting durability. It also has a stainless-steel lid.
It contains two U-shaped stainless-steel burners to distribute heat evenly over the cooking surface.
The grill uses the same flame thrower ignition system as is used by other models.
The griddle supports 18000 BTUs of cooking power per burner. The surface of this griddle is 495 square inches sufficient enough to host backyard parties and to be used in family gatherings.
The control knobs can be illuminated to cook easily in the dark. The ash cleanout management system is well constructed, and all the grease is directed towards a hole of full-width grease trough.
They also come with a lifetime warranty.
These were the best of the grills from Blaze. Undoubtedly, Blaze grills impress us with their lifetime warranty, stainless steel body, ignition system, lighting system, and their versatility.
The other products they deal in include refrigerators, side burners and double burners, additional grill island components, pellet fire pit, vent hood, etc. If you are looking for more options, you should check out our review of the best gas grills under 1000$. If you're willing to pay more than 1000$, Lion Grills are worth checking out. Finally, if you are just looking for quality 2-burner gas grills, check out our review of 2 burner gas grill where we compared and analyzed each unit with their pros and cons.
All in all, we are much impressed with this brand and its offerings. What are your views on this review? Let us know in the comments below!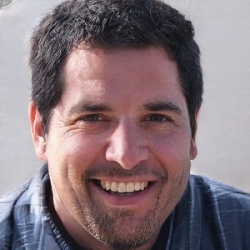 This article is written by Noam Shahar the founder of Limited-Red, Noam is a serious carnivore, And he has a strong passion when it comes to meat and cook, He Decided to review the "BBQ world" 9 years ago after discovering how many people struggle with choosing their dream grill.