Our Full Review Of This Amazing Gas Grill
When the ideal gas grill comes to mind, many buyers are looking for something that has amazing temperature control with grates that are easy to clean. While most of the current models have these two features in common, not all models are portable like the Weber Q 1200. The Weber Q 1200 has porcelain-enamel coated cast-iron grates that not only make it easy to clean, but you don't have to worry about food sticking to them.
Details of the Weber Q 1200
When it comes to this model, potential buyers will be happy to know that there aren't very many flaws or cons about it. This grill heats pretty fast and evenly across the coated grates, which ensures that your food cooks thoroughly. The non-stick grates are not only easy to clean, but it is safe to put it in the dishwasher for a more thorough cleaning. With this grill, the fact that it is enameled is what gives you good quality, and great taste when your food has finished cooking. The Weber Q 1200 is portable in size, but it is not as easy to move as some of the other models that are lighter in weight. However, it is also a bit more spacious as well compared to some of the other smaller models. This Weber model has a thermometer and the 189 square inches of grilling space can handle cooking quite a bit of food at once. The Weber Q 1200 is a highly competitive model and you will find that it is available to purchase on various online resources. There are also replacement parts available for this model as well.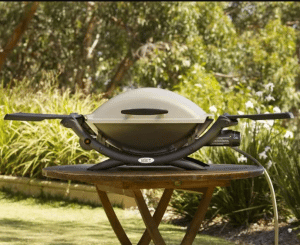 Power Output
The grill includes a single stainless steel burner that heats up rather fast. The food cooks thoroughly, leaving signature char grill char marks on the food. The grill uses 8,500 BTUs of powers.
Control Features
Using Q 1200 is quite easy, and even fun! The infinite control burner makes it easy to adjust the heat while you are grilling. The temperature gauge that is built-in makes it very easy to control the temperature, and you'll be happy to know that once the grill has been turned off, it cools rather quickly. The regulator is securely attached, and the grill includes a grease trap that is large enough to dispose of the cooking meat juices. The aluminum insert is also reusable.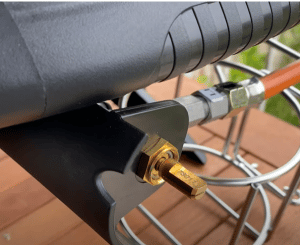 Portable
While Weber Q 1200 is portable, it is still about 10 lbs. heavier than some of the other portable models. It's heavier simply because it is made up of sturdier metal; cast-iron aluminum to be precise. The frame of the Q 1200 is made up of a non-rusting glass-reinforced nylon frame. This would mean that the grill should have no issues withstanding various different weather conditions. It should also last for a long time.
Simplicity of use
This gas grill is quite simple to transfer from one place to another. You can take it to a local park, or places that don't have grills for gatherings. The grill doesn't include wheels on it so you will need to carry it. A 31 lb. the grill shouldn't be too heavy for an average adult to carry, but be sure to test the weight out first in case you might need the help of one other person.
Challenges with carrying it
The weight isn't the only thing that might come as a challenge when it comes to moving the Q 1200 from one place to the next, but the regulator for the grill might also cause some challenges while carrying it. With it being positioned under the right handle of the grill, it might make it difficult to get a good grip with your hands to carry it. While you can easily disconnect the propane bottle, this still will not enable you to grab the center handle. The small section at the top is where you should be able to grab, but it will be a bit awkward to carry.
Propane Bottle
For the regulator, you can make use of the proper small disposable propane bottles. They fit quite easily to the regulator and aren't very hard at all to install. For easy installation, you should move the regulator slightly away from the body of the grill so that you can easily line the propane bottle up with the opening to screw it on with ease. While installing the propane bottle this way may seem a bit tedious at first, it is meant to be done this way for the safety of moving the grill from one location to the next. It is quite a useful asset when it comes from traveling from one place to the next. With that being said, you don't have to worry about the propane canister moving around loosely.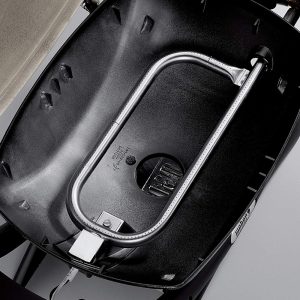 Grill Tables
The side tables for the Weber Q 1200 fold and unfold easily, which makes them perfect for portability and great for when you want to take it with you on the go. However, before folding the tables down, after using the grill, you will want to make sure that the grill is completely cool since the tables are made of plastic; you wouldn't want for them to melt. You will want to notate that there is no latch for closing the lid, but this isn't really much of an issue since the lid is heavy, and when holding it correctly the top shouldn't flip up. You'll appreciate the side tables when you are out and about for Summer events such as tailgating. You will find that these side tables are especially useful when you have a full tabletop and nowhere to set your grill tools and prepped food items. There is also space underneath these side tables to store additional food items and condiments.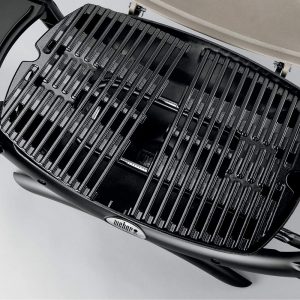 Cooking Surface
The cooking surface of this grill you will quickly become excited about, as mentioned earlier, it is easy to clean because of the porcelain enameled cast iron that it is made out of. Many other grills you will have to do some extra scrubbing; but not with the Q 1200. Since it is non-stick, you don't need to use a non-stick spray to ensure your food doesn't get stuck on the grates. Your food will slide off like butter! When cleaning the grates of the grill you don't need to use a brush that is too firm; a soft-bristle brush will work just fine.
The 189 square inches of space on the grill's surface will easily hold enough food to feed about 3-4 people. One of the optional add-ons for this Weber grill would be a griddle that you can purchase separately.
Resistant to Wind
Because of how sturdy the Q 1200 is, you can use it without having any issues with it blowing over in high winds. The lid won't slam shut when it is a bit windy outside, and the overall weight of the grill will allow it to stand firmly without a budge. However, the disposable insert is a bit light in weight, so you'll want to keep an eye on it if you will be grilling in windy weather. It's also possible for you to replace the insert with something heavier. When you are lighting the grill in wind weather, the lid acts as a shield to keep the wind from blowing the fire out.
Is it the best grill for you?
Now after what you have learned about the Weber Q 1200, you have to think about whether or not this is the grill for you. So, it is portable, and you can take it along with you when you want to go to events such as tailgate parties, picnics, or just a small apartment grill gathering. Before buying it, you will have to know that if you will be okay with carrying it from one place to the next since it doesn't have wheels on it since it is not the lightest portable model, and you should read this article about weber vs char broil gas grill. Still, keep all of the other good qualities; the fact that you can clean it easily and that it has good temperature control. However, if the grill should be lightweight, then you might want to go with a different model, like Blaze grills.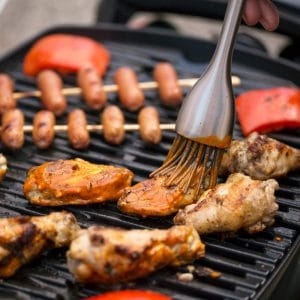 Price Range
So you are looking at paying a little over $200 for the Weber Q 1200. also, you can check our review for the best gas grills under 300$. This isn't too steep of a price for a nice, sturdy, good quality grill. You'll be happy to know that when you get ready to purchase this grill that it comes in 8 different colors for you to choose from. Did you know that Weber grills can also be customized with logos for your favorite sports team? This will make it extra fun for you and your family to use during the football season. The sports-themed Weber grills are also a bit cheaper in price compared to the basic plain ones. if you like weber you should read the review of Weber performer deluxe charcoal grill.
Conclusion
Overall, you will find the Weber Q 1200 is a good, reliable, solid choice when comparing it to other similar grills that are available on the market.
[wpsm_button color="green" size="big" link="https://www.amazon.com/Weber-51060001-Q1200-Liquid-Propane/dp/B00FGEHG6Q/ref=as_li_ss_tl?keywords=weber+q1200&qid=1573735391&sr=8-1&linkCode=ll1&tag=208909820-20&linkId=2027231a940a98b57a9862632fc53ec7&language=en_US" icon="thumbs-up" class="" target="_blank" rel="nofollow"]Click Here For Best Price[/wpsm_button]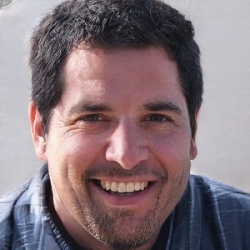 This article is written by Noam Shahar the founder of Limited-Red, Noam is a serious carnivore, And he has a strong passion when it comes to meat and cook, He Decided to review the "BBQ world" 9 years ago after discovering how many people struggle with choosing their dream grill.