Finding a reliable grill that can produce as many steaks, turkeys, hams, and burgers as you and your loved ones can eat is a tough feat. That's especially true when many grilling products are in the market these days.
Hence, in hopes of easing your decision-making process, we have created this Pit Boss 700FB review. Read on to know more.
Product Dimensions
24.8 x 22.05 x 43.11 inches
Pit Boss 700FB Review – Complete Buyer's Guide for 2021
What sets the Pit Boss 700FB model from the types of grills is its amazing grilling area. Though it's not a high-end product in terms of the price, you can still get 700 square inches of cooking space. This surface area will allow you to grill a few chunks of meat at once, thus reducing the cooking time.
Versatility is something that you will see in this Pit Boss 700FB review as well. Most consumers are looking for when they are out to buy a brand-new grill, and 700FB answers that by turning the unit into an 8-in-1 griller. Aside from grilling or char-grilling, it can also smoke, sear, roast, bake, barbeque, and braise meat and vegetables.
Find out the other product advantages and disadvantages in this Pit Boss 700FB review.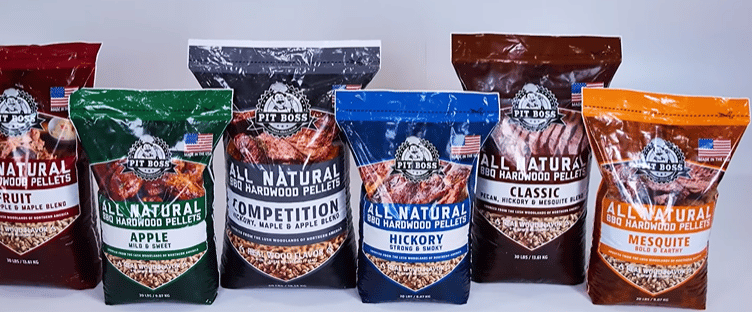 Pit Boss 700FB only uses 100% natural wood pellets, no matter what their blends are. Many chefs opt for such a pellet grill because that will allow various flavors to infuse with the food. Thus, if you fancy maple, oak, or pecan taste, go for it. If you like cherry, hickory, or apple, that's cool. You may also mix the wood pellets for a unique flavor.
The Best Cooking Experience
Pit Boss 700FB is not only affordable but also offers a better cooking experience for everyone.
Apart from a spacious cooking surface, it comes with an LCD control panel that is easy to use when you wish to adjust the temperature while you are cooking. The temperature ranges from 180-500°F, so it works regardless if you want to smoke or sear anything.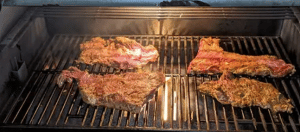 Pit Boss has an advanced cooking technology that most consumers would appreciate. The pellet grill is quite effortless to operate compared to your current gas and charcoal grill models. You will be able to cook food for five or six people at a time.
Though many other pellet grills promise you all of the greatness of the 3-in-1 feature, it does not really beat the 8-in-1 cooking feature that 700FB offers. To reiterate, you can grill, smoke, roast, braise, bake, sear, and char-grill with this product. Just think of how you want to prepare your food, and you can make it, thanks to Pit Boss.
The 700FB has an electric ignition that allows you to light up the wooden pellets easily and safely. The temperature is also easily controlled using a dial, so you can increase or decrease the heat level without a problem. As a result, your grill can cool down quickly when you finish cooking with it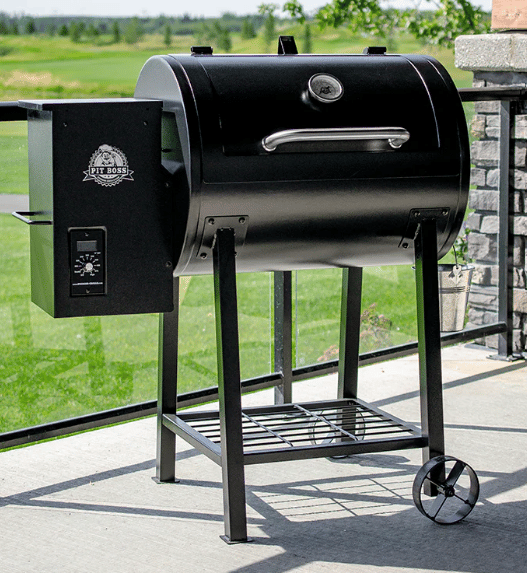 The power button is all you need to press to start or stop the heating process. Families with younger children will be happy to know that it poses very little to no risk of accidental burning or unexpected flare-ups. The automatic flare feature helps out with the latter significantly.
Upon further inspection of the grill, you will find that it has dual-tier porcelain-coated cast iron grids. This allows for a more even distribution of heat while cooking your food. The porcelain coating is also durable and long-lasting, so you can expect not to see ruse over time. Furthermore, it is easy to clean afterward.
Another wonderful and useful feature of this model is the air acceleration system that involves a fan-forced operation. It works with the flame broiler to keep the fire going and distribute the heat around the chamber evenly. Without the air accelerator, you may have to fan it manually or deal with semi-cooked meat — both unfavorable circumstances.
Direct vs. Indirect Broiling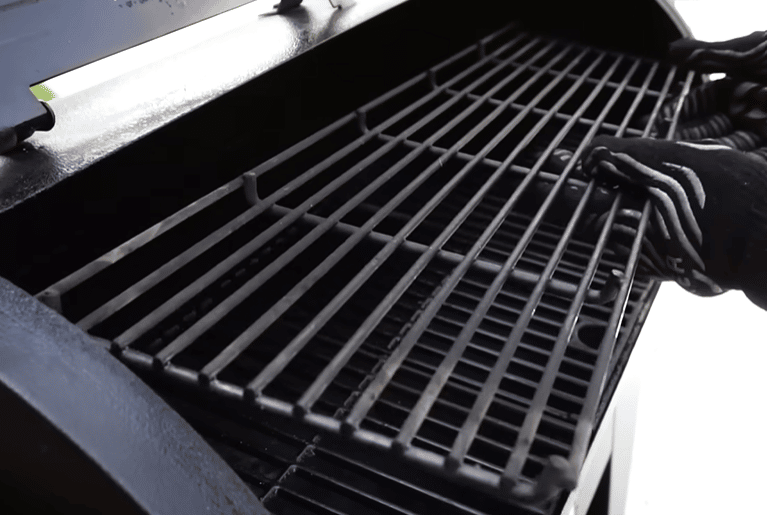 The 700FB comes with a metallic flame broiler plate that easily slides into where it needs to go right above the flame for a char-grilled finish. You can also insert the plate indirectly if you would rather take a healthier approach to prepare your food. A second rack comes with the grill so that you can smoke your food.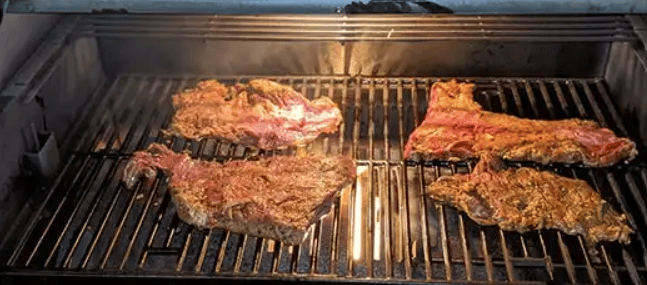 The Pit Boss pellet grill is a great product that can be used by anyone for most cooking techniques. You can be a beginner or a pro, and that won't matter at all. While the features are advanced, they are not too challenging to understand, so you may throw a feast for your family and friends even without helpers. What's more, the grease bucket that comes with the model makes it easy to clean.
Who really needs a kitchen when you have a wood pellet grill like the 700FB? If you want to bake cobblers and other desserts, you can pop them in this griller. If you wish to make braised pork, grilled burger patties, or seared scallops, use the unit, too! It is especially ideal if your family craves the smoky flavor that you can't when you use a regular stove.
When you are ready to use your pellet grill, you need to fill the hopper with 100% natural pellets. Then, turn on the temperature and adjust the dial appropriately for whatever meat you will be grilling. Setting the timer will also help you maintain the correct temperature throughout the process.
Are you a lazy cook?
There's no need to feel ashamed about it since this product is perfect for people who don't like slaving away in front of the grill for hours. Just fill the hopper, select your desired temperature, and let the grill do all of the work for you. You can practically liken it to a slow cooker.
Now, you can relax and chat with your family while your food cooks.
You may notice that the traditional wood pellet grills might be cheaper than 700FB. However, you will realize that your money was worth spending on the latter in the long run, considering it is easy to clean and has a digital thermometer and quick-and-effortless heating system.
Consistency is key in this grill as well. It has a heavy-duty structure and a steel gauge component that resists rust better than other traditional smokers. It is similar to that of Austin XL, which is another model from the brand.
You will most likely spend $500 max on Pit Boss 700FB, so technically, it is a budget-friendly grill. If you are looking for the best pellet grill under $500, you can check more products here.
Buying this grill will give you a 1-year warranty that starts from your date of purchase. Its duration seems shorter than what other brands like Z-Grills (3 years) and Yoder grill (lifetime) offer. Still, the warranty will protect from dealing with any defects or operational issues that can occur within the timeframe.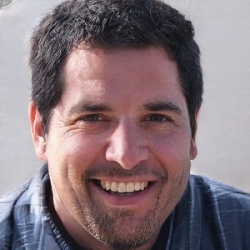 This article is written by Noam Shahar the founder of Limited-Red, Noam is a serious carnivore, And he has a strong passion when it comes to meat and cook, He Decided to review the "BBQ world" 9 years ago after discovering how many people struggle with choosing their dream grill.