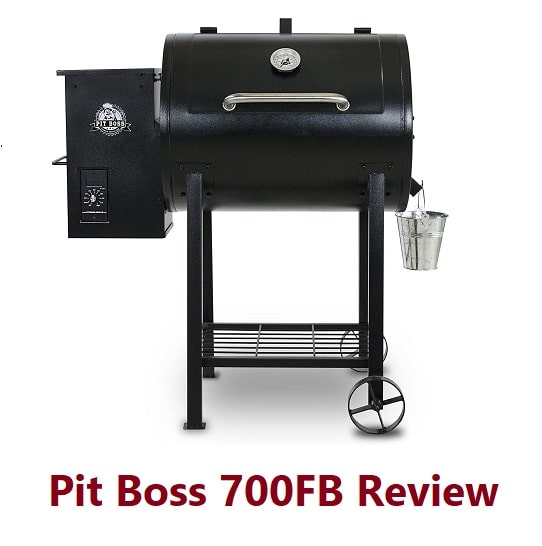 Pellet smokers are a type of grill that was invented towards the end of the 20th century. Since then, they have increased in popularity, and so many people enjoy buying and cooking with such a uniquely operating grill.

What sets this type of grill apart from others is its source of fuel for grilling; natural wooden pellets that are used as fuel. Those who love grilling on a regular basis will also appreciate the amount of cooking space you get when using the Pit Boss 700fb grill model.

You get 700 square inches of cooking surface space. You can grill anything on that is able to be grilled on this model.
Product Dimensions
24.8 x 22.05 x 43.11 inches
Pit Boss 700FB
Product Dimensions
24.8 x 22.05 x 43.11 inches
Pit Boss 700fb Review – Complete 2020 Buyer's Guide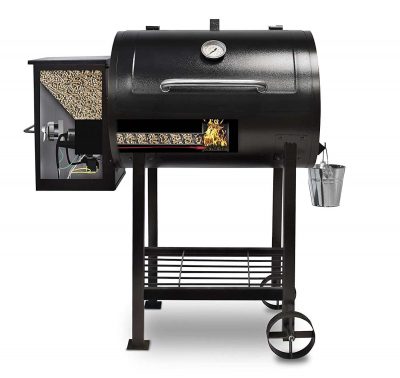 There are also many other things that you are sure to love about this particular grill. Versatility is something that most consumers are looking for when they are out to buy a brand new grill.

You will discover that the Pit Boss 700fb is very versatile in the grilling options that it has to offer. With this grill, you are buying an 8-in-1, which makes this an even more impressive option to take into consideration.
Pros:
700 sq. ft. of surface for cooking
LCD control panel
Standard Flame Broiler
Electric Fire Starter
Automatic Temperature Control
Temperature ranging from 180-600 degree Fahrenheit
8-in-1 grill option
Air acceleration system
Versatility in cooking
Natural firewood
Durability
Time Saver
Porcelain-coated cooking grids
Cons:
More expensive than many other basic grills
Flimsier in construction compared to other models

You'll be amazed at the large variety of options when it comes to the different types of wood pellets that you can purchase for this pellet grill. Many chefs opt for a pellet grill because of the different pellets that are available that will allow various flavor options for different food.

You can really get fancy and creative when buying different types of pellets for different types of flavors to add to your food.
The Best Cooking Experience
You will find that the Pit Boss 700fb has so much more to offer than that. Not only is the price for it affordable, but what it offers for your personal cooking experience is just beyond amazing!

Not only is the cooking surface spacious, but this bad boy also comes with an LCD control panel that is easy to use for adjusting the temperature while you are cooking. The cooking range temperature ranges from 180-500 degrees Fahrenheit.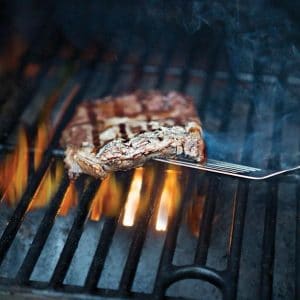 The cooking technology used on the Pit Boss is advanced and easy to use, which is something that most consumers would appreciate. The pellet grill altogether is quite easy to operate when it comes to comparing it to your current gas and charcoal grill models.

You will be able to cook food for about six people total at one time. You will find that this grill does everything that you would imagine in a great grill—and more!

There are many other grills that promise you all of the greatness of 3 in 1 feature, but really, does that beat a grill that can offer you 8 in 1 feature? You weigh your options once it's all said and done. So you are looking at being able to smoke, roast, braise, bake, sear, and char-grill with this grill.
So just think—various options for how you want your food prepared on your grill, as well as a wonderful thermostat control system that will give you the absolute best grilling experience.
The Pit Boss 700fb has an electric ignition that allows you to easily and safely light your fire. The temperature is also easily controlled by the digital control center which also allows your grill to cool down rather quickly when you are finished cooking with it.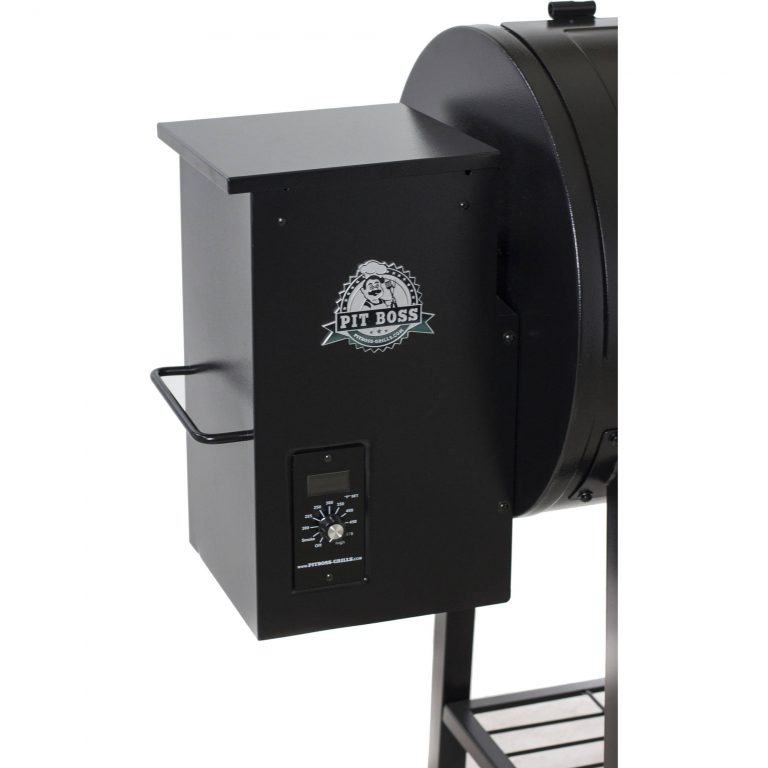 The power button is all you need for heating the machine up as well as for turning it off to allow it to cool. Families with younger children will be happy to know that it is very little to no risk of accidental burning or unexpected flare-ups of flames.

The automatic flare feature helps out with this a lot. Upon further inspection of the grill, you will find that it has a dual-tier rack, and the cooking grids are made of cast iron. The cast iron racks are porcelain-coated, which allows for a more even distribution of heat while cooking your food.

The porcelain coating is also durable and allows for a long-lasting surface that won't easily rust over time. You'll also like the fact that the porcelain is easy to clean after you are done the grilling.
Another wonderful and useful feature of this model is the air acceleration system that involves a fan-forced operation.

The acceleration system along with the flame broiler technology both work together to keep a clear flame going as well as to evenly distribute the air for a more uniform heating system while you grill.
Direct vs Indirect Flame Broiling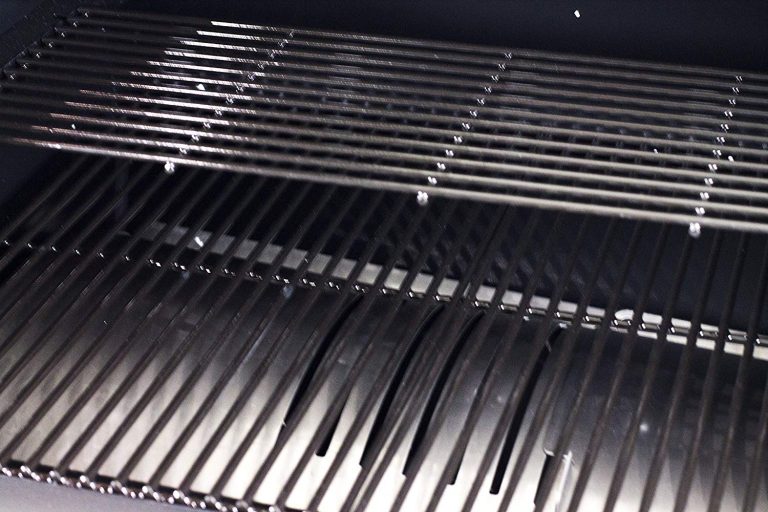 The 700fb comes with a metal broiler plate that easily slides into where it needs to go right above the flame for a char-grilled finish.
You can also insert the plat indirectly if you would rather take a healthier approach to prepare your food. A second rack comes with the grill so that you can smoke your food.
Large Capacity – Great to For Large Families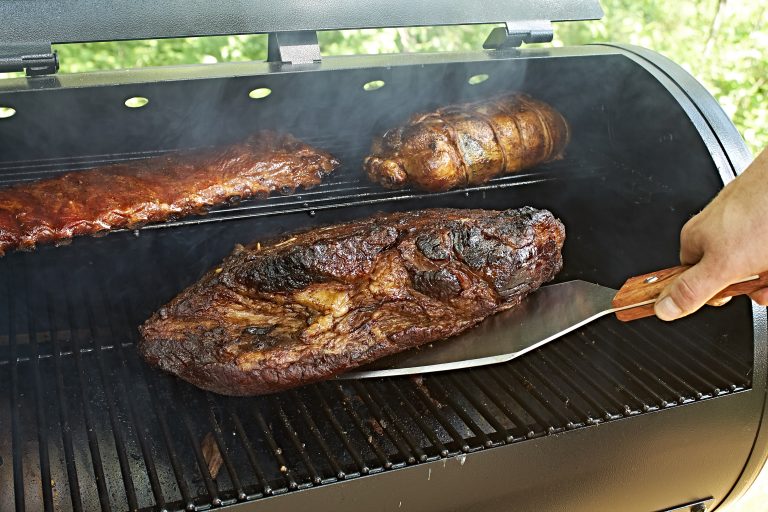 The Pit Boss pellet grill is a great grill that can be used by anyone. You can be a beginner or a pro when using this grill. While the features are advanced that doesn't limit who is able to use it. It's best for those who are planning on cooking for large families.

Anyone using this grill will simply enjoy using it because of all that it can do! It simply makes your grilling experience fun! The grease bucket used for this model makes clean-up even easier; just simply empty it after each meal is finished cooking.
Who really needs a kitchen for cooking when you have a pellet grill like the 700fb? Want to cook an entire meal for your family at once—this is all you need to do it! It's great if your family is craving the smoky flavor that you cant achieve from cooking using a regular stove.

Some of the different flavors that you have the opportunity to test run this bad boy with include apple, hickory, and cherry. You can experiment by creating your own recipe, or finding some hidden gem recipes online.
So let's get started. When you get ready to use your pellet grill, you will first need to fill your hopper with the pellets that you have on hand.

Once the hopper is filled you just need to turn on the temperature and adjust the heat appropriately for whatever you will be grilling. Setting the controls on a timer will help you with maintaining the correct temperature throughout your grilling.
Are you a lazy cook? – No problem, using this grill is a perfect alternative for people who don't like slaving away cooking over a stove. If you want a low key weekend after a long week of work, then this grill would be very ideal for you. There is no need to hover the grill.

Fill the hopper, select your temperature, and the grill will do all of the work for you. Now you can spend your time relaxing and watching a movie with your family while your food cooks. It's the equivalent of a slow-cooker honestly; just the grill version.
You may notice that the traditional grills on the market might be cheaper to purchase, but in the long run, you will realize that your money was well worth spending on the Pit Boss 700fb.

From all of the features that it has, including the quick and effortless heating, to the digital thermometer.
Consistency is key in a good grill, and you will find that this grill is quite consistent in all that it has to offer. It is a strong-built structure as well as a steel gauge component that is very resistant compared to other traditional smokers. You may be interested in reading the updated review for the Austin Xl.
You will find that depending on where you shop, the price will vary for the Pit Boss 700fb. If you shop around you should compare the prices so that you can get the best deal possible for this grill.

You are looking at spending close to $500 max on this grill. also, We've covered the best pellet grill under 500$ if you're interested and weighed the pros and cons for each model.
With buying this grill you will get a 1-year warranty that starts the date that you purchased it, which is a little sucks by comparing to other brands like Z-Grills that give you a 3-year warranty and by comparing to Yoder grill that give you a lifetime warranty.
This warranty will protect from any defects or other operational issues that can occur within a year's time frame of owning the grill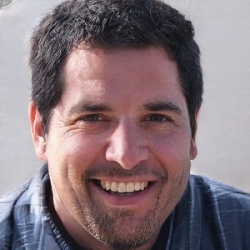 This article is written by Noam Shahar the founder of Limited-Red, Noam is a serious carnivore, And he has a strong passion when it comes to meat and cook, He Decided to review the "BBQ world" 9 years ago after discovering how many people struggle with choosing their dream grill.