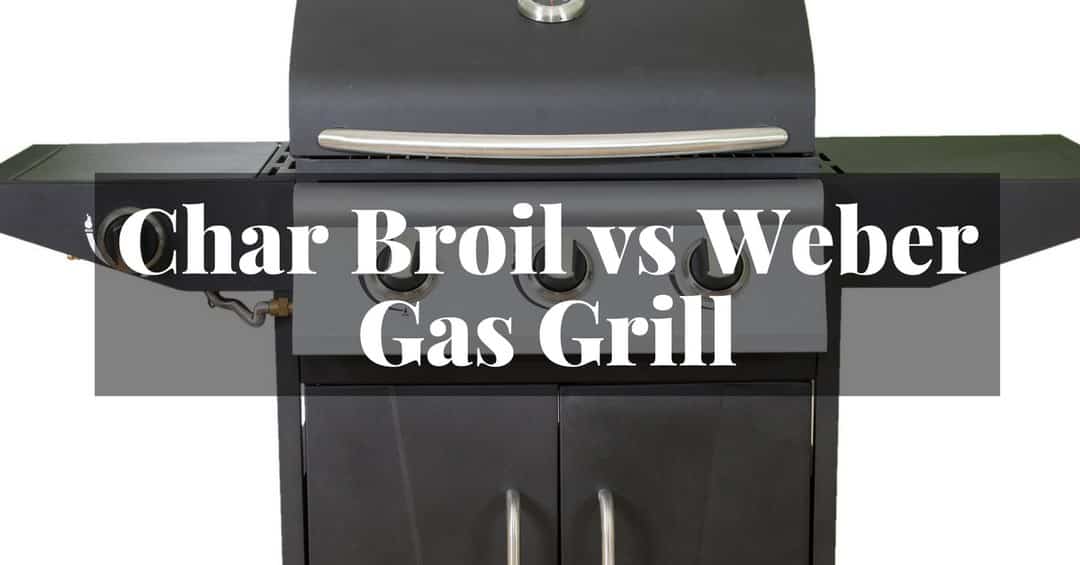 Find Out Which Type Is Better For You
Mother's Day, Memorial Day, and Father's Day are three perfectly good reasons to shop for a new gas grill and celebrate life with family and friends. Summer is here and the smells of good BBQ are already filtering through our neighborhood. We have had some serious experience with gas grills, so here is a comparison you might use when you shop.
When we owned our convenience store, much of the attraction to this rural area neighborhood market was our deli menu that offered homemade grilled burgers. They were such a hit, that contractors and business people came from all around the county to have double meat, double cheese specialty for lunch. We used an outdoor gas grill to cook these greaseless wonders, and sometimes we made as many as 300 burgers a day.
Although you probably won't be using a recreational gas grill for commercial purposes, we did exactly that. In a typical year, we would purchase 2 or 3 grills or replacement parts for the grill we used. We tried many brands of gas grills in the $200-400 price range. This is a comparison of the Char-Broil 463463006 Performance Series Gas Grill and the Weber Spirit E-310 LP Gas Grill, both of which we used at our store. You may also be interested in low-cost grills so, we reviewed the best propane grills under 300 dollars
Char-Broil 463463006 Performance Series Gas Grill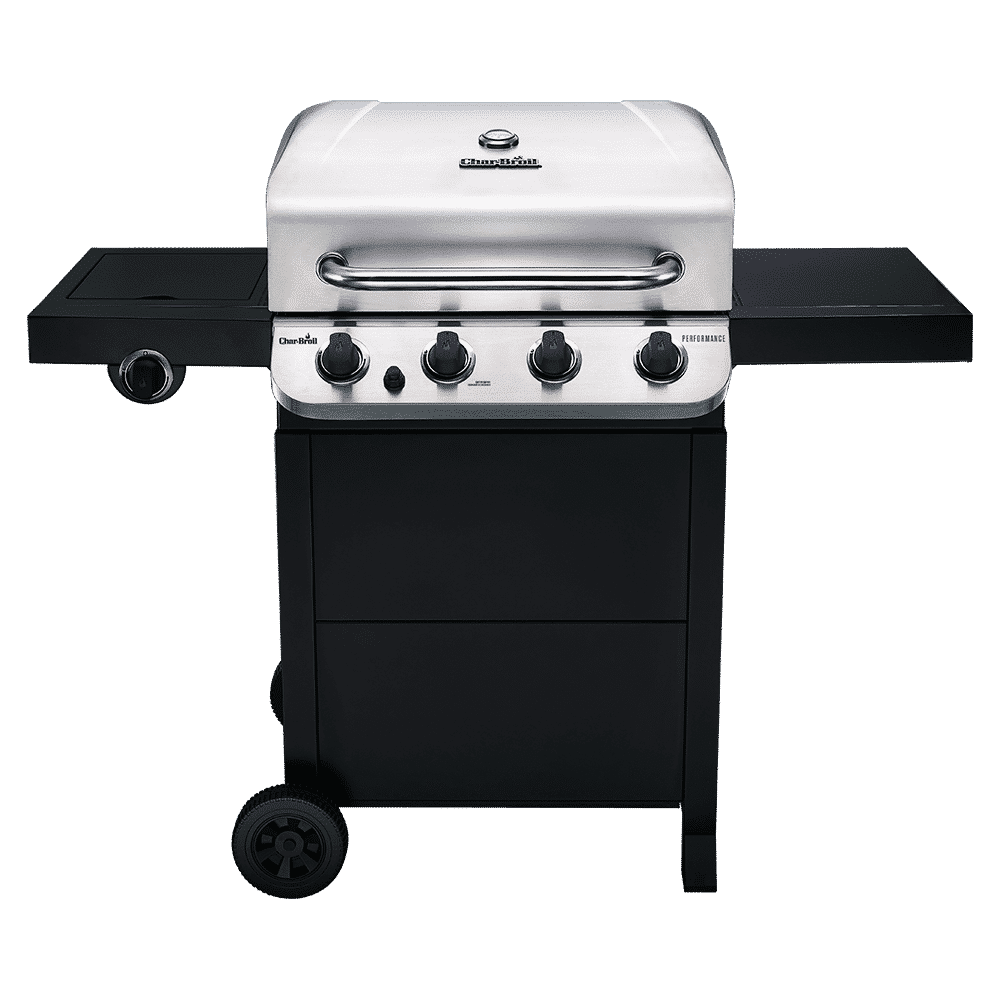 This Char-Broil gas grill costs around $250.00 and is available at most home improvement and discount shopping centers. We needed a grill that would heat up fast and had a large cooking area. This Char-Broil gas grill has a 45,000 BTU main grill and a 13,000 BTU side stove griddle. The grills are DuPont Teflon non-stick coated, and the main grilling area has 3 individually controlled, stainless steel burners. These features were very important to us because the higher the BTU, the faster the grill heats up and cooks. Also, we could turn off one or two of the burners to keep already cooked burgers warm without burning them.
This grill has 855 square inches of total cooking surface which are quite large for the price range. This includes 480 square inches of primary cooking space, a 195 square inch warming rack, and a 180 square inch side griddle. We often used the side griddle to cook bacon and grilled onions for the burger toppings. Once cooked, we could set the pan on the warming rack inside the grill while we were grilling the burgers. These features were functionally important to us as we cooked up masses of deli orders each day. The Char-Broil gas grill also has a center-mounted thermometer located on the outside cover.
The Char-Broil has an electronic ignition system, but quite frankly, these little magic buttons frequently broke on all models of gas grills that we used, so we lit the burners with a long BIC fireplace starter. While the manufacturer claims that the 3-burner design gives you even cooking temperatures, we found that the burner closest to the propane tank on the gas grill actually burned much hotter than the other two burners. We got around that problem by setting that burner on a lower flame setting, which was a huge advantage of having individual burner controls.
The construction of the Char-Broil gas grill was solid and durable. We were able to use this Char-Broil gas grill much longer than other brands, simply by replacing parts as they wore out. Char-Broil has the best design for parts, making it simple and inexpensive to replace an individual burner, an individual grill plate, the ignition switch, or the individual burner control. It is very easy to clean because the 3 separate grills are large tubes with Teflon coating. You can also temporarily remove the burners to clean the inside of the Char-Broil base and avoid grease build-up that can cause a fire. It only weighs 118 pounds, so it is very easy to roll around to another area for cleaning. I would recommend you use a cover when not grilling because the outside of the grill casing does have a tendency to rust.
Weber Spirit E-310 LP Gas Grill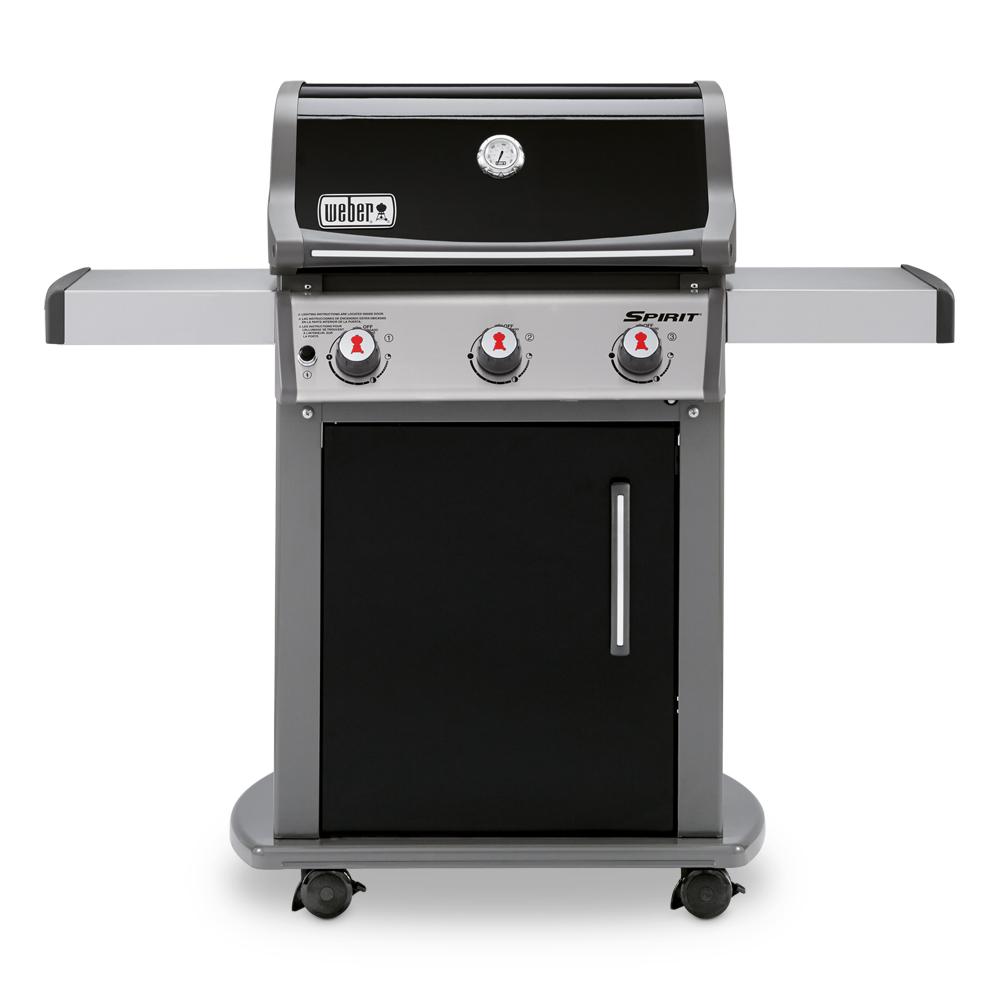 The Weber Spirit gas grill costs around $400 and comes with a 36,000 BTU, 3-burner grill feature. It has a significantly smaller 611-inch total cooking area than a Char-Broil gas grill. This includes the 424 square inch main cooking surface with a 112 square inch warming rack. There is no side burner on this Weber gas grill. There is also a center-mounted thermometer on the outside cover.
If you prefer a small gas grill, check our guide to find the best small gas grill.
One advantage of this grill over the Char-Broil gas grill is the frame and cart are stainless steel and rust-resistant. If you are concerned about using Teflon, the grills on the Weber gas grill are porcelain-enameled, although we never had a problem with the Teflon shedding its' coat on the Char-Broil. The Weber has a crossover ignition system, so you cannot individually control each of the three burners.
The Weber gas grill does not have as many individually replaceable parts as the Char-Broil. What parts we could replace were fairly expensive compared to the Char-Broil gas grill. The Weber gas grill weighs about 160 pounds and most of the difference in weight is the two stainless steel doors and storage area available under the Weber grilling area. It was a bit more difficult to move around and take apart to clean on a daily basis.
Overall, we thought the Char-Broil gas grill was a much better value for the price than the Weber gas grill. The Weber is a durable gas grill, but for $400 we expected a higher BTU and larger cooking area. Weber is probably considered the "Cadillac" of gas grills, but we found the "Toyota" version of the Char-Broil gas grill to be more functional and affordable. Add to that, Lion gas grill is another option worth your attention.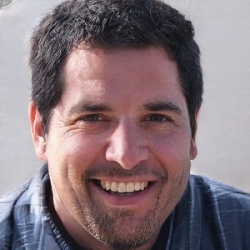 This article is written by Noam Shahar the founder of Limited-Red, Noam is a serious carnivore, And he has a strong passion when it comes to meat and cook, He Decided to review the "BBQ world" 9 years ago after discovering how many people struggle with choosing their dream grill.