With the invention of wood pellet grills, grilling has become so much easy and safe for many. This is because of the various advantages offered by wood pellet grills over the traditional grills which used charcoal, propane, or gas as fuel.
Not to forget, wood pellet grills are environment friendly and this is the reason that they have emerged to become the best choice of BBQ lovers.
In this article, we will compare the two well-known wood pellet grill brands Z grill and Traeger, and look for the best pick. Let's get started.
Z Grills Vs Traeger – Which Wood Pellet Grill Is The Best?
Traeger was the first to come up with wood pellet grills and is among the most trusted brand manufacturing grills. Traeger provides its flavored wood pellet fuel that further adds extra flavor to your food while grilling and smoking.
Traeger has an exclusive range of various pellet grills and smokers. Some of its top models are:
Traeger Texas Elite Pellet Grill 34 (Pro Series)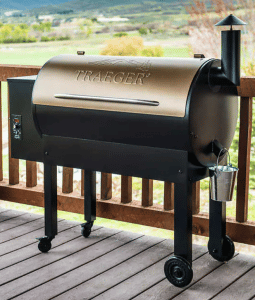 This Trager model is available in two sizes 34 and 22. Both the models function the same and differs in the overall size and cooking capacity. Features of Texas Elite Pellet Grill 34 are:
Pro Series 34 Pellet Grill has 884sq inches of cooking space which is sufficient enough to accommodate up to 40 burgers, 8 chickens, or 7 rib racks. It has the main rack of 646sq inches and an extra rack of 238 sq inches.
Both the models feature Digital Pro Controller that helps in setting the temperature precisely with a variation of +/- 15 degrees F. Moreover, they have AGL dual meat temperature probes that help cooking at two temperatures simultaneously. It can reach a maximum temperature of about 450-degree F.
It is constructed with durable and powerful stainless steel with a powder coat finish. It has a pallet hopper capacity of 18lbs. It weighs around 136lbs. For easy handling, it is provided with a steel handle at the top of the cooking space.
It also includes 3 tool hooks at the side of the hopper for easy handling of tools while cooking. It includes no storage space at the bottom. It includes a sawhorse Chassis side lift bar for cleaning the hopper easily.
Its all-terrain wheels make it easy to move around and keep its balance on any type of terrain.
The grill grates are made from porcelain which makes them easy to clean. It comes with a 6 in 1 versatility to grill, smoke, bake, roast, BBQ, and braise. It is fuelled with 100% natural hardwood pellets.
Traeger grills come with a 3-year warranty and serve you 365 days a year.
The Pro Series 34 pellet grill is priced around $700 whereas 22 pellet grill is priced around 500$.
Z Grills is new into the wood pellet grills manufacturing. The company started its way towards outdoor cooking in the year 2017 and is known for making quality and pocket-friendly grills since then.
In this section, we will compare the above model of Traeger with Z grills 700 2E as they have nearly about the same construction.
Z Grills 700 2E Wood Pellet Grill And Smoker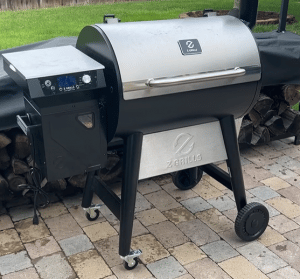 Priced at around $500, Z Grills 700 2E is for all those who want to get their hands on grilling for the first time. It is easy to use, and affordable and convenient wood pellet grill with super features.
Z Grills 700 2E wood pellet grill has a cooking capacity of 400 sq inches which is slightly lower than Traeger's Pro Series 34 pellet grill. The grilling area dimensions are 19. 2 x 26 inches whereas smoking/warming rack dimensions are 6. 9 x 27. 5 inches.
It features a digital controller to regulate the temperature and supports advanced wood fire technology. It has auto electric start ignition similar to that of Traeger, digital auto temperature control, and LED temperature display. It does not include 2 temperature meat probes.
It also supports convection heat distribution technology to cook food evenly. It automatically adds pellets when needed to control the temperature. The temperature ranges from 180 to 450-degree F.
Z Grill 700 2E is constructed with stainless steel with a sleek and polished finish. It includes rustproof cover and rack. It also has a stainless-steel handle over its outer cover. It has a 20lb pellet hopper capacity. It doesn't include bottom storage but has a rack at a bottom to keep stuff.
It weighs around 112lbs. It also includes 2 All-Terrain wheels to move it around with ease. However, Traeger contains four wheels which makes it easier to move around. It includes no tool hooks.
It also includes stainless steel racks for easy cleaning and maintenance. It comes with 8 in 1 versatility to gear, sear bake, BBQ, smoke, braise, roast, and chargrill.
 Z Grills provides 30 days refund/replacement and 3 years guaranteed warranty.
The above models of Z grill and Trager are sufficient enough to feed an average family. So, if you are thinking to buy a grill for your backyard grilling, there has to be one choice you need to settle on. Based on your preferences and need, here is what you should choose.
Z grills are much cheaper than Traeger's. Choose Z grills if you are looking for economical grilling.
Z grill may not provide precision cooking as much as Traeger. Moreover, the Traeger wood pellet grill includes dual meat probes as an advantage. Traeger provides true temperature control which makes a beginner at ease and they can Set It and Forget It.
If tool hooks are a necessity for you, Traeger grills are for you. If you are a pitmaster who needs ample storage space, only Z grills can fulfill that for you. Z grill models like Z grill Master 700 D provides sufficient storage space at the bottom.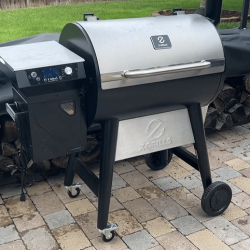 All in all, Traeger Grills are known for their grease management system, if you wish to pay a few extra dimes for easy cleaning and maintenance, choose Traeger.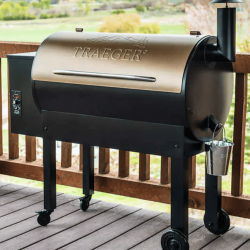 The only disadvantage of Traeger Grill is that they are not resistant to rust. As the paint starts chipping off, it becomes susceptible to rust. Thus, you must keep your Traeger grill with utmost care. If you want to read about another amazing grill you should read the full review of Pit Boss Austin Xl.
To conclude, we will go our bonus points to Traeger. This is not only because it is a well-known brand but it produces quality grills that are perfect for both amateurs and pros alike. also, you might be interested with our other Comparison of Traeger and Pit Boss.
So, what are your views on this? Let us know in the comments below.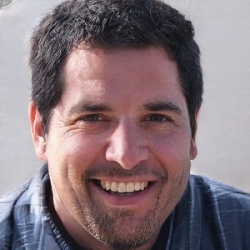 This article is written by Noam Shahar the founder of Limited-Red, Noam is a serious carnivore, And he has a strong passion when it comes to meat and cook, He Decided to review the "BBQ world" 9 years ago after discovering how many people struggle with choosing their dream grill.