Weber is known for manufacturing the finest grills, be it gas grill, charcoal, portable or electric grills. The units are known for their durability, strength, and easy assembling.

We hope the Weber Performer Deluxe would be no exception. You will find this charcoal grill a bit different than usual ones, all interesting insights in the charcoal grill review below. 
Let's jump to the action-packed charcoal grill review real quick to find out. 
Complete review for The Charcoal Grill Weber Performer Deluxe
10 Benefits Of Weber Performer Deluxe
Weber Performer Deluxe charcoal has so much to offer that makes it stands out of the rest. Here are the top 10 benefits of using Performer Deluxe that pretty much cover all the best features of this unit. These benefits will make you spend some extra dimes on it for sure. 
1. Decent Cooking Space
Weber Performer has a good 363 square inches of cooking area that is sufficient to feed a couple of people. You won't find an additional warming rack, but the circular-shaped 22-inch diameter cooking area provides enough space to stuff a variety of foods of your choice in one go. 
To provide you with an idea, it can accommodate 13 burgers easily. Also, you can easily place high cooking food like turkey, too, as it is covered with a 7.5-inch lid height. 
That's not all; its cooking area grilling grates are magic. Read on, and you will just know-how. 
2. Weber Gourmet BBQ Cooking System
This specific feature makes the Performer Deluxe charcoal a versatile unit. The Performance Deluxe charcoal grill has a Gourmet BBQ cooking system that has a hinged steel-plated cooking grate in the center that can be removed to increase its cooking versatility.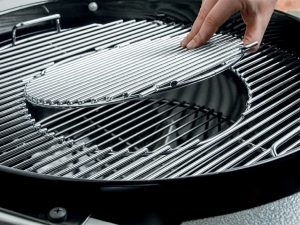 This circular removable plate provides it with a competitive edge and can be used for direct grilling. You can also replace it with other cooking accessories like a wok, griddle, waffle pan, a trivet, or pizza stone to perform all sorts of cooking. 
Not only this, but the cooking grates on both sides can also be flipped up, allowing you to feed more charcoal briquettes or even wood pellets to the grill. This adds more flavor to your food and even help you to cook at varying temperatures. 
Do you still think it has less cooking space? We bet you need to reconsider that thought.
3. Touch-N-Go Ignition System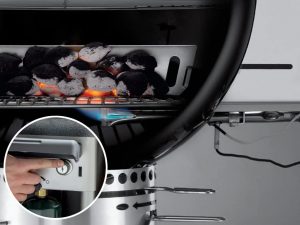 Another special feature of the Performance Deluxe grill is its Touch N Go ignition system. This kickass feature makes the unit to start on the push of a button and even light charcoal with no mess. 
To start the charcoal grill, you just need to press the electronic ignition button just like in gas grills. It is fueled with the help of a disposable propane bottle placed below the end of the cart under the LCD timer. 
The charcoal grate lies just above this burner. Just add in the charcoal above the burner, switch on the gas, and press the ignition button. Your charcoal grill will be all ready to use in 10 to 15 minutes. It even can reach much higher temperatures with this setup. 
4. Tough Construction
Just a glance will be enough for you to know that the grill is built to last long and stands tough by all means. 
The charcoal grate is made from heavy gauge steel. The main cooking vessel or the bowl and lid is porcelain-enameled, coated, and painted to prevent it from rusting. 
Below the bowl is the removable high capacity ash catcher made from aluminum. Also, the long work table beside the unit is sturdy as it is made from metal.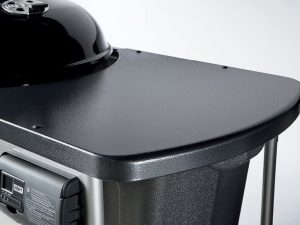 Another plus point is the cool touch handles on the lid. This doesn't seem like an important addition, but you will know if you have ever got your hand burnt on picking up that hot lid. All thanks to the redesigned nylon lid handle, you can just lift it without your gloves. 
Also, it has a tuck-away lid holder in the side made from stainless steel that acts as a holding stand for the lid. But make sure you don't accidentally touch it while cooking. 
5. Impressive Warranty Period
Its impressive warranty period says it all about its tough construction. Weber is known for its long-term warranty period, and this charcoal grill follows suit very well.
The Performer Deluxe Bowl and lid come with ten years of no rust and burn warranty period. Also, it has a one-touch system comes with five years of warranty. The plastic components have a good five years of warranty that doesn't cover discoloration or fading.
That not all! Grill also provides a good 2-year warranty on the rest of the parts. So, it's actually good to go for the initial years of purchase.
6. One-Touch Cleaning System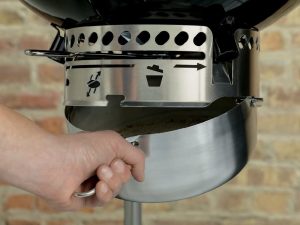 Cleaning any grill is the worst part of grilling. However, the company has made sure that it is done most suitably and easily. For this reason, the Performance Deluxe comes with One-Touch system. 
With this, cleaning and disposing of away ash is made simpler. All you need to do is swipe the lever attached to the ash catcher to drop off all the ash to the ash catcher and then just detach the ash catcher to dispose of the ash. 
The rest of the grill can be easily cleaned with one-touch as it is made from aluminized steel.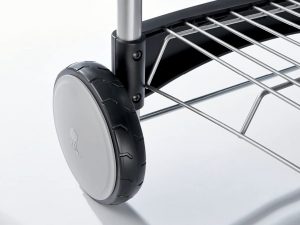 Even this cart style charcoal grill is made conveniently movable by Weber. This is all because of the durable all-weather wheels; it is supported within the front. 
The two big wheels in the front and two swivel locking casters at the back makes it easy to move around and also standstill at a place. 
8. Charbin Storage Container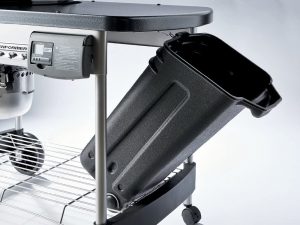 Thinking where to store all the charcoal briquettes so that they are always at your arm's length? Not with Performance Deluxe. It has got all sorted out for you. You can store them in the CharBin storage container 
This CharBin is easily detachable and tilts to the side so you can fill it again. As it is covered up with the worktable above, you don't have to worry about getting them wet in any case. 
For extra convenience, the company has put in all efforts to make this charcoal grill easy to use. For convenience and enjoyable grilling, Performance Deluxe has three stainless steel tool hooks in the front, a removable LCD timer next to them, and a classy metal work table on the top. 
That's not all; if you love to have extra storage at hand, there is a wire rack in the bottom to put the extra stuff. Moreover, the more is the storage space; the merrier is the grilling. 
It's always a relief to be able to know the internal temperature of your charcoal grill so that you don't end up with flare-ups on your food. 
To keep this in mind, it also has an inbuilt thermometer on the lid to perfectly keep an eye on the internal temperature. However, we suggest double-checking with the help of a digital thermometer as well
Design
The Performance Deluxe is a cart style charcoal grill with kettle shaped vessel and a tuck-away lid. However, does the parabolic shape of the grill provide any difference to this grill still remains unanswered? 
Easy Setup/ Ease To Use
It requires no serious nutting and bolting and can be set up in a few minutes and works better than most charcoal grills with loads of assembling. 
Not only setting up, but it is also quick to get started with its Touch N Go ignition system. Instead of spending hours on assembling, you can spend more hours on grilling. 
Easy to Clean
With the aluminized steel One-Touch system it also eliminates the trouble of cleaning and discarding of ash. It also prevents the blowing of ash everywhere. 
Just swiping a lever is all it takes to remove the ash and disposing it off. Also, it provides the warranty on the One-Touch system as well.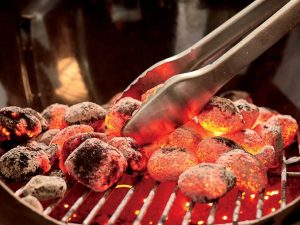 Storage
There is a lot of storage space you get with Performance Deluxe. The long sturdy worktable to the right, the large wire rack in the bottom, and even the Charbin storage container make it a little standalone cooking workspace in itself. 
Frequently Asked Questions: Grill Review and More
Is the Weber Performer Grills worth the money?
In our view, the Weber Performer Grill are definitely worth the money. The Performer Deluxe charcoal is priced at $439 on Amazon. Performer is worth this minimal price with the features it provides, like the Gourmet BBQ cooking system, Touch N Go ignition system, and One-Touch cleaning system.  
It has much more worth than this because of its versatility cooking and a cart it comes with. 
What is the difference between the Weber Performer Deluxe and Premium?
There are various differences between the Weber Performer Deluxe and Premium. The Performer Premium lacks the premium features of Performer Deluxe charcoal like the Gourmet BBQ Sear Grate system (aims at versatility cooking), and the Touch N Go ignition system (aims at electronic ignition). 
The Performer Deluxe charcoal is worth the extra $100 spend than on Premium for the extra features. 
How do you use the Weber Performer Deluxe?
Weber Performance Deluxe is pretty easy to use. Underneath the removable LCD timer, you can find the Touch N Go ignition system knob and a button. First, you need to rotate the knob anti-clockwise to turn on the gas ignition system and then press the big button to the right to ignite it. 
Just set the LCD timer for five minutes to keep the gas ignition system on and then switch it off. 
How much charcoal do you put in a grill?
The amount of charcoal you need to put in a grill depends on the temperature and the cooking area of a grill. You should fill about 3/4th of your grate space with charcoal briquettes. 
Definitely, for Performer Deluxe charcoal grill, around 90 to 100 briquettes would be sufficient to reach a temperature of about 500-degree F. 
The best way to measure the charcoal briquettes is by using the Rapidfire Chimney Starter. 
What is the best Weber grill for the money?
The best Weber grill for money is Spirit E-310 Liquid Propane Gas Grill with three burners and 529sq inches cooking space 
In Weber's charcoal grills, the Weber Performance Deluxe is the best Weber grill for the money. 
In Weber's electric grills, Weber Q1400 is the best for money grill. 
All of these grills are priced way less than $500. 
What sizes do Weber grills come in?
Weber grills come in varied sizes. They have portables series grills to up to 6 burners gas grills. The smallest Weber charcoal grill is Go-Anywhere Charcoal Grill and has a diameter of around 31 cm. 
The largest Weber grill is the Genesis® II LX S-640 GBS Gas Grill, which comes with 998sq inches of cooking space. The Weber Electric Grill Q1400 has 189sq inches of cooking space, i.e., 27 inches in diameter. 
Where are Weber grills manufactured?
Weber grills are manufactured in the United States. The brand is headquartered in Palatine, Illinois. However, not all Weber grills are made in the US. Some of the new Weber grills like the Genesis II series and Spirit series are both made and assembled in China. 
The other Weber grills are assembled in the USA from the parts manufactured in different parts of the world as outsourcing labor is cheap. These Weber grill series include Summit, Q series electric grills, Smokey Joe, Original Kettle Charcoal grill, Go-Anywhere portable grill, etc. 
What are air vents on Weber kettle lids used for?
 The air vents on Weber kettle lids are used to burn charcoal properly. The Performer Deluxe grill includes air vents supported by stainless steel on the lid. These air vents allow the charcoal to burn adequately with the airflow. Keep them open during the process of cooking. Close them only when you are finishing grilling. 
What's special about the Weber grills?
Weber grills have a lot many specialties. There are priced just conveniently, not too expensive to get your broke nor too cheap to compromise on the quality. That's what makes these grills special. They are easy to use, easy to assemble, and made from high-quality stainless steel that makes them rust-free and last longer than necessary. 
What is the difference between Weber Performer and Weber Performer Deluxe?
There are various differences between Weber Performer and Weber Performer Deluxe. Performer is the first charcoal grill in the Weber Performer series. The Performer Deluxe is the upgraded version of the former. 
Performer included a small cart with a foldable worktable and lacked the Gourmet BBQ cooking grate system and other new features added in Weber Performer Deluxe. 
This brings us to the end of this charcoal grill review. The Weber Performer Deluxe has minimal defects that don't sound too important. The removable LCD timer will not stand with you if you require cooking time above 99 minutes. 
Moreover, there are various other ways to set the timer with digital devices all around us. Additionally, don't trust its inbuilt thermometer too much. 
Besides these two minor defects, the Performer Deluxe is a totally recommendable charcoal grill with its cooking versatility, long-lasting construction, and so aptly priced. Above all, the cart style grill allows you to use it perfectly in all situations.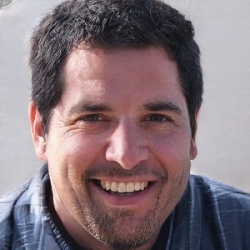 This article is written by Noam Shahar the founder of Limited-Red, Noam is a serious carnivore, And he has a strong passion when it comes to meat and cook, He Decided to review the "BBQ world" 9 years ago after discovering how many people struggle with choosing their dream grill.