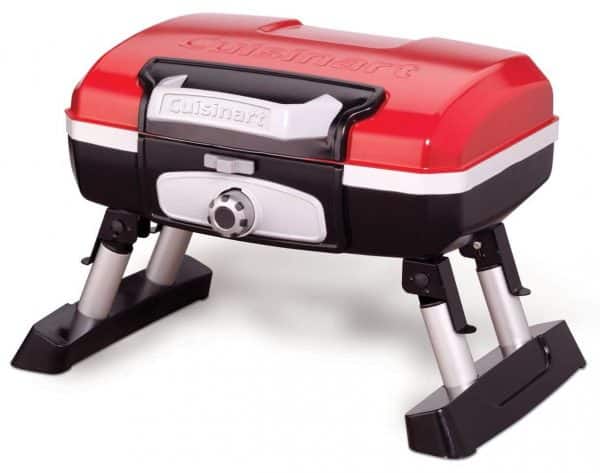 The way you cook your food will naturally influence how it ends up, and grilling is one of the best ways to add some extra flavor to a meal. There are many different kinds of grills, with various heat sources that all have their own sets of pros and cons, but gas tends to be the most convenient option.
While gas gives up a little bit of flavor, it ensures that you don't have to carry around a large bag of charcoal and it also makes sure that you don't have to clean a bunch of ashes. However, within the sub-category of gas grills, there are further varieties, ranging from hybrids to full-sized models, and even to compact grills.
That final variety is what we're going to focus on today, as we cover six of the best small gas grills on the market. We'll first go over each product's specifications, and then we'll provide you with a general overview of each of them so that you know what to expect when you buy your new grill.
However, choosing the best small gas grill is about more than just knowing the products, because you'll also need to know what to search for. To that end, we'll also present six of the most important aspects to look for when you're buying your new compact gas grill after we've finished our reviews.
Buying Guide To Find The Top-Rated Small Gas Grills On The Market
What to Look For in the Best Small Gas Grill
Portability
Portability is usually one of the main reasons why people opt for more compact grills, and some features can help make a grill a lot easier to bring around with you. For example, a set of wheels will allow you to roll around larger grills that you otherwise wouldn't be able to pick up.
Even something as simple as a handle can help make a grill a lot easier for you to bring where you need it. Of course, you should also account for the dimensions of the grill as well as its weight, as that will let you know whether or not you'll have a hard time bringing the grill around with you.
Ignition System
The kind of ignition system that your grill uses will influence how easy it is to use, especially if you're out on a picnic or somewhere else away from home. The simplest of grills don't have an ignition system, and you'll have to use a long match or a barbecue lighter so that you don't end up singeing your arm.
However, you won't find too many grills still on the market without some form of the ignition system. Most grills now have a piezoelectric system that will create a spark that can ignite the gas for you. All you'll have to do is push a button, so you won't need to carry around a lighter or any matches.
Cooking Space
The amount of cooking space that is available on a small gas grill will influence how many things you can cook on it at the same time. As with any small grill, you typically give up cooking space for portability, but you'll still want to find yourself a product that maximizes the available cooking area.
When selecting the best compact gas grill for your needs, you'll want to account for how many people you usually cook for. If you have a larger family or group of friends, then you'll probably need to settle for a model with a larger cooking area so that you won't have to make things in two separate batches.
Heat Output
The amount of heat that a grill can output is usually measured in BTUs, though this isn't the only factor that will influence how hot a grill can get. Things like the level of insulation and the thickness of the walls can affect the heating capabilities of a grill, sometimes more than the BTUs.
However, if you account for the size of the grill and the number of burners, you can still use the BTU rating to give you an idea of how much heat a grill will create. This can let you know whether or not the grill will be suitable for specific recipes that may require higher temperatures.
Build Quality
Like with any other kind of product, the build quality of your small gas grill will influence how long it can last for you. This will also determine how much value you get for your money, so you'll want to be sure that you purchase a grill that is reliable enough to last you for an extended time. If you are looking for gas grill under 300 dollars check our review
Build quality can be one of the hardest factors to predict before you actually have the product, and you feel it in your hands, so you'll often have to rely on others. However, you can use hints like the manufacturer's reputation and the length of the warranty to get an idea of a product's quality before you buy it.
Ease of Maintenance and Cleaning
If you're going to be using your compact gas grill away from the house, you'll also want something that is relatively easy to maintain. Look for features that will improve the ease of cleaning up the grill after you have finished, as they can make it a lot more user-friendly.
Removable cooking grates will be a lot easier to clean off after you've finished using them, and they can also provide you with access to the inside of the grill. Keeping your grill properly maintained can help you make sure that it lasts you for as long as possible, and it will also keep your food tasting as good as possible.
Conclusion
The best portable gas grill will often depend on your needs and what you intend to do with it, so it's impossible for us to pick the all-around best model. However, we hope that the selection we have presented has helped you find the right product for your needs.