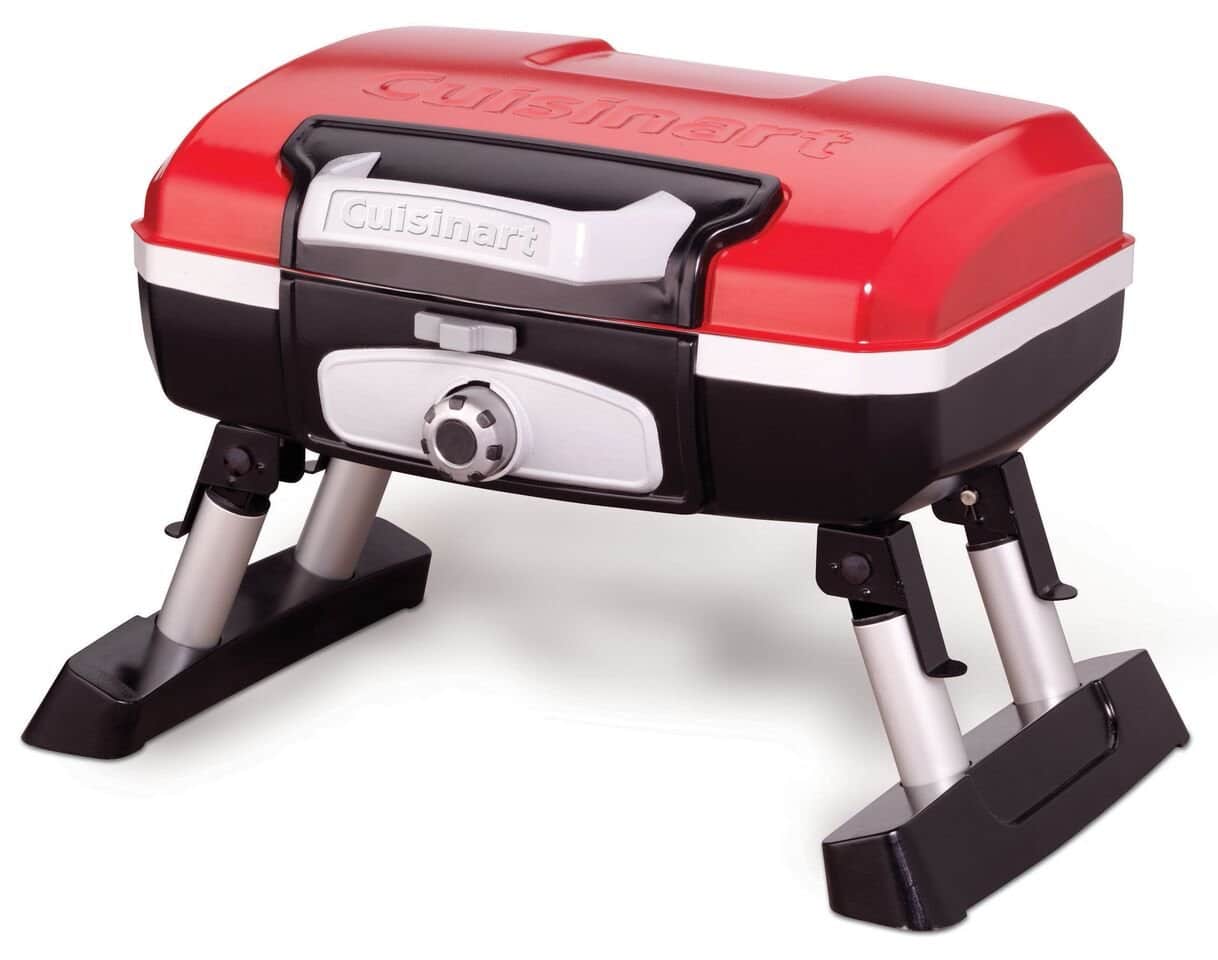 The way you cook your food will naturally influence how it ends up, and grilling is one of the best ways to add some extra flavor to a meal. There are many different kinds of grills, with various heat sources that all have their own sets of pros and cons, but gas tends to be the most convenient option.
While gas gives up a little bit of flavor, it ensures that you don't have to carry around a large bag of charcoal and it also makes sure that you don't have to clean a bunch of ashes. However, within the sub-category of gas grills, there are further varieties, ranging from hybrids to full-sized models, and even to compact grills.
That final variety is what we're going to focus on today, as we cover six of the best small gas grills on the market. We'll first go over each product's specifications, and then we'll provide you with a general overview of each of them so that you know what to expect when you buy your new grill.
However, choosing the best small gas grill is about more than just knowing the products, because you'll also need to know what to search for. To that end, we'll also present six of the most important aspects to look for when you're buying your new compact gas grill after we've finished our reviews.
Buying Guide To Find The Top-Rated Small Gas Grills On The Market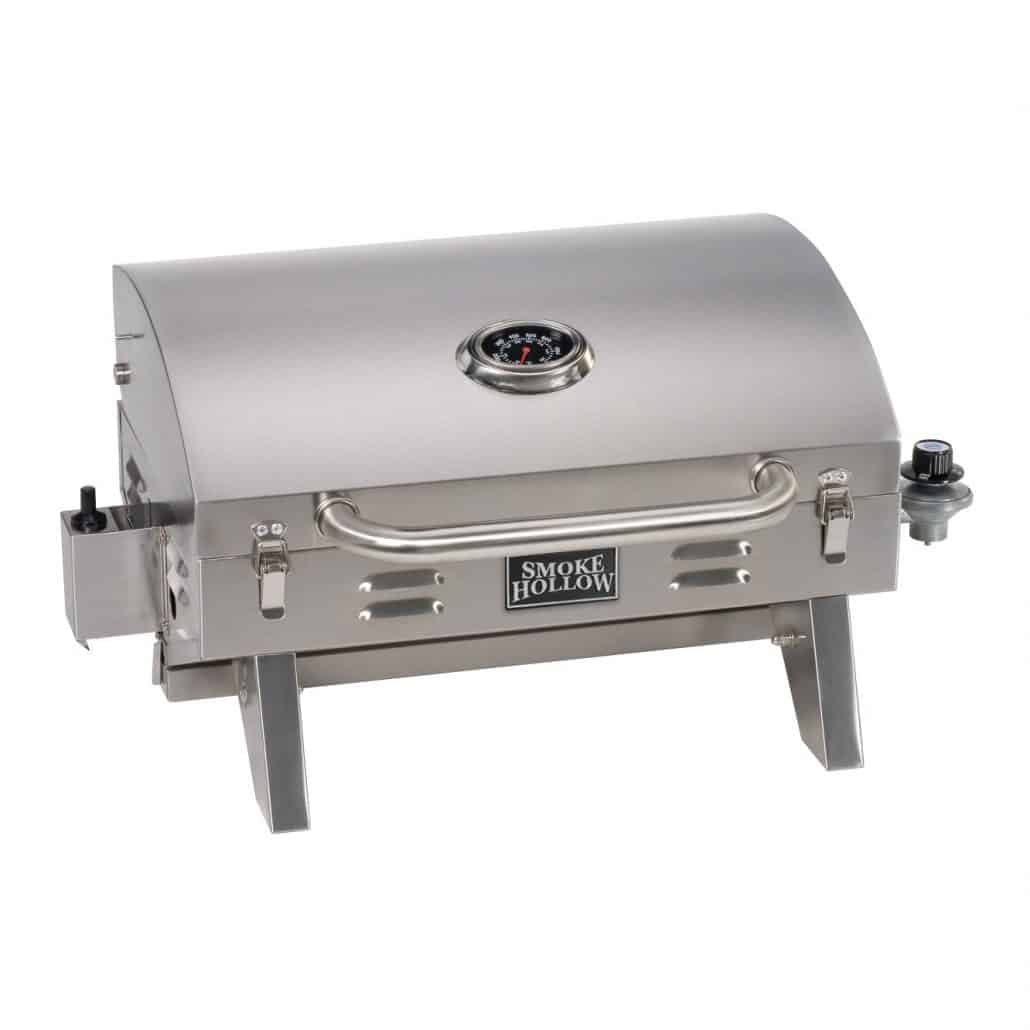 1 – Smoke Hollow 205 Stainless Steel Tabletop Gas Grill
Specifications:
Features 205 square inches of primary cooking space with a stainless steel grill
There is also a chrome-plated warming rack with 105 square inches of space
The stainless steel "U" burner is capable of 10 000 BTU of heat output
Folding stainless steel legs help keep this grill elevated while in use
Equipped with a stainless steel drip tray for juices
There is an analog temperature gauge on the lid of the grill
Compatible with 16 oz disposable propane cylinders
Overview
This small gas grill from Smoke Hollow features superior build quality to many of its competitors, though it's also a little more expensive than them. Despite the higher price point, we'd argue that this grill offers excellent value for money, as its performance matches its superior construction.
The primary cooking area on the Smoke Hollow 205 is 205 square inches, which is a lot larger than most of this grill's competitors, which are usually around half the size. The grill even features a warming rack with an area of 105 square inches, so you can keep the first batch of food warm.
The "U" burner on this grill is capable of outputting up to 10 000 BTU, making it one of the most powerful models in its price range. Cleaning up this grill isn't as challenging as you would expect because it comes equipped with a removable stainless steel drip tray to catch any juices.
Equipped with folding stainless steel legs, you can use this grill on picnics and camping trips without having to worry about singeing the ground underneath it. If you're looking for a grill that's portable but still gives you value for your money, the Smoke Hollow 205 is a great choice.
Click Here For The Best Price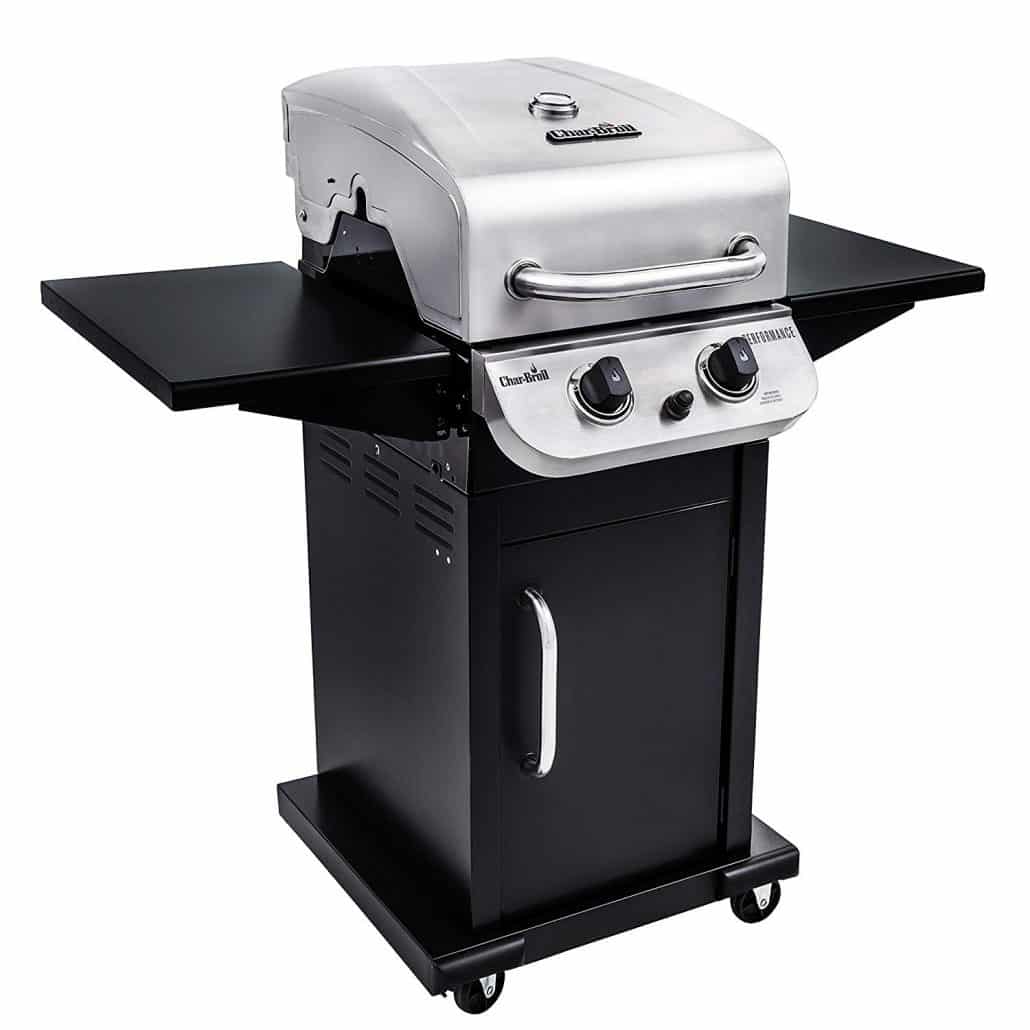 2 – Char-Broil Performance 300 2-Burner Gas Grill
Specifications:
Features 2 burners with a heat output of 24 000 BTUs
Equipped with over 300 square inches of primary cooking space
The swing-away rack features 100 square inches of cooking space
The cast-iron grates are coated in porcelain
A temperature gauge on the lid allows you to keep track of the heat
The electronic ignition system helps make this grill easier to use
Equipped with four casters, two of which lock so that the grill can remain stationary
Overview
If you want a home grill that's compact enough to fit into a small area and is relatively affordable, the Char-Broil Performance 300 is a great option. Unlike most affordable grills, this one is built to Char-Broil's high standards, and it is capable enough to cook surprisingly large meals.
With 300 square inches of primary cooking area, you won't run out of space even if you're cooking for the whole family. This is complemented by the inclusion of a swing-away warming rack with 100 square inches of space so that you can keep even more food ready to serve.
The grates for both the cooling rack and the primary cooking area are made out of cast iron and coated in porcelain enamel. Since there is a temperature gauge mounted on the lid of this grill, you can see how things are going without even having to open it up and letting the heat escape.
This small gas grill is equipped with an electronic ignition system that makes it a lot easier to use. Other features further enhance the user-friendliness of this product, like the folding side shelves which allow you to conserve space around the grill when they're not in use.
Click Here For The Best Price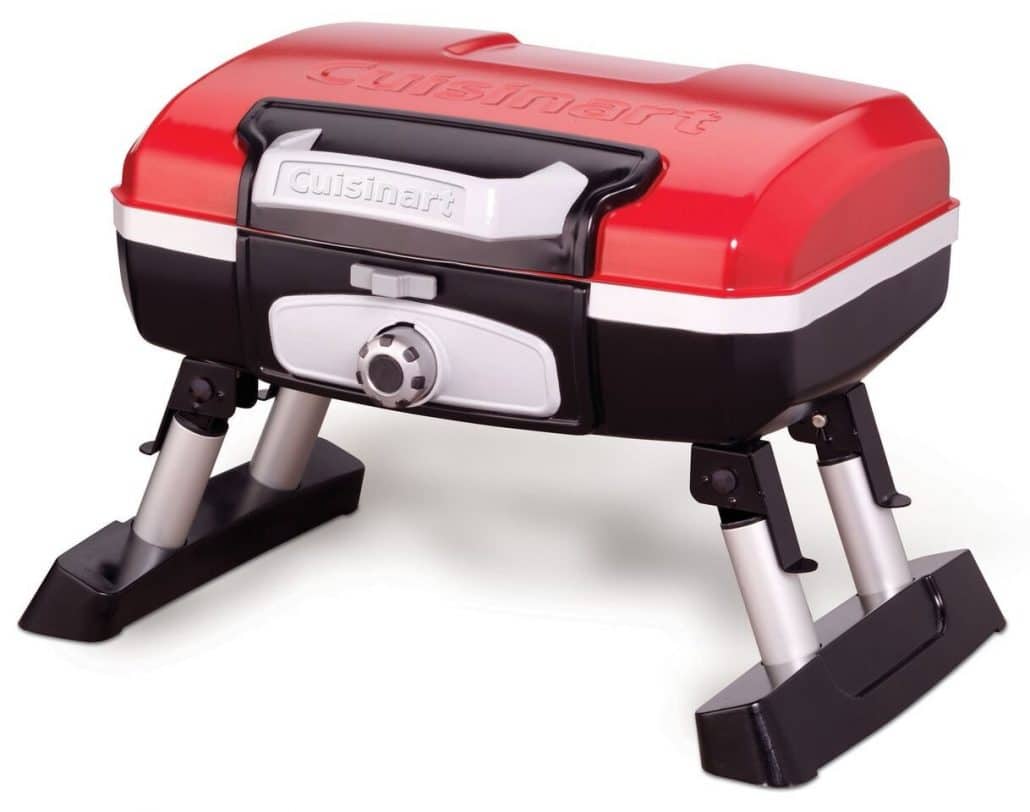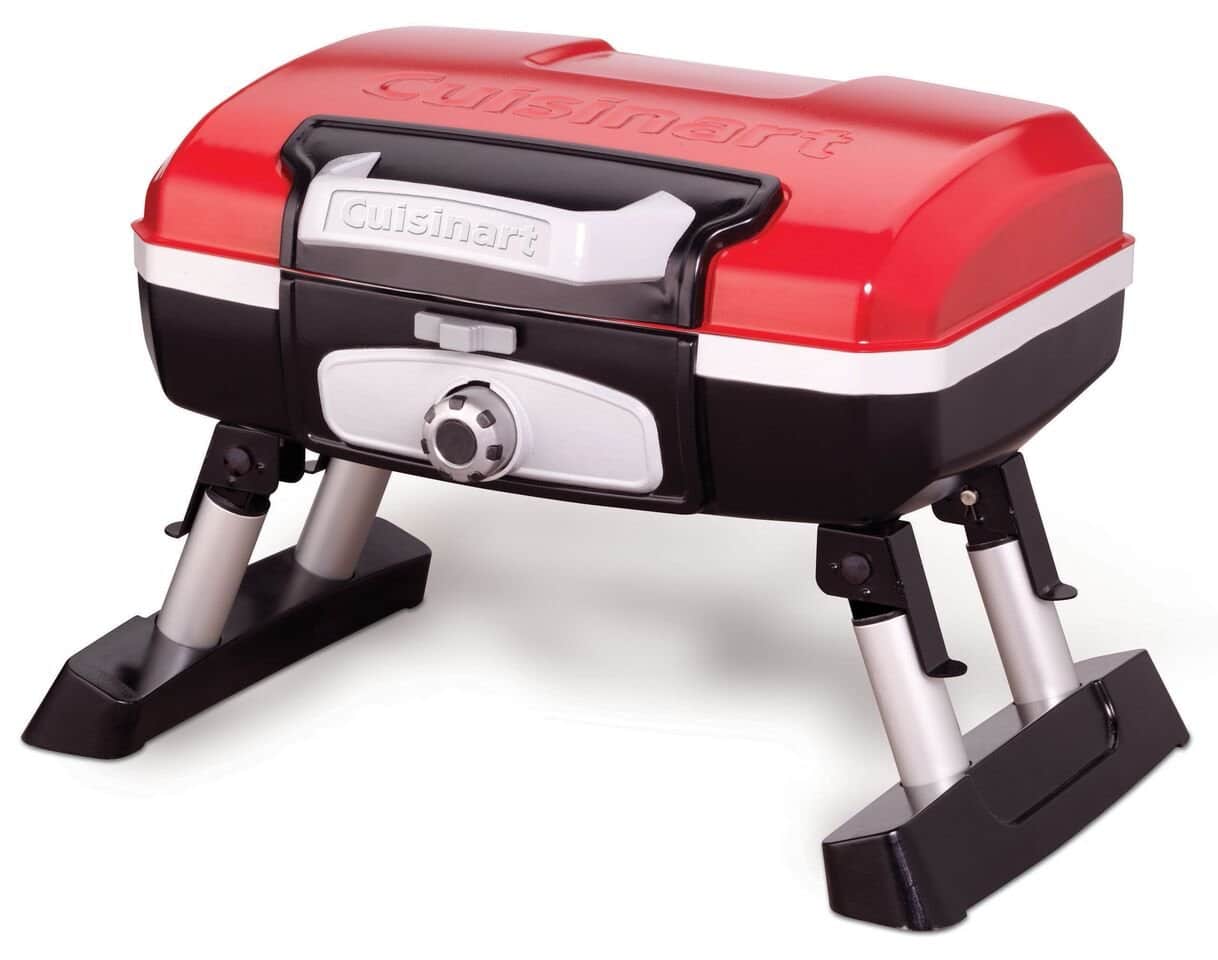 3 – Cuisinart CGG-180T Petit Gourmet Portable Gas Grill
Specifications:
Features a compact, portable design that only weighs 13.5 pounds
The grilling area features 145 square inches of space
It has a briefcase-style handle for easier transportation
The folding legs ensure that heat isn't transferred to the surface under the grill
Equipped with a lid lock to secure the lid in transit or storage
The stainless steel burner can output 5500 BTU of heat
Overview
Cuisinart's CGG-180T Petit Gourmet is one of the best compact grills around, and it's also one of the smaller options on this list. Even though this grill only features 145 square-inches of cooking space, it is small enough to be transported wherever you want to go with relative ease.
There are a few features that are implemented to help make this small gas grill even more portable. The handle is positioned in a convenient spot, and it allows you to carry the grill around like a briefcase. To ensure that it doesn't open while being transported, there is a locking latch integrated into the lid.
The folding legs on this grill are equipped with stabilizers to ensure that it doesn't tip over while it's still operating, making it much safer than the competition. The inclusion of a 5500 BTU burner means that this little grill has the power that it needs to cook nearly any recipe.
This grill is mainly made out of aluminum, which helps cut down on its weight and keeps it as portable as possible, weighing only 13.5 pounds. If you're looking for a grill that's as portable as possible but is still capable of heating up your food evenly and effectively, the CGG-180T is a great option.
Click Here For The Best Price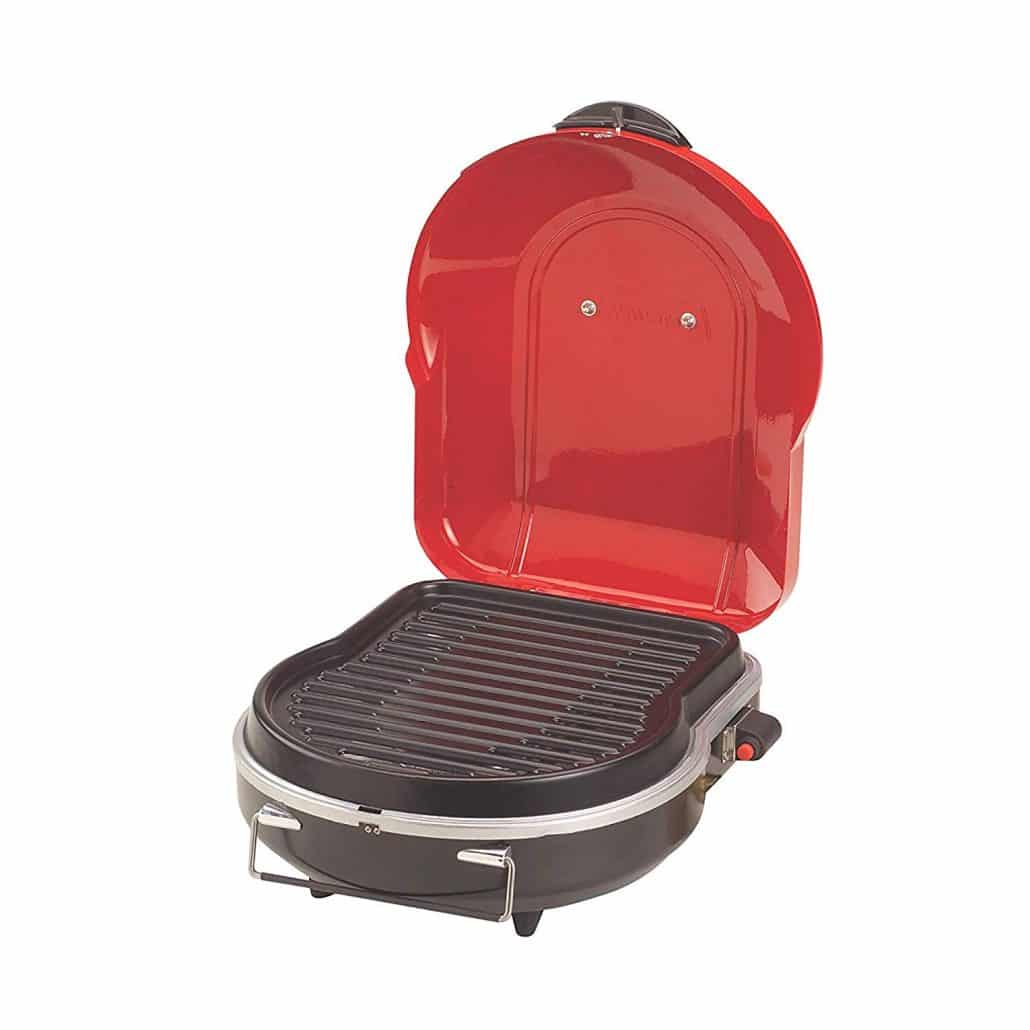 4 – Coleman Fold N Go Instastart Gas Grill
Specifications:
Designed to be as portable as possible with a built-in handle and tiny dimensions
Despite its small size, it still features 105 square inches of grilling space
Features a horseshoe burner that outputs 6000 BTUs
The adjustable burner gives you more control over the temperature
The cooking surface and the grease tray are removable for simpler cleaning
Equipped with an InstaStart button for quick ignition
Overview
The Fold N Go from Coleman is even smaller than the CGG-180T, and it's the most compact model on this list. If portability is more important than capacity, then it is the smallest grill that we'd recommend getting, and it's an excellent choice for camping trips, backpacking, and similar activities.
Since this grill is so small, it's also one of the most affordable options on the market, allowing you to cook on the go without spending too much money. Even though this grill is relatively small, it still features a respectable 105 square inches of grilling space, which is enough for one or two servings.
When you're done using this grill, you can easily clean it up by removing the whole cooking surface as well as the drip tray. Both of these can be cooked thoroughly, and they'll also get out of the way so that you can clean the inside of the housing.
Saving you even more time, the cooking surface and the grease tray are both dishwasher-safe. Like most modern grills, this one is equipped with an InstaStart button, so you won't have to carry around matches and lighters so that you can use it.
Click Here For The Best Price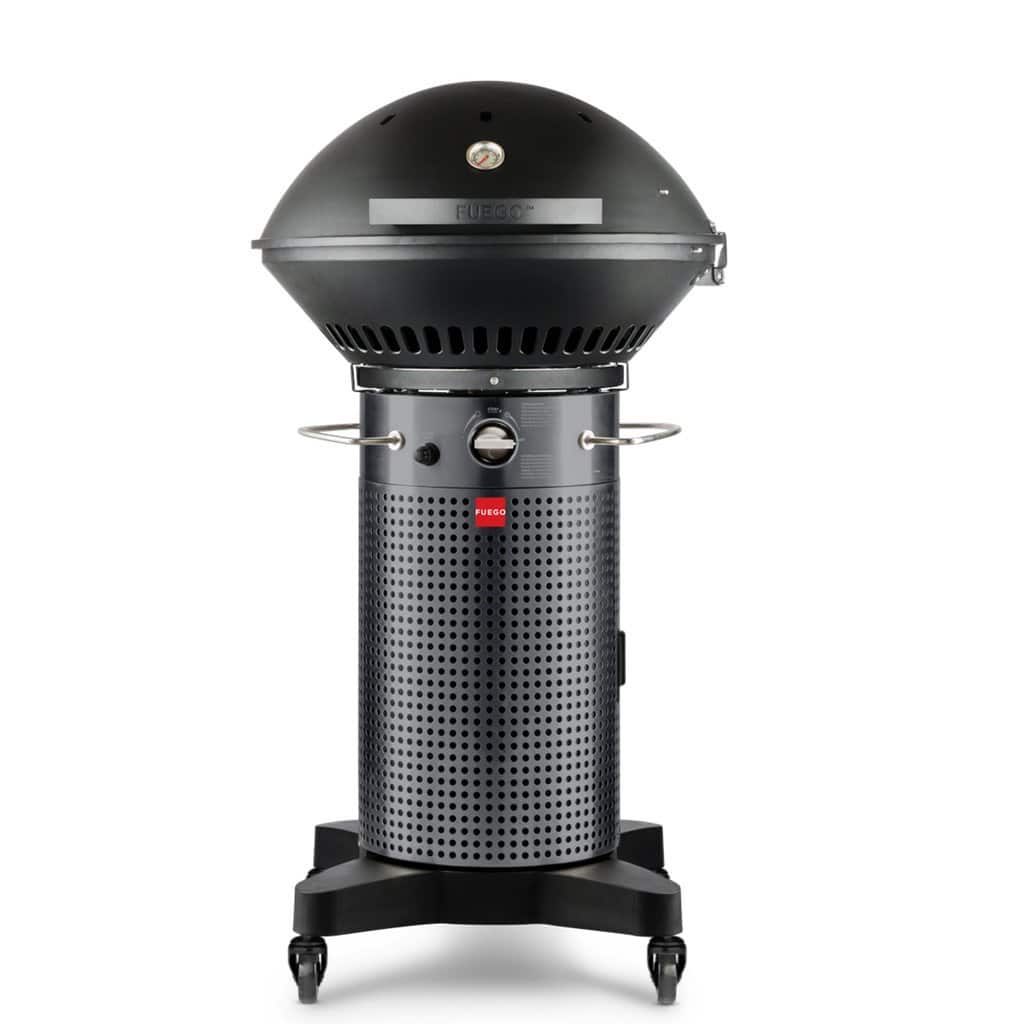 5 – Fuego F24C Professional Gas Grill
Specifications:
The main cooking area features 415 square inches of space
The warming rack has 110 square inches of area
Features a footprint of only 24 x 24 inches
Designed to be assembled quickly; it comes with only 20 screws
The dual-zone burner system features 26 500 BTUs per hour of heat output
Capable of a max temperature of 700 degrees F
The non-marking industrial casters help improve the grill's mobility
Overview
This next product is a compact grill for the home, and it's also the most expensive product on our list. The Fuego F24C may look like an alien mothership, but it's one of the most advanced gas grills that are available in its price range, and it offers a great ratio of grilling surface to the footprint.
When the lid is closed, this grill only takes up an area of 24 x 24 inches, meaning that you can fit it on small balconies and other places where you don't have too much space. Despite being so compact, the F24C offers 525 square inches of primary grilling space, allowing you to make large meals all at once.
The assembly process is another one of the things that we love about this small gas grill since you can have it put together in under an hour without any trouble. With a total output of 26 500 BTUs per hour, this grill can heat up to 500 degrees Fahrenheit in as short as 5 minutes.
While it features a max temperature of 700 degrees F, this grill is more consistent around 650 degrees, so that is a more realistic max temperature rating.
Click Here For The Best Price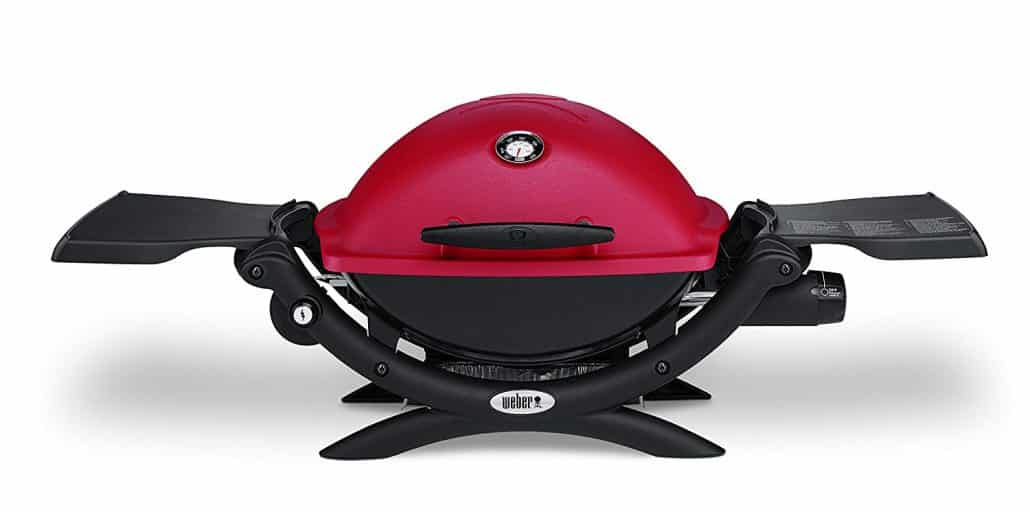 6 – Weber Q1200 Small Gas Grill
Specifications:
The single stainless steel burner outputs 8500 BTUs per hour
The cooking area is 189 square inches large
Equipped with cast iron cooking grates coated in porcelain enamel
Features a lid and body made of cast aluminum for lighter weight
The lid is equipped with a thermometer
Comes with a strong but light fiberglass frame
Overview
If you want a high-end compact grill, but you still want something portable enough to carry around with you, the Q1200 from Weber is one of the best in its class. This model features one stainless steel burner that can create around 8500 BTUs of heat per hour.
Despite its relatively small dimensions, this gas grill features a cooking area with 189 square inches of space. The cooking grates are made out of cast iron, and they're coated in porcelain enamel to ensure that your food doesn't end up sticking to them.
It's easy to see that this compact grill was designed with weight savings in mind, as the materials are all as light as possible. The metal used is cast aluminum, which is both light and strong, and the frame of the grill is made out of fiberglass, which boasts those same two qualities.
Overall, the Weber Q1200 is the best compact portable grill on this list, but only if you're willing to pay for the hefty price tag.
Click Here For The Best Price
What to Look For in the Best Small Gas Grill
Portability
Portability is usually one of the main reasons why people opt for more compact grills, and some features can help make a grill a lot easier to bring around with you. For example, a set of wheels will allow you to roll around larger grills that you otherwise wouldn't be able to pick up.
Even something as simple as a handle can help make a grill a lot easier for you to bring where you need it. Of course, you should also account for the dimensions of the grill as well as its weight, as that will let you know whether or not you'll have a hard time bringing the grill around with you.
Ignition System
The kind of ignition system that your grill uses will influence how easy it is to use, especially if you're out on a picnic or somewhere else away from home. The simplest of grills don't have an ignition system, and you'll have to use a long match or a barbecue lighter so that you don't end up singeing your arm.
However, you won't find too many grills still on the market without some form of the ignition system. Most grills now have a piezoelectric system that will create a spark that can ignite the gas for you. All you'll have to do is push a button, so you won't need to carry around a lighter or any matches.
Cooking Space
The amount of cooking space that is available on a small gas grill will influence how many things you can cook on it at the same time. As with any small grill, you typically give up cooking space for portability, but you'll still want to find yourself a product that maximizes the available cooking area.
When selecting the best compact gas grill for your needs, you'll want to account for how many people you usually cook for. If you have a larger family or group of friends, then you'll probably need to settle for a model with a larger cooking area so that you won't have to make things in two separate batches.
Heat Output
The amount of heat that a grill can output is usually measured in BTUs, though this isn't the only factor that will influence how hot a grill can get. Things like the level of insulation and the thickness of the walls can affect the heating capabilities of a grill, sometimes more than the BTUs.
However, if you account for the size of the grill and the number of burners, you can still use the BTU rating to give you an idea of how much heat a grill will create. This can let you know whether or not the grill will be suitable for specific recipes that may require higher temperatures.
Build Quality
Like with any other kind of product, the build quality of your small gas grill will influence how long it can last for you. This will also determine how much value you get for your money, so you'll want to be sure that you purchase a grill that is reliable enough to last you for an extended time.
Build quality can be one of the hardest factors to predict before you actually have the product, and you feel it in your hands, so you'll often have to rely on others. However, you can use hints like the manufacturer's reputation and the length of the warranty to get an idea of a product's quality before you buy it.
Ease of Maintenance and Cleaning
If you're going to be using your compact gas grill away from the house, you'll also want something that is relatively easy to maintain. Look for features that will improve the ease of cleaning up the grill after you have finished, as they can make it a lot more user-friendly.
Removable cooking grates will be a lot easier to clean off after you've finished using them, and they can also provide you with access to the inside of the grill. Keeping your grill properly maintained can help you make sure that it lasts you for as long as possible, and it will also keep your food tasting as good as possible.
Conclusion
The best portable grill will often depend on your needs and what you intend to do with it, so it's impossible for us to pick the all-around best model. However, we hope that the selection we have presented has helped you find the right product for your needs.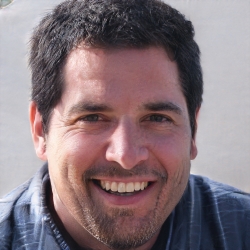 This article is written by Noam Shahar the founder of Limited-Red, Noam is a serious carnivore, And he has a strong passion when it comes to meat and cook, He Decided to review the BBQ world 9 years ago after discovering how delicious meat can be when you know what's needed.