Flap top or griddle gas grills can help you enhance the variety of food for a family gathering. However, the dilemma lies in choosing the best flap top gas grill. 
It is important to note that Blackstone solely deals in the manufacturing of griddles and related accessories. This gives this comparison a new perspective.
Here is a neck and neck Camp Chef vs Blackstone comparison as both are known for making superior quality griddle gas grills. 
Camp Chef Versus Blackstone: Comparison Of The Best Flat-Top Gas Grill Based On Your Needs.
Best Overall: Camp Chef 900 Vs Blackstone 1825
Camp Chef 6-Burner 900 Flat Top Grill
This Camp Chef's one of the best grill is the best overall for many worthy reasons. 
This griddle grill has an enormous cooking space of 877sq inches. It has 6 stainless steel burners that can be set at a different temperature to perform zonal cooking effectively that produces a total of 72000BTUs per hour. 
The top is truly seasoned and non-stick for you to cook pancakes, sausages, tacos, and whatnot without any worries. 
Pros:
Priced at $715 
Large cooking space 
Even cooking throughout
Non-stick top 
Adjustable leg levers
Cold rolled steel griddle
Comes with a one year warranty
Negatives:
Top surface prone to rusting
There is no dearth of good storage space in this unit. You will find two rolled steel shelves on each side with handles and a spice rack on one side. Also, it provides extra storage in the bottom with two shelves under the grill. 
Four rolling caster wheels easily support it with locking latches that keep it stable. Under the right shelf, you will find the hose to fit and hang your propane tank. 
For easy grease management system, it adds grease, ash catcher bucket, and adjustable griddle levelers
Blackstone 1825 36" Accessory Griddle with Side Shelf
This is Blackstone griddle that is upgraded to all means to make it better for outdoor flat top grilling.
Especially for people who love to cook with the easy handling of cooking tools, this griddle has a lot for you. With 720sq inches of cooking space and four heating zones, it can feed a bunch load of people at the same time. 
Pros:
60000BTUs of heat output
Four rolling wheels with locking latches
Propane tank fasteners 
A lot of storage space
Rear Grease management system
Powder-coated black steel frame
Easy to use and assemble
What's special? The rear grease management system for draining grease easily, the removable cutting board attached to the right shelf, paper towel holder, and strategically placed garbage bag hooks are some of the things you may not find in other flat-top grills. 
Best For The Money: Camp Chef 600 Vs Blackstone 1554 Station
Camp Chef Flat Top Grill 600
With no hot spots and even temperature dispersion, Camp Chef 600 gas grill is for those cooking for medium-sized grill perfect for occasional family gatherings and outdoor grilling. 
It has four steel burners, flap top griddle, and a grill grate as well. You can always expand your cooking option by removing the grill flat top. 
Pros:
Preseasoned cooktop 
Easy to assemble and use
Better and durable construction
Griddle as well grill
Easy grease management system
Affordably priced at $440 only
Matchless ignition system
It has sufficient storage space with two foldable side shelves and two bottom shelves as well. However, it is only supported by two big wheels on the left, which makes it difficult to move.
However, it does have a propane cylinder tuck away holder in the right. Also, it has an easy grease management system with grease, tray, ash bucket, and griddle levelers. 
Blackstone 1554 Station-4-Burner-Propane Fueled-Restaurant Grade
Blackstone griddle always lack behind due to filthy construction, but we guess this 4 burner grills with flat top is an exception. Let's hope that's how it is. To know, read on.
This restaurant-grade and professional Blackstone griddle have a cooking space of 720sq inches are much more than sufficient for cooking multiple foods at the same time. It has 4 steel independently controlled burner, which produces a total of 60000BTUs of heat. 
Pros:
4 zone heating control
Foldable legs
2 cantilevered shelves
Four rolling wheels 
Propane tank holder in the left
Adorably priced at below $300
One year warranty
Negatives:
Poor grease management
Still lacks durability
The griddle is made from rolled carbon 7-gauge steel, which makes it rust-free. Also, the rest of the unit is made durable with a black powder-coated steel frame instead of a plain stainless-steel frame. 
It has ample storage with shelves on the sides and at the bottom. Also, it is easily movable with its four wheels and locking latches to keep it steady during use. 
Best For Beginners: Camp Chef 475 Vs Blackstone 28
Camp Chef 3-Burner 475 Flat Top Grill
For beginners, who are looking for a cheap and effective grill, Camp Chef's 3 burners are sufficient to cook for a decent group of people. 
This flat top gas grills have 468 sq. inches of cooking area that can accommodate 12 to 15 burgers easily. It can only be used as a griddle. 
The top is already seasoned and non-sticky. It has 3 burner, of 12,000 BTU each, that help in zonal cooking that throws a total of 36000BTUs. 
Pros:
Durable construction
Cold rolled steel griddle
Grease tray, catch bucket 
Matchless ignition system
One year warranty
Micro-adjust griddle levels
Easy to assemble
It has ample storage space with two foldable side shelves and two bottom shelves. However, like Camp Chef 600, it is also supported by only two big wheels in the front. 
It also includes a propane tank holder, ash catcher, and adjustable leg levers like in all other Camp Chef grills. 
Blackstone 28 inch Outdoor Flat Top Gas Grill Griddle Station
This is a modified version of Blackstone griddle top and is so adequately priced that it won't hurt to give it a try. 
It is priced at just $224 and can be bought at less than this on Amazon. So, this opens has a good 448sq inches of cooking area with two burners. The two steel H shaped burners allows even cooking and set 2 zonal cooking temperatures perfectly. 
Positives:
Total of 34000BTUs powerhouse
Rolled carbon 10-gauge steel griddle 
2 commercial castor wheels
Propane tank fasteners
Fully foldable gas grill
2 adjustable heat control knobs
Fits 18 burgers easily
Negatives:
Still lacks in durable construction
This grill with flat top has only one side shelf to the left and one storage shelf at the bottom. The other highlight is it is completely foldable to be used a portable gas grill as well. 
It starts with a battery-operated ignition system and now has a rear grease management system. 
Best For Pros: Camp Chef 600 Vs Blackstone 36
Camp Chef Portable 4-Burner 600 Flat Top Grill
If you are a pro at cooking and looking for a medium-sized griddle, this portable Camp Chef griddle is apt. 
It has a 600sq inches of cooking space perfect for outdoor cooking wherever you want. Its four foldable legs are what make it different from the others, also making it easily carriable (yes, hold it up in your hands). 
Pros:
Matchless ignition less
4 burners with a total of 48000BTUs per hour, with each burner of 12,000 BTU
Comes with a 1-year warranty
Durable steel construction with black powder-coated
Four foldable legs 
Priced at $440 
Weighs only 440lbs
Cons:
Propane tank not included
The Camp Chef griddle is preseasoned and non-stick to cook a variety of foods with no flare-ups and scratching. On the sides are two inward foldable shelves. It also includes a bottle opener. However, it is not compatible with grilling. 
It so includes a propane tank holder, easy grease management system, and adjustable leg levelers. 
Blackstone 36 inch Stainless Steel Outdoor Cooking Gas Grill Griddle Station
This 36-inch Blackstone griddle top station with 720sq inches of cooking space can easily serve 2 to 20 people. 
The best part about this gas grill is its battery-powered one press ignition system and its high BTUs. Even with four burners, this griddle station can easily produce 60000BTUs of heat per hour. Moreover, you can easily control heat with no issues.
Pros:
Thick cold-rolled thick flat top
Foldable legs 
High heat output
One-touch ignition system
Stainless steel handlebar for moving it around
Built-in grease catcher
Affordably priced at $568
For convenience, it has two steel storage shelves on each side and even an adjustable tray in the bottom. Moreover, you can easily tuck your 20lb propane tank under the left shelf on the special frame meant for the same. 
It is supported by four wheels with lockable latches on two of them. 
Final Verdict: Blackstone vs Camp Chef
Well, this one was easy. We thought Blackstone would come out as a clear winner as its primarily a griddle gas grill brand. However, the verdict says the complete opposite.
Blackstone doesn't turn out to be a good competitor too. Camp Chef grills are clearly what we recommend. They are fully proper functional gas grills with top-notch durability. It is by far one of the best gas grill below 1000$. 
Nonetheless, Blackstone griddles lack in durability but are quite affordable and are much more spacious. Champ Chef, on the other hand, is a more durable and affordable version. And if this one is not enough for you, we have reviewed the blaze gas grill best picks and what we love about them.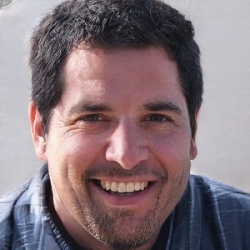 This article is written by Noam Shahar the founder of Limited-Red, Noam is a serious carnivore, And he has a strong passion when it comes to meat and cook, He Decided to review the "BBQ world" 9 years ago after discovering how many people struggle with choosing their dream grill.