The dilemma is – which pellet grill is the right choice for your backyard or a tailgate party? we recommend the one which is easy to maintain, portable and definitely falls within your price range.
Based on the above considerations and more, here is a product comparison of the best pellet grills of the two companies Rec Tec and Green Mountain.
Rec Tec Versus Green Mountain – Comparisons Of The Most-Rated Pellet Grills
Green Mountain Davy Crockett Pellet Smoker Grill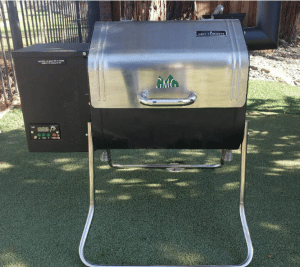 Green Mountain's Davy Crockett pellet smoker grill is Wi-Fi enabled and is easily affordable of the two. It has some great advanced features that are mostly part of high-priced grillers.
Davy Crockett is one of the best portable pellet smoker grills. It is perfect for people who love to grill everywhere they go – be it be a tailgate party, camping, hunting, house boating, and RVing.

What makes it easily portable is its foldable legs that reduce its size impressively to form a handle. It can, thus, easily be carried and can be loaded at the back of the truck too.
If it's portable, it's because it is a lightweight pellet griller that weighs only 68lbs. Not to mention, it is still sturdy enough to stand on its own on two legs if you want to use it as a backyard party pellet grill.
Davy Crockett has a digital Wi-Fi Controller that enables you to control the cooking temperature even from your Android or iOS device.

It also features a thermal sensor, Sense Mate that automatically monitors the grill temperature, so you don't have to be a professional in grilling to maintain the right grilling temperature.
It also has a power adapter which makes it work like an electronic grill. All you need to do is plug it into your car battery, AC power or car's cigarette lighter, again making it the best convenient portable pellet smoker grill.
It also has a side rack with utensil hooks to keep your cooking tools.
One feature which fails to impress some people is its cooking capacity. Being a portable pellet griller, its cooking capacity is not impressive.

Davy Crockett is better suited for throwing a party to a small group of people. It is suitable for cooking two racks of spareribs and three racks of baby back ribs.
The temperature of the grill can be controlled digitally with the help of a control panel. If the temperature suddenly falls too low, you will be notified, so you don't have to always keep an eye on the grill.

Also, it can heat up to 500 degrees and temperature can be adjusted in 5-degree increments for perfect cooking.
It comes with a 2-year warranty
Rec Tec RT-700 Bull Pellet Smoker Grill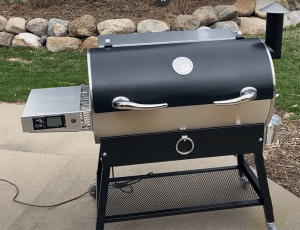 There is a vast price difference between the RT-700 Bull and Dave Crockett. However, Rec Tec is worth it despite its high price because of some of the amazing features that it entails.
Rec Tec's RT-700 Bull pellet smoker grill has double the size of cooking capacity when compared to Davy Crockett. The cooking space is sufficient to cook full-size turkeys.
What's more, you can also cook beer can chicken at the same time. The hopper is also extensively larger and can contain 40lbs of wood as opposed to 20lbs in Green Mountain's Dave Crockett.
Also, the hopper is engineered in a way that pellets don't get stuck while falling to the shoot. This heats the pellet evenly unlike Green Mountain smoker grills.
With a large hopper, you can continue cooking for more than 40 hours with a burn rate of 1lb of pellets per hour.
The RT-700 Bull weighs around 195 pounds which may not be convenient for tailgating. If you need a pellet smoke grill especially for tailgating, Green Mountains portability matches your preference.
Also, Rec Tec has an 80-pound pellet griller made for tailgating.
The other feature of Bull that adds to the convenient cooking is its versatility that will not only allow you to grill but bake, smoke, sear, roast, broil and even dehydrate meat. It has two meat probes that allow the monitoring of two cooks simultaneously.
It also has a low smoke-setting that makes pellets to last longer while promoting fuel-efficiency. It can heat up to 500 degrees F and has an automatic shutdown feature too.
You can also cook at night using the Bull as it comes with a light under the hood.
It also comes with Wifi technology which allows you to control the cooking from any device by downloading the REC TEC GRILLS app.
Its Smart Grill Technology Controller Proprietary PID algorithm makes it easy for beginners to maintain the cooking temperature precisely.
The RT-700 Bull is made up of stainless steel which makes it low maintenance and long-lasting.
It comes with a six-year warranty as opposed to 2 years of Green Mountains.
Final Verdict
Based on your preferences, need and budget, both Davy Crockett and RT-700 Bull can serve well on their part.
However, if you are not restricted by your budget and are looking for a long-lasting pellet smoke griller, hands down Rec Tec will not disappoint you any time of the day.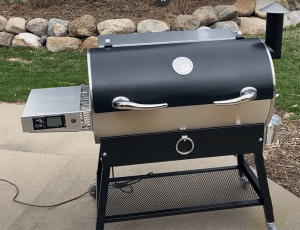 Buying Rec Tec is an onetime-investment that will accompany you for a lifetime. We created another interesting comparison of Rec Tec vs Yoder, one of the popular pellet grill brand in the market. That said, Z grills deserve your attention too.
On the other hand, if portability is your main preference with a low budget, Dave Crockett is good to start with. Also, if you are a constant traveler and a party enthusiast, Green Mountain is the best option.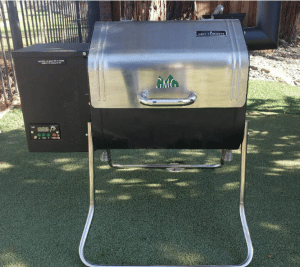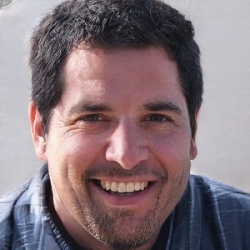 This article is written by Noam Shahar the founder of Limited-Red, Noam is a serious carnivore, And he has a strong passion when it comes to meat and cook, He Decided to review the "BBQ world" 9 years ago after discovering how many people struggle with choosing their dream grill.