Grilled and smoked foods taste heavenly and have a unique flavor. That is why people worldwide love to enjoy dishes like succulent grilled steaks, smoked sausages, and burgers. If you are a fan of smoked foods too and want to enjoy some grilled meat and veggies now and then, an offset smoker is best for you.

Whether it's your first time using a smoker, or you have some experience with it, or even if you are a culinary expert, an offset smoker suits everyone regardless.
So in this post, we have put up a comprehensive guide on the best offset smoker, design, features, and working mechanism. And if you decide to buy one but don't want to go through hundreds of products online, we have reviewed the best 10 offset smokers available in 2021. So let's get to it right away!
Our Pick
Char-Broil 12201570-A1
Budget friendly
Royal Gourmet CC1830F
Best Traditional
Char-Griller E1224 Smokin Pro
Best Reverse Flow
Oklahoma Joe's Longhorn
Best For Pros
Oklahoma Joe's Combo
Top 10 Offset Smokers in 2021
Now let's take a look at the best offset smokers you can find in the market. We have picked these smokers after checking out a huge variety of products. They are also categorized based on their key features and highlights.
Our Number 1 Pick: The Best Overall Offset Smoker
Char-Broil 12201570-A1 American Gourmet Offset Smoker, Black, Standard
The Char-Broil Offset Smoker is our pick for the best overall offset smoker for multiple reasons. First of all, it has a small and compact design making it much more portable than larger models. It weighs just 46.1 lbs, which is lighter than most offset smokers. So it's easier to move it around in your garden or lawn. 
The total cooking space is 430 square inches, where the main cooking chamber has an area of 290 square inches, and the firebox also has a cooking space of 140 square inches. You can grill items directly in the firebox to work as a combination of both an offset smoker and a charcoal grill.
The entire build of this charcoal smoker is strong and sturdy as it has a steel body and frame while the grates are porcelain-coated, which makes them easy to clean. The firebox has vents at the side that can be opened and closed, which regulates the smoker's temperature.
Compact in size, lighter weight, usability as a smoker and grill, and adjustable heating – all for a reasonable price tag– is what makes this product the best overall offset smoker.
Royal Gourmet CC1830F Charcoal Grill with Offset Smoker, Black
Royal Gourmet offset smoker is packed with a lot of convenient features and that too, with a low budget price tag. It has 800 square inches of cooking space, which is generously large to fit in a lot of items. 
The firebox is also big enough to accommodate 5 lbs of charcoal, keeping the flames burning for longer. The charcoal pan can be lifted or lowered with an external handle. Lifting the pan increases the heat, and lowering the pan reduces it.
It is made of a stainless steel body with porcelain-coated grates and an additional warming rack inside the cooking chamber. It's not very heavy to move around, weighing 57 pounds. There are vents and dampers in the firebox that allow for better airflow while smoking. This heavy-duty unit also has a base shelf and a side shelf to let you store items while you're cooking. All in all, you can enjoy these features at an affordable price.
Best Traditional Offset Smoker
Char-Griller E1224 Smoking Pro 830 Square Inch Charcoal Grill with Side Fire Box, Black
Do modern features of charcoal offset smokers make things a tad bit complicated for you? If you find traditional offset smokers with just the basic features to be more convenient, then this product is for you. 
It is built from heavy-gauge steel, which makes it durable and long-lasting. Weighing 113 lbs, it is quite heavy, but you can still move it around with a little effort. The cooking chamber and firebox are designed to provide 580 and 250 square inches of cooking space, respectively, so it has plenty of space. You can also grill food directly in the firebox, which gives excellent flavors.
The heavy-duty grates are made of cast iron, which prevents food from sticking. The coal drawers are removable, so you can conveniently add fuel when cooking and remove ashes once you're done. Spacious shelves at the front and side of the smoker let you store extra items.

As with most traditional offset smokers, features such as a thermometer on the lid and adjustable dampers are also present.
This simple and traditional offset smoker is durable, large, and spacious.
Best Reverse Flow Offset Smoker
Oklahoma Joe's Longhorn Reverse Flow Smoker
If you want to enjoy the benefits of a reverse flow offset smoker, we have just the right product for you. With not just one but four baffle plates, it greatly evens out the smoke and heat to cook from all sides. 
The Longhorn reverse flow smoker is highly versatile as it works as both reverse flow and normal offset smoker. The baffle plate in this smoker is detachable, and removing it will instantly turn this reverse flow smoker into a normal offset. After all, why just go for one design when you can have the best of both worlds?
The total cooking area is quite impressive, with 1060 square inches – 751 square inches in the main chamber and 309 square inches of cooking space in the firebox. The coal basket is also big enough to hold a substantial amount of fuel. 
A side door on the heavy-duty firebox lets you stoke the flames easily when cooking. Both the main chamber lid and firebox have heat resistant handles. Wide shelves at the front and bottom of the smoker are designed to provide plenty of additional storage space.

The Longhorn reverse flow smoker is a bit expensive. But it's worth the money due to its dual functionality as both a reverse flow and traditional offset smoker.
It has a left side 13000BTUs lidded side burner, 32000BTUs 4 main burners. It supports the surefire electronic ignition system. Also, it has 4 locking caster wheels that make it easy to move around. 
Best Offset Smokers for Pros
Oklahoma Joe's Charcoal/LP Gas/Smoker Combo
Do you consider yourself to be an expert in cooking and grilling? If so, then we have an offset smoker befitting your expertise. This isn't just a normal offset smoker but a combination of an offset smoker, charcoal, and gas grill all in one.
 It has two separate main chambers – one for smoking and the other for gas grill. The heavy-duty firebox itself serves as a charcoal grill too. So you can prepare a variety of grilled foods as per your preferred method of cooking.
The two main chambers add up 750 square inches of cooking space, and the large firebox has an area of 310 square inches. The gas grill is equipped with 3 powerful burners, and an additional side burner is also attached towards the right side.

You can easily cook up a large buffet meal all at once with this charcoal smoker-grill. Given its design, it's quite heavy, weighing 204.6 lbs.
Due to its multiple functions, it also has quite a few dampers spread throughout to control the smoke and heat as desired. Separate heat gauges are placed on the lid of both the smoking and gas grill chambers so you can monitor the temperature on both sides individually. It is also a bit pricey, but that's reasonable, given that it's a multi-purpose accessory.
Other Offset Smokers to Consider
Broil King 955050 Smoke Offset 500 Offset Smoker and Grill, Black
The Broil King smoker is a compact but powerful smoker with lots of convenience features. Although it's small in size, it weighs 185.6 lbs due to its stainless steel and cast iron build. But these materials also provide excellent durability, so it will serve for years in good condition if you maintain it well.

It offers 500 square inches of cooking area in the main chamber, an additional 188 square inches wide warming rack, and a 175 square inch grilling area in the firebox.
It has some cool features such as a removable front shelf and a built-in bottle opener, which actually comes in really handy. The heavy-duty lid of the main chamber is thick and double-walled, providing a high level of heat retention. So this offset smoker works amazingly for slow-cooked dishes as well.


The cast-iron grates offer a non-stick cooking surface, and removable ashtrays along with side doors on the firebox make it easy to clean. While all the features are quite impressive, its price tag does seem a bit more than what it's worth.

But one thing is for certain – if you are willing to shell out the amount for this offset smoker, it will prove its worth in the long run because it is built to last.
Char-Broil Offset Smoker, 30"
The Char-Broil Smoker has a sleek and traditional design with a strong build. The outer steel body is made for durability, while the porcelain-coated grates are easy to clean as well as resistant to rust.

The smoking chamber has a cooking area of 477 square inches, and the firebox adds another 128 square inches of cooking area that can even be used for grilling. The overall cooking area is quite sufficient, and you can fit in about 20 to 24 burgers in one go.
Features such as a removable ash compartment in the firebox and dampers on the chimney make things very convenient. Bottom and side shelves are there for storage space when you are cooking. And weighing about 70 lbs, it's not particularly light but also not that difficult to move considering some smokers weigh well above 100 lbs. All in all, this is an offset smoker with simple features and nothing too fancy, but it does have a compact size and is very sturdy. 
Oklahoma Joe's Highland Offset Smoker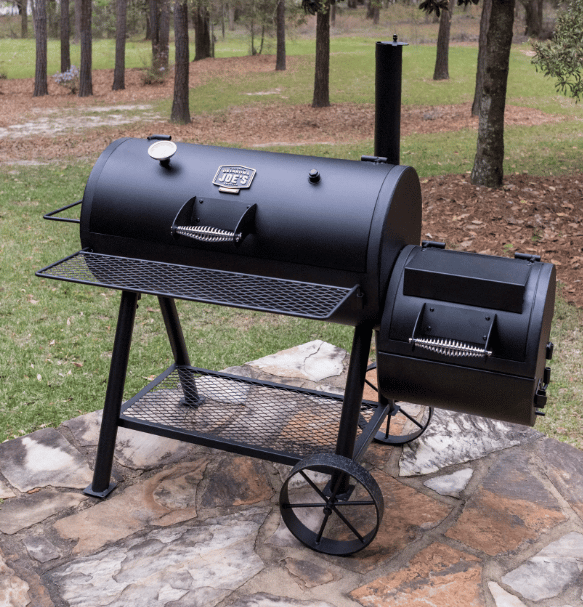 Oklahoma Joe's highland smoker is a great option for those who want a bigger model to cook for 8 to 10 people or even more. It is very spacious, with 900 square inches of the cooking area – 619 square inches in the main chamber and another 281 square inches in the firebox.

Most smokers have a side door in their firebox; the highland offset smoker features a swinging door at the top. 
So you can add more fuel from the top without opening the main lid of the firebox, which is really convenient. A small side door is also added to easily remove the ashtray.
Of course, due to its large size, it's quite heavy, weighing 178 lbs. Both the base and the front of the smoker has long and wide shelves to store plenty of items. And there are multiple dampers that allow you to control the smoke and temperature accurately.

Assembling this smoker can take a bit of effort, but it will come through perfectly if you stick to the manual. This smoker is a great choice for larger families so you can prepare a big meal conveniently.
Options for Vertical Offset Smokers
If you have good culinary skills and want more flexibility when smoking your food, you might want to consider a vertical offset smoker. With a vertical cooking chamber, you can achieve different levels of heat and smoke for different foods. 
So, a vertical smoker is perfect for cooking various items differently yet simultaneously. Needless to say, these options are for experienced people who know what they are doing and not for beginners. Here are a few of the best vertical smokers.
Dyna Glo DGO1176BDC-D Vertical Offset Charcoal Smoker
The Dyna Glo vertical charcoal smoker has a robust design, resembling a small cupboard from the outer appearance. It boasts of a spacious 1176 square inches of cooking space, and it still takes up fewer space thanks to its vertical design.

The Dyna Glo firebox has a cooking space too, which works as a grill and can achieve temperatures of up to 700 F, while the main vertical chamber works at temperatures ranging from 230 to 240 degrees F. 
There are six stacks of grates in the cooking chamber, and you can customize your cooking as required by placing various foods at different levels. The charcoal firebox is also large enough to hold generous amounts of coal at a time, which means less work for you to refill the fuel.

That also makes it suitable for slow-cooking where you need to cook for long hours. 
The adjustable damper at the top of the chamber lets you control cooking temperatures as you wish. And despite such a large cooking space and big size, it weighs just 57 lbs. A small downside of this Dyna Glo unit is that it is not portable, as there are no wheels at the bottom. The pricing, however, is very reasonable.
Dyna Glo Signature Series DGSS1382VCS-D Heavy-Duty Vertical Offset Charcoal Smoker & Grill
The Signature Series model from Dyna Glo is another excellent vertical charcoal smoker, and it even overcomes the limitation of the previous model. This Dyna Glo unit has a cylindrical design for both the main chamber and the firebox.

It's bigger and better with an overall cooking space of 1382 square inches, enough to prepare a small buffet for weekend parties at your house! 
Made of heavy gauge steel, Dyna Glo grill has a tough and durable body. And unlike the previous model, it also features large size steel wheels so you can move this one around your yard.
There are five stacks of grates in the cooking chamber, and they are wide enough to fit large briskets of meat easily. Its firebox has all the convenience features of traditional smokers, such as a side door for ashtray removal and a top door for adding fuel mid-cooking. 
The temperature gauge on this Dyna Glo smoker also has indicators for 'grill zone' and 'smoke zone,' which lets you know when the temperature is perfect for both grilling and smoking. Although it is movable, it quite heavy, weighing about 125 lbs. 
What Is An Offset Smoker And How Does It Work?
Originally developed in Texas and Oklahoma by oilfield workers, a charcoal offset smoker is a type of smoker characterized by a horizontal cooking chamber with a firebox attached to its side. 
It is designed to cook with indirect heat as the food doesn't contact the flames. When the oilfield workers made the smoker, they used steel barrels or drums to form the cooking chamber. That is how the smoker got its modern-day shape. Since the firebox is placed separately beside the cooking chamber, that's why it is called an 'offset' smoker.
Offset smoker works on charcoal and coal, which is to be put in the firebox. After burning the coal, the heat slowly escapes into the main chamber through a vent.
 This vent is usually adjustable so that users can regulate the amount of smoke flowing to the cooking space. As the heated smoke spreads evenly around the main chamber, it gives an excellent smoky flavor to meat and vegetables.
Reverse Offset Smokers
Reversed offset smokers are also like regular offset smokers with just a slight difference. In smoker reverse flow, a baffle plate is placed at the bottom of the main chamber with an opening at the end. 
This plate directs the smoke to flow from the firebox and then turn around once it reaches the other end. The benefit of reverse offset smoker is that it spreads the smoke and heat more evenly.
Are Offset Better Than Vertical Smokers
Offset smokers have a horizontal alignment, but some models have a vertical cooking chamber. So both these contrasting designs are often subjected to comparison. 
In vertical smokers, the fuel box is still placed separately beside the cooking chamber, but at the bottom area, the smoke also flows from bottom to top. It comes in multiple racks, and the number of racks will vary in different models.
Both charcoal offset smoker and vertical smoker have their pros and cons. Deciding which is better depends on the preference of the user. If you are looking for a more energy-efficient smoker, then vertical smokers would be appropriate.
Since it's easier for the smoke to travel upwards, even less fuel can smoke quite many foods in a vertical smoker. Also, vertical smokers take up less space, which is another benefit. Since the heat and smoke hit each level differently in vertical smokers, you can cook items that require different heating levels all at once.
On the other hand, smokers are much more beginner-friendly, and they provide even distribution of heat and smoke. Their horizontal alignment also makes it easier to move around, so they are more portable. 
On top of that, offset smokers are suitable for beginners due to their ease of use. If someone without experience in grilling uses vertical smokers on their first attempt, they'll likely end up overcooking the meat at the bottom rack or undercooking the item at the top.
So if you are buying your first ever smoker, an offset smoker is the best choice. For more experienced people, vertical smokers can give them the flexibility to cook items that require different levels of heat and smoke simultaneously.
How To Maintain The Best Offset Smoker?
A dirty or greasy smoker will ruin the taste of your good, and it's definitely not good for your health either. That is why your smoker needs to be maintained and cleaned properly. Here are some effective tips on how you can keep your offset smoker clean and well-maintained.
Clean the smoker after every use. As soon as you're done cooking, clean the grates and empty the ashtray as well as grease collected at the bottom of the main chamber. If you let the oil and carbon accumulate inside the smoker, it will only get harder to clean with every use.
Brush the grates clean before every use. However, don't use brushes with hard bristles and use something soft like nylon bristles. Also, apply some oil coating on the grates before you light up the smoker. 
Never let the smoker overheat. Check the manual of your smoker to know what is the maximum temperature that is safe for it.
Keep your smoker covered when not in use. A covering cloth protects your smoker from rust, dust particles, and moisture.
Frequently Asked Questions (Faqs) About Best Offset Smokers
Which is the better fuel for offset smokers – charcoal or wood?
The better fuel for offset smokers is a mixture of both charcoal and wood together instead of choosing one over the other if you want to get the best flavors.
Does the length of the smokestack/chimney make any noticeable difference?
Yes, the length of the smokestack/chimney does make a noticeable difference. If the stack is small, the heat escapes much quickly, which means the food takes longer to cook. With a longer stack, the air moves over the food and out the chamber ideally, so it's better to go for a longer stack.
Do offset smokers work well in cold regions?
Yes, offset smokers work perfectly in all weather conditions. However, it's better to go for a smoker with a thick body in cold regions, which will act as an insulation between the cold outdoor temperature and hot interior chamber, thus offering better heat retention.
Do offset smokers work for grilling as well?
Most offset smokers include a cooking area in the firebox as well. This cooking space can be used for grilling where the food comes in direct contact with the burning fuel.
How do dampers help to control the temperature in offset smokers?
Dampers are simply vents that control how much smoke escapes from the smoker. Allowing more smoke to escape will reduce the internal temperature while trapping the smoke will increase the temperature.
Our Final Verdict on the Best Offset Smoker
All the best offset smokers we have reviewed in this post are excellent in their own regard and would work great for people with different needs and expectations. It's not possible to pinpoint one product as the best as people have varying requirements and preferences.
Still, considering most of the common features of offset smokers and the budget, we have chosen the Char-Broil American Gourmet offset smoker as our best pick. 
But no matter which product you go with, just make sure to check all the important features such as cooking area, size and weight, the quality of the outer body, firebox, and cooking grates.
And if you can find extra features on top for a decent price, then, by all means, go for it. We have also included sufficient variety in the list of products reviewed in this post, so we hope that you'll find one of them to your liking.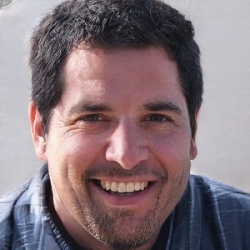 This article is written by Noam Shahar the founder of Limited-Red, Noam is a serious carnivore, And he has a strong passion when it comes to meat and cook, He Decided to review the "BBQ world" 9 years ago after discovering how many people struggle with choosing their dream grill.