Fire Magic is an American company and a subsidiary of RH Peterson. It has been around for more than 70 years pleasing its customers with their high quality and advanced grills.
In this article, we will review Fire Magic Grills and explore its offerings. Let's get started.
Fire Magic Grill Review Of The Best Grill Each Type, Features, Pros, and Cons.
Best Echelon
Diamond E1060s
Best Legacy
Legacy Deluxe





Best Echelon

Best Aurora

Best Choice

Best Legacy

Best Electric

The Echelon products are their top of the line range of product that has a unique contoured face, sleek lines, state-of-the-art features like hot surface ignition, charcoal smoker basket, blue backlit knobs, and an optional Magic view window.

Echelon Diamond is its subcategory that defines luxury grilling. You will find the optional View window in their Echelon Diamond products.
Best Echelon Grill - Fire Magic Echelon Diamond E1060s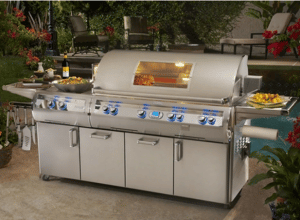 This grill is a complete package of grilling at large scale. If you are pro in grilling and loves to have sufficient space while grilling, this one is for you.
Its big size doesn't stop it from being a portable and free standing grill, which makes it stand out.
Features:
1056 sq. inches of cooking space with 115000 main burner BTUs
Has a magic view window embedded in the hood for keeping an eye on what's happening inside
Has a Chrome digital thermometer on the access panel
Includes 8 knobs and 4 burners
Has a griddle at the side
Cart grill with customization
The Aurora is its second line of products which are less expensive than Echelon. They only differ in price and design. The aurora is more angled and includes more optional functionality than Echelon which makes them cheaper.
If customers want more customizable options like optional infrared rotisserie burner and optional rotisserie kit, the Aurora series provides such flexibility to them. All other features are the same as its sister series Echelon.
Best Aurora Grill - Fire Magic A430I-5E1N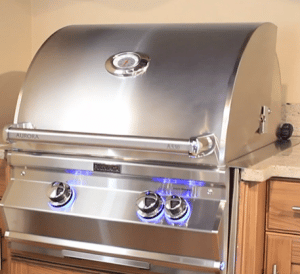 This built-in Aurora gas grill is convenient for feeding small crowds and for family get-togethers. You can get it installed in your outdoor kitchen or indoors.
Features:
540 sq. inches of cooking space
240 sq. inches of warming rack
Total BTUs of 81000 i.e. 63000 BTUs from the main burner and 18000 BTUs from the backburner
Has a rotisserie kit as well
Choice offers a much more affordable version of built-in and portable grills without compromising on the performance and durability.
Under Choice, you won't find Magic View window, Rotisserie cooking, blue backlit knobs, halogen internal lights, Chrome digital thermometer, and infrared back burner.
Instead, you will find modified control knobs with no blue backlights and 16 tubular stainless-steel burners. The Choice series can easily be used as post mount grills as well. Also, Choice portable and built-in grills can be customized for individuals with disabilities.
If you're looking for another stainless steel grill, you might want to look at the Phoenix gas grill.
Best Choice Grill - Fire Magic Choice C430i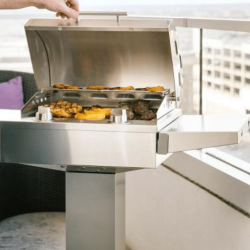 This is the best Choice gas grill that can be used as a standalone built-in grill outdoors without an outdoor kitchen. It comes with a sturdy stand on the post.
Features:
432 sq. inches of cooking space
192 sq. inches of warming rack
46000 BTUs of the main burner
All other special features included
The Legacy series only includes uniquely designed built-in countertop grills. They are perfect for outdoor kitchen countertop with their drop-in hoods. They are designed differently providing them with a classy and luxury with side knobs, streamlined hoods, and much more.
Best Legacy Grills - FireMagic Legacy Deluxe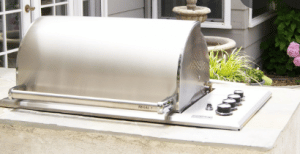 This classic countertop grill is known for its exclusive drop-in style grill.
Features:
368sq inches of cooking space
184sq inches of warming rack
42000 BTUs of main burners
Optional back burner and rotisserie kit
2 knobs at side
For areas where gas fuel is not accessible and there is limited space, Fire Magic electric grills will keep your grilling requirements fulfilled. They are really electrifying with a large electric element.

They are designed perfectly to fit anywhere. All the electric grills include a digital panel in the front and provide faster heating up to 800 degrees F. The digital panel includes a digital thermometer and meat probe.
Best Electric Grill - Fire Magic Electric Table Top Grill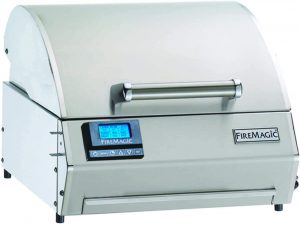 For spaces where gas is unavailable, this compact electric tabletop grill is a good savior.
Features:
Digital thermometer control system
Optional rotisserie kit
252 sq. inches of cooking space
Just plugin and use 120volt power
Double walled oven lid
Can reach maximum temperature of 800-degree F
Multiuser Accessible And Common Area Grills
Lastly, Fire Magic presents its special multiuser accessible and common area grills to be used as standalone and post mount grills.
Fire Magic also provides combo charcoal and gas grill in its Aurora series.
How To Start Fire Magic Grill?
Before starting Magic smokers, make sure:
There is no combustible gas on the outdoor of the appliance or in the nearby area.
The 1" air inlet along the bottom of the control panel is not blocked.
All the vents openings should be open and clear.
The infrared backburner cover should be removed before using it.
The flame on the cast burner should be even and steady. Check the air shutter, burner tubes if otherwise.
The drip tray holes should be clear.
If you are trying to start a fire using propane or natural gas cylinder, make sure all the regulators, rubber hose are inappropriate location and all the vents opening are clear from any blockage.
Pros And Cons Of Fire Magic Grill
So, this was all about Magic Fire grill. If you are a frequent barbequing lover as well as a pro in BBQ, Fire Magic can elevate your experience well with its stunner looks and additional advanced technology, also you you could check another review of Lion Grills.
If you have minimal BBQ experience, Fire Magic could be a costly affair. You would further require a hand in understanding the temperature setting for even cooking.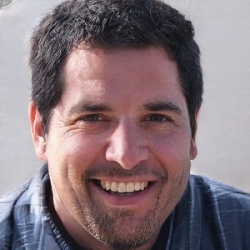 This article is written by Noam Shahar the founder of Limited-Red, Noam is a serious carnivore, And he has a strong passion when it comes to meat and cook, He Decided to review the "BBQ world" 9 years ago after discovering how many people struggle with choosing their dream grill.