All the features you need to know about this electric smoker
One of the top picks of electric smokers currently on the market is The Smokin-It Model According to some of the most current reviews on this model, the Smokein-It 1 is quite impressive in the performance it delivers.
The features for this smoker are top of the line compared to some of the other available smokers on the market. It's capacity capabilities are to feed about 20 people.
This smoker has the ability to produce the best tasting BBQ with little effort; even a beginner will be able to smoke their meats like a pro!
Build
Upon the first glimpse of this model, you will notice that it is a cube shape and it may remind you of a safe. While it is compact in size, it is quite durable.
While it appears to be small from the outside, it is actually very roomy on the inside of it. You will be able to cook plenty of racks of ribs, chicken, turkey, and wings in this unit.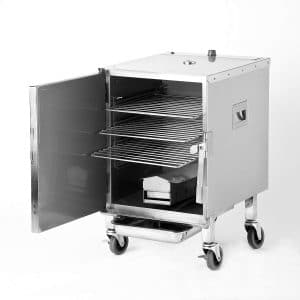 The Smokin-It Model 1 Key Features
A Rheostat for Temperature Control
With the Smokin-It Model 1, there is no need to stand and watch over the cooking process or check the temperature often. The smoker features the build-in temperature control which helps to keep the temperature where it needs to be the whole time.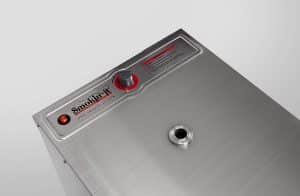 Powerful 400-Watt Heating Element
The heating element is 400 watts which are perfect for the right smoking temperatures that you need. There is also a LED light and it is fiber-glass insulated to make sure the cooking process is efficient.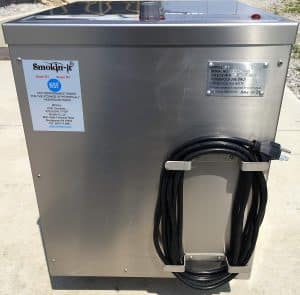 Large Cooking Capacity
While the design looks rather compact from the outside; it is actually very roomy on the inside which means that you have plenty of room to cook lots of meat.  In one setting you can cook up to 22lbs. of meat in this electric smoker. The Smokin-It Model 1 is definitely a great design for Summer BBQ parties.
Durable and Strong Build
No one wants to buy an electric smoker that is cheaply made and will only last one or two years. So you'll be happy to know that this smoker is actually very well-constructed and the material is quite durable.
Easily Accessible Smoke Box
The smokebox is really big and has plenty of room for the wood that you will be using in it as well as the chamber where the food will go. There is also a dripping pan below that catches all of the greases that drips down.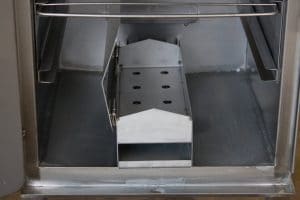 Handles and Wheels
What you'll like about this smoker is that it isn't too heavy to move around; it's actually lighter in weight compared to some of the other smoker models available. The Smoke-It 1 also has wheels on the bottom of it to make it easy to move around.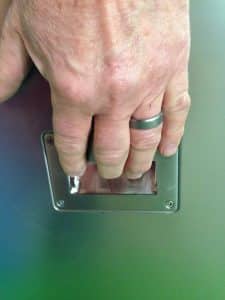 You Can Use it Anywhere
An electric smoker is usually accepted at an apartment complex as opposed to a charcoal smoker. They are much safer to use! You should still run it by your apartment management before using it.
Commercial Grade
Smokin-It smokers are all created up to the standards of commercial smokers. They are all NSF certified. This means that they can be used at restaurants or other businesses. This would make it a top choice smoker. Keep in mind you will pay quite a bit for it considering the quality of it and the fact that it is a commercial-grade smoker.
Design and Build Quality
The design of the Smokin-It Model 1 is very simple yet it works very well. The wheels on it are ideal for easily moving it from one location to the next. The heating source is powerful and ideal for cooking for large groups of people. What more could you ask for?
So the metal that this smoker is made up of is 18 gauge/201 stainless steel. So this means that the build is quite sturdy. It is built to cook at very high temperatures, and for larger groups of people.
Just the material it is made of alone is what allowed this model to pass the qualifications for the NSF certification. Just remember that if you want good quality, then you won't be paying a cheap price.
The door of this smoker is also made up of the same high-quality stainless steel material (just in case you were wondering). The reason this is necessary to mention is that some other brands include a door that is made up of cheaper material.
​The LED indicators operate perfectly to ensure that the cooking temperature stays where you need it. The temperature range is 100F-250F. It operates off of 400 watts.
Easy to Use
You would think that this electric smoker would be difficult to use considering it is commercial grade, but it is actually quite easy to use and a beginner would be able to master making meals like a pro! It is easy to use because there is no need for you to worry about fuel or flames with it being an electric smoker. It is built to set and forget.
Putting the unit together should be rather easy to do as well. It's almost ready to start using as soon as you take it out of the box. All you really need to do is attach the wheels to the base of it. Plug it in and you're ready to go.
Cleaning and Maintenance
So you'll need to consider the maintenance and the cleaning that will be required with this electric grill.
The good news is that Smokin-It Model 1 is quite low in maintenance, and it isn't at all hard to keep clean. The drip pan allows the cleaning process to be easy because you just remove it from the source; empty it, and then rinse it.
With the exterior being made of stainless steel, you don't have to worry about scrubbing too hard to clean it. Using a wet cloth and some soap, it is quite easy to wipe down.
Smokin-It 1 Warranty
​ You'll be happy to know that this smoker is backed with a 3-year warranty. You'll be able to get parts and have it fixed if something happens to it within this time frame.
PROS
The cord is quite long; it's a 12-feet long power cord that gives you just enough room to move.
The smoker box is easy to access.
You can set and forget.
The internal capacity allows you to fit 22lbs of food inside of it at once.
It's a Commercial grade.
CONS
It's quite expensive since it is a commercial grade.
There is no classic BBQ smoke ring included since it doesn't operate off of fuel.
[wpsm_button color="green" size="medium" link="https://www.amazon.com/Smokin-It-Model-1-Electric-Smoker/dp/B002VGE36S/ref=as_li_ss_tl?keywords=Smokin-It+Model+#1&qid=1573736567&sr=8-2&linkCode=ll1&tag=208909820-20&linkId=94bd37ddf05de037ec8ac871d1f638bd&language=en_US" icon="thumbs-up" class="" rel="nofollow"]Click Here For The Best Price[/wpsm_button]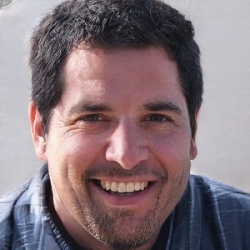 This article is written by Noam Shahar the founder of Limited-Red, Noam is a serious carnivore, And he has a strong passion when it comes to meat and cook, He Decided to review the "BBQ world" 9 years ago after discovering how many people struggle with choosing their dream grill.