The Blazing Bull Grill is a revolutionary infrared grill that assures a premium steak experience for outdoor grilling lovers. Grilling beginners and enthusiasts alike often face great uncertainties when selecting the best grill that suits their grilling experience.
Therefore, while the Blazing Bull Grill is an exceptional grill with excellent infrared technology, you can't be sure if it is the right grill for you. Well, to ease your selection, below is an insightful Blazing Bull Grill Review.
Blazing Bull Grill Review: Key Features
Outstanding features of this grill include;
Excellent Overhead Burners
The structure of overhead burners significantly affects your grilling experience. The Blazing Bull Grill's burners are perfectly positioned to provide a great experience, which ensures even heat distribution for an evenly cooked steak. The perfect position also ensures that there are no flare-ups.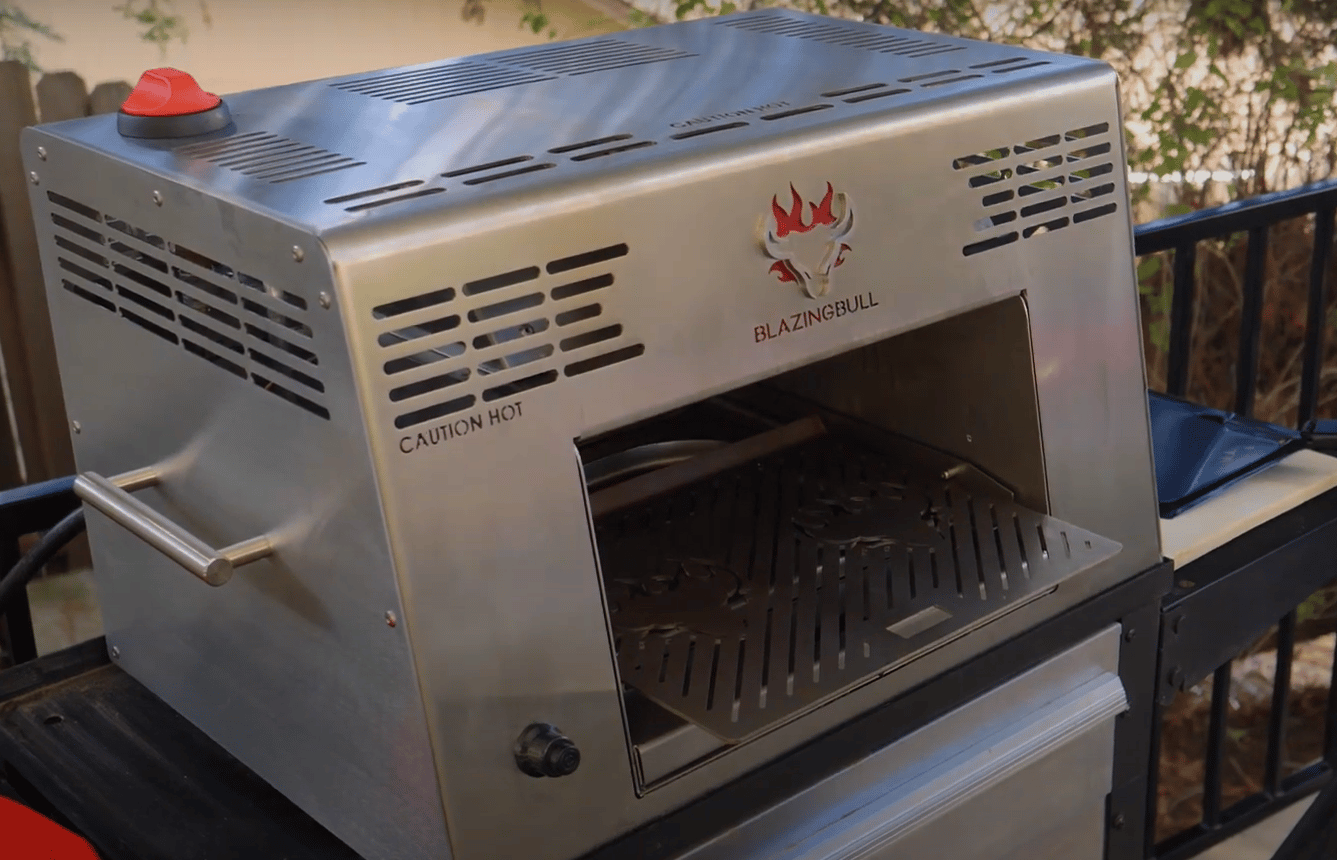 As you may know, flare-ups during grilling lead to uneven heat distribution, varying temperatures, and a resultant charred meat. Properly positioned overhead burners prevent grease from dripping into the heat source, which causes flare-ups.
Ease of control is an important aspect of any good grilling experience. With the adjustable lift handle, you can be certain of excellent temperature control. You can control the amount of heat delivered when grilling simply by changing the position of the grill grate.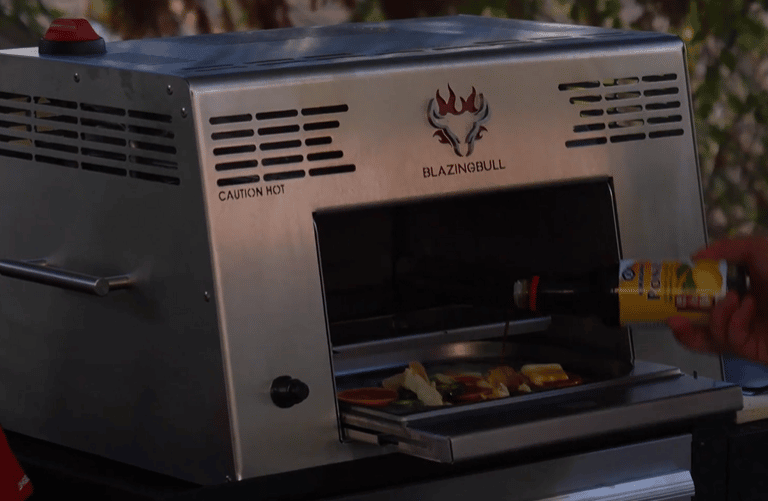 The grill also comes with 7 heat levels. The burners maintain a 15000 F. However, you can change the grilling temperature by raising the lift handle up and down between the 1 and 7 levels.
Simple Push Button Igniter
Another important determinant of a high-end grill is its ease to start. The Blazing Bull Grill comes with an electronic igniter, which is battery-operated. It instantly sparks to fire up your grill by simply pushing the ignition button.
The grill also fires up in seconds, blazing fires within 10 seconds, and heats up to 1500 degrees within 5 minutes.
Well, Austin XL pellet smoker provides that pleasure by including a removable stainless-steel side shelf with three tool hooks on the right, a flat pellet hopper top on the left, and even base support that doubles as a sizable shelf.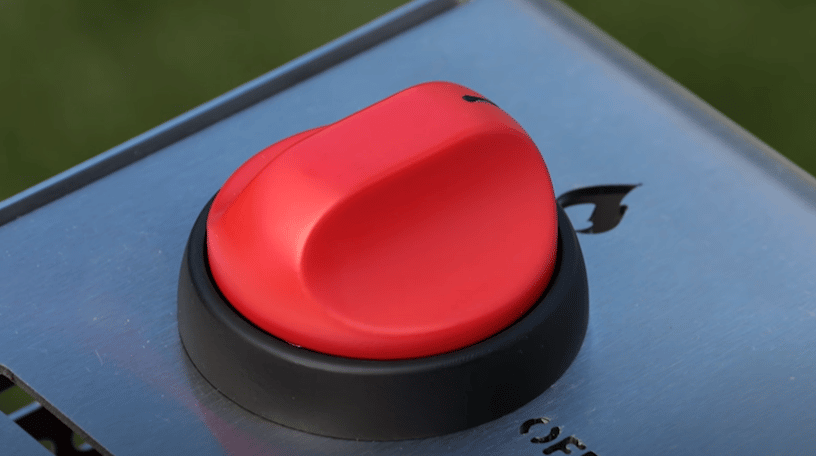 The Blazing Bull Grill is an exclusively outdoor grill. Therefore, it ought to be portable to make it easy for grillers to move around their backyards. Specifically, the Blazing Bull Grill comes with compact and sturdy side handles that make it easy to carry to different outdoor settings. With this, you can enjoy its incredible taste and the juiciest food while camping, in a sporting or tailgating event, or at a neighbor's house.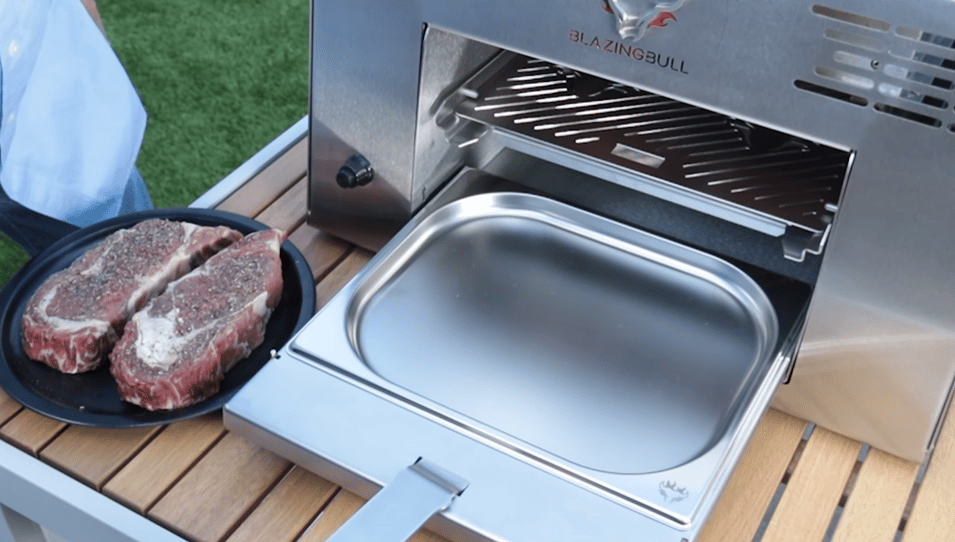 Should You Buy the Blazing Bull Grill Review?
Without a doubt, the Blazing Bull Grill is an excellent barbeque grill that provides an assured premium steakhouse in any outdoor setting. The secret behind this is the innovative infrared technology that uses high heat to sear steak within minutes. The unit comes with sturdy carrying handles, lift handles that adjust the grate temperatures up and down, and a battery-operated igniter that lights up the grill in seconds. These are just but a few features that make it an excellent grill.
What Other Users Say About the Blazing Bull Grill
Some verified users of the Blazing Bull Grill had these comments about the unit;
Dominic
If you love steaks, this is the grill. I just got my Blazing Bull Grill, and I followed the directions on searing each side of the steak for a minute each and then lowering the steak grill to the number 3 position for about 3 minutes more, and I have to say the steaks came out perfect and better than any restaurant that my wife and I have ever eaten at.
This grill is worth the extra money that it costs to me because the grill is made of all very good materials and is made in the USA. My wife and I are very happy with our purchase, and if you love steak, you will want this grill!
Another Amazon customer simply commented that it is a badass grill.
Blazing Bull Grill Review FAQs
Is the Blazing Bull Grill used outdoors only?
Yes. The Blazing Bull Grill is only certified for outdoor use. Therefore, don't attempt using this grill indoors. 
Can it be used with another heat source?
The Blazing Bull Grill is intended for use with propane only. It cannot be used with natural gas, electric, or wood pellets.
Does it come with a cover?
Yes. There is a cover for the grill but sold separately.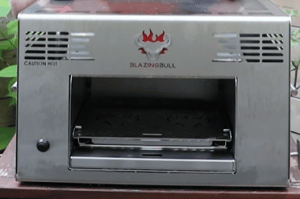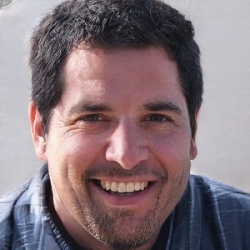 This article is written by Noam Shahar the founder of Limited-Red, Noam is a serious carnivore, And he has a strong passion when it comes to meat and cook, He Decided to review the "BBQ world" 9 years ago after discovering how many people struggle with choosing their dream grill.